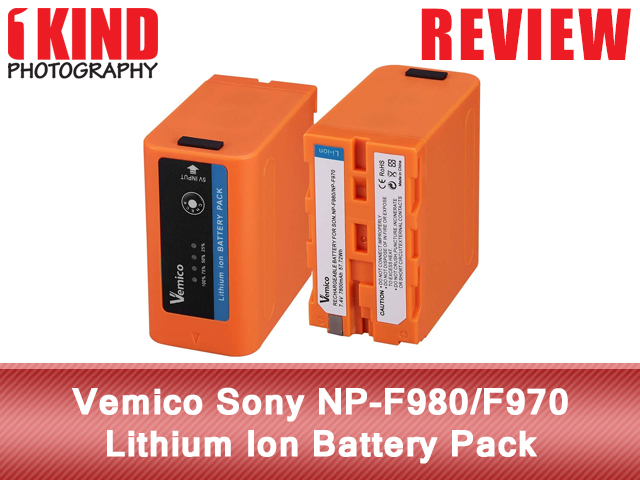 Overview :
The Vemico replacement battery was built exactly to the specifications of the NP-F970, NP-F960, NP-F530, NP-F550,NP-F570, NP-F730, NP-F750, NP-F770, NP-F930 and NP-F950. Larger capacity of 7800mAh. Just like the original, the Vemico replacement battery can be charged in the camera with the original charger. The Vemico NP-F970 battery is made up of high-quality premium cells to provide stable power supply and longer battery life.
Features :
Compatible with DCR-VX2100, DSR-PD150, DSR-PD170, FDR-AX1, HDR-AX2000, HDR-FX1, HDR-FX7, HDR-FX1000, HVL-LBPB, HVR-HD1000U, HVR-V1U, HVR-Z1P, HVR-Z1U, HXR-MC2000U, MVC-FDR1, NEX-EA50UH, NEX-FS100U, NEX-FS700U Handy cam Camcorder.
7800 mAh high-quality rechargeable lithium ion battery with premium cells for longer battery life with no memory effect; 2 replacement batteries provide enough power for your digital camera. No more afraid with no battery no shoots.
Upgraded high-quality rechargeable lithium ion battery with premium cells, ultra-high capacity replacement battery for NP-F970, NP-F930, NP-F950, NP-F960, NP-F770, NP-F750, NP-F570, NP-F550, NP-F530.
4 LED indicator lights shows battery level,you can check the remaining capacity, shutter count and recharge performance on the cameras power source info screen. Enjoy shooting and replace the battery in time.
PACKAGE INCLUDED: 2 x NP-F970/F980 Batteries, 1 x USB Charging Cable.
Quality/Usability :
I've had some 3rd party Sony NP-F batteries both in small capacity and larger capacity. The batteries are great for portable monitors and LED lights. They definitely came in handy during blackouts. However, when it comes to powering LED lights, the smaller capacity batteries don't last that long and the bigger ones work great. Unfortunately, the ones I have don't really hold their charge that well.
So I was in the market to find replacements and I found these Vemico batteries which has 7800mAh capacity. I have never heard of them nor have I seen any reviews on them but thought I would give them a try as they were "Amazon's Choice".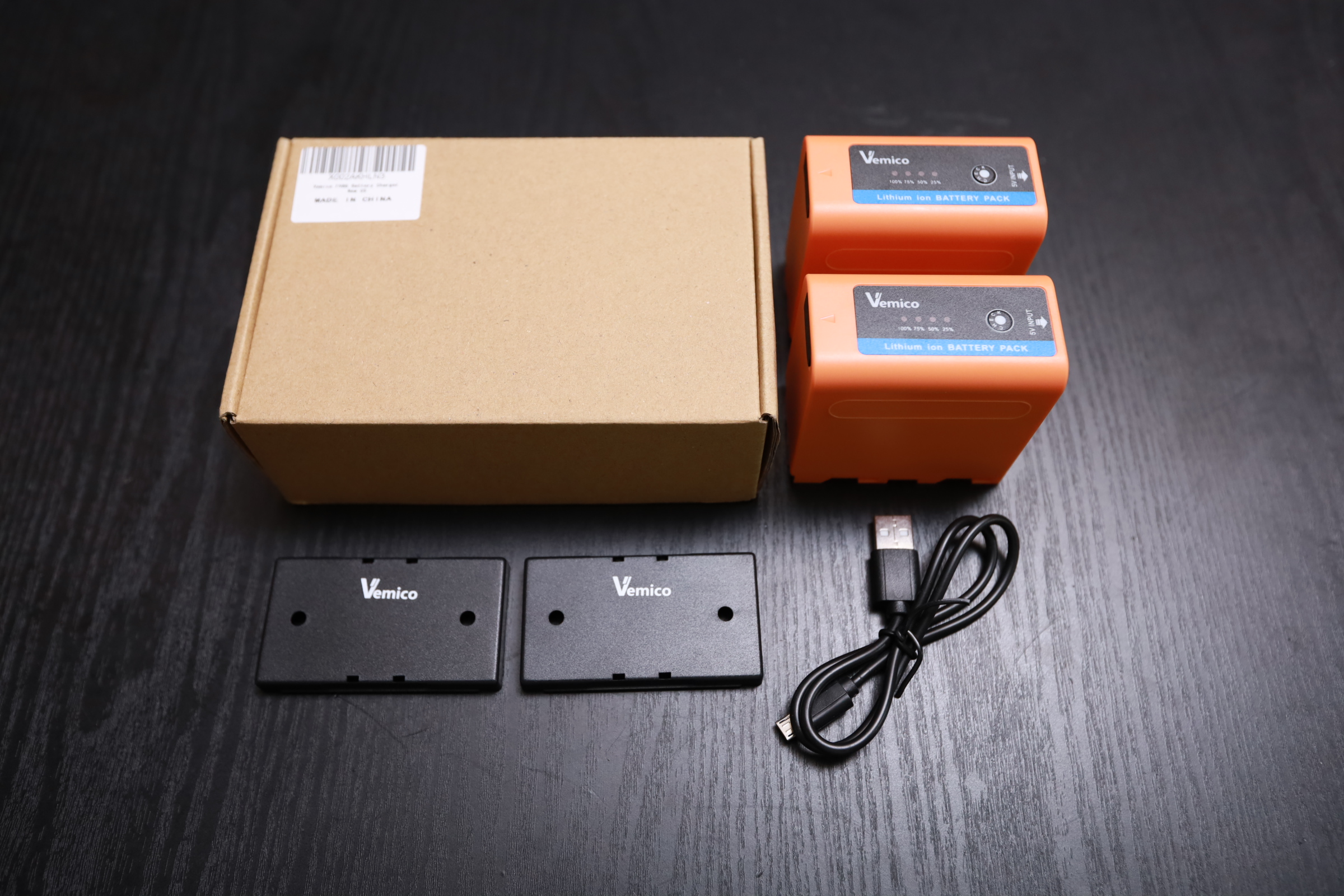 The first thing you'll notice is the bright orange color. No typical black here. It definitely stands out and you won't have a hard time looking for them that is for sure.
The Vemico NP-F980/F970 comes in a pair with battery cover and a microUSB cable. The microUSB cable allows you to charge the battery via a USB port. The ones I currently have requires the use of a standard NP-F wall charger which charges only one at a time. Now, I can charge two at a time and I have plenty of microUSB cables laying around.
The top has four LEDs (100% / 75% / 50% and 25%) which is great because it lets you know how much battery life is left and not guessing or taking a chance on batteries that don't have any indicators until you plug it into your device.
The CHECK button does just that...lets you check how much battery is left on the battery but also activates the USB port.
On one side is your 5V microUSB input for charging the battery which takes about 3-4 hours to fully charge. And on the other end is your standard USB-A port. This allows you to plug in a USB cable and charge your device. Kind of like a portable battery bank.
You'll also see the two connection holes to insert into your devices that take NP-F batteries.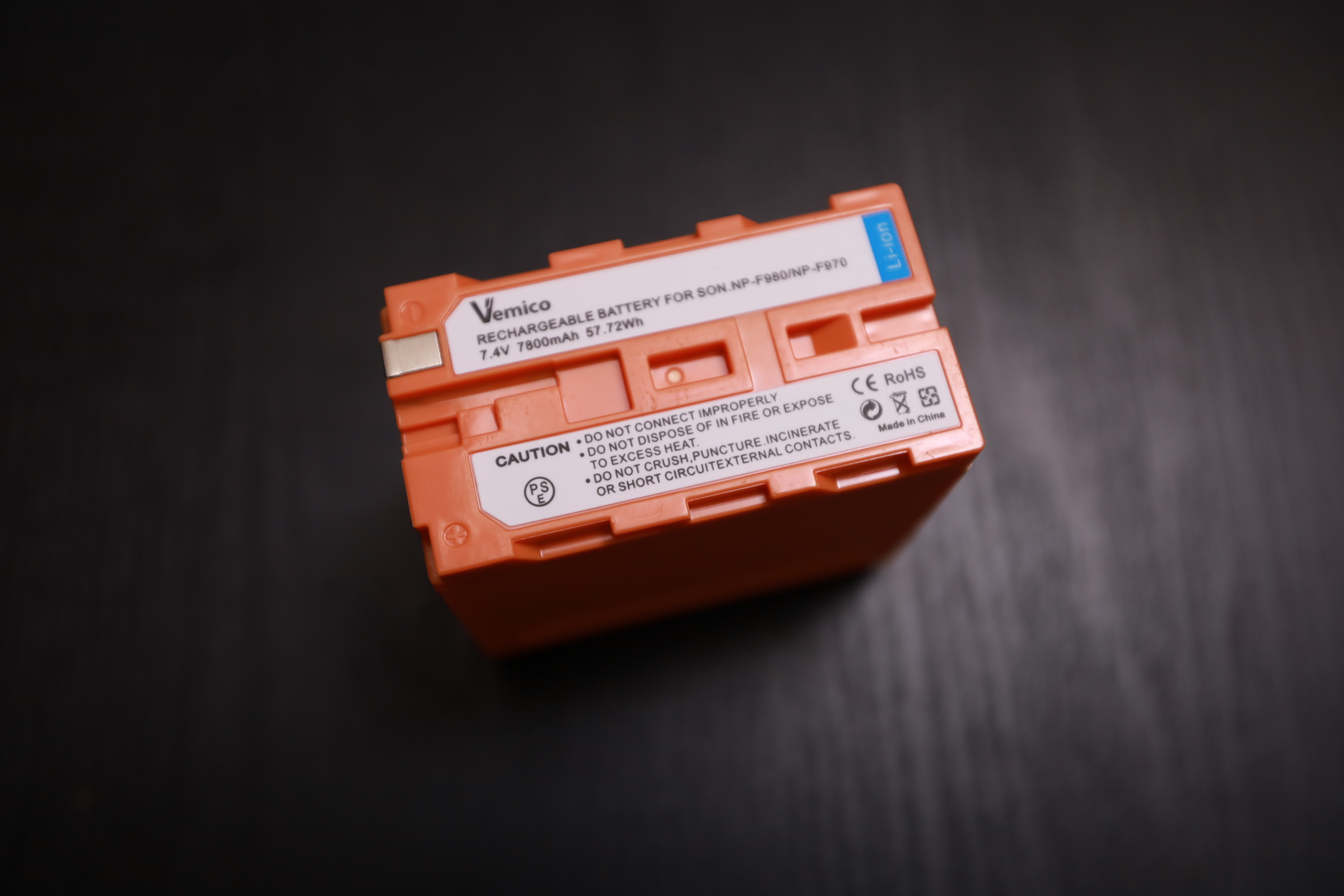 The bottom is your typical label with the name of the company, warning signs and symbols.
A portable monitor is one of my devices that requires a NP-F battery when I'm out on the field. Having a huge battery like this can be an eyesore but it will last an entire day without a problem. I had no issues plugging it into my FeelWorld F6 portable monitor and the monitor booted right up without any issues.
Most if not all of the portable LED lights on the market use NP-F batteries to power them. The Vemico batteries had no problem powering my LED light which can operate either on one or two batteries. Having both batteries inserted will just allow me to use the LED light longer.
I wish I had these batteries when I had our 10 day power outage. Not only would it power up the LED lights but also charge our phones...
Speaking of charging phones. I think the images speak for themselves. I can get about two full charges from one Vemico battery. This is all dependent on how big your battery is on your device. Unfortunately, its not a high speed USB port as it will only output at 5V 2A.
Conclusion :
Overall, the Vemico Sony NP-F980/F970 Lithium Ion Battery Pack is a nice battery pack. I love that you don't need a separate charger to charge it and you can simply charge it via a microUSB cable. I also love that it can charge your portable devices whether it be a smartphone or tablet.
I wish they made the microUSB port cover a little better as it was loose and didn't really close really well. I would definitely look at Vemico as a battery option if they have what I'm looking for.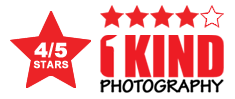 ---