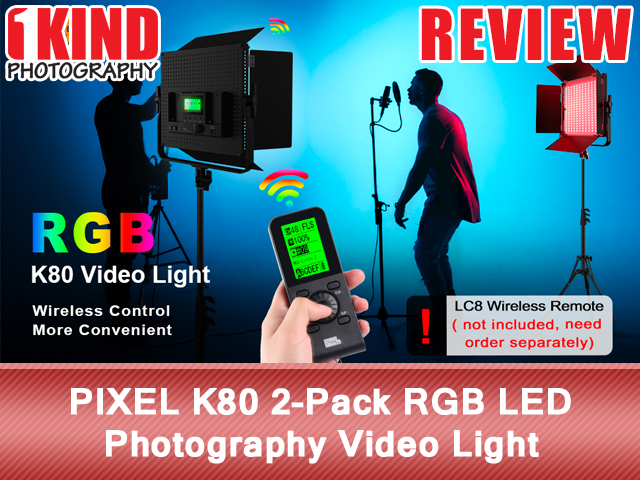 Overview :
 The Pixel K80 RGB LED Video Light uses 552 high-quality lamp beads, color rendering index CRI>95, total power reaches 45W, lumens reach 4500LM, and color temperature is 2600-10000K, so whether it is taking photos or recording videos, K80 will be a great help for lighting. The ultra-high color rendering index ensures that the picture will not cast color. You must know that white is not white under the illumination of some cheap LED lights. It is a blue-green color, so when choosing an LED light, the color rendering index is very important which makes the color more accurate.
K80 uses a pure metal body in the design and manufacture, and has multiple openings to ensure that the heat generated during use can be dissipated in time. The slim body is easy to carry and store, and the shell surface is The black frosted treatment improves the hand feel, and is also non-slip, scratch and corrosion resistant. Not only that, the K80 is also equipped with a four-leaf barn doors, which can be folded 180 degrees. On the one hand, it can protect the lamp beads when storing, and on the other hand, it can shield the light when shooting. Of course, if you don't need it, just A small screwdriver can remove the four-leaf barn doors separately.
The K80 has a dual power supply design. It can be powered by two NP-F lithium batteries for outdoor use. It can also be used indoors with the use of the supplied power adapter. When using it, just press the power switch button on the lower left to select the power supply mode. [I] is battery power, and [II] is AC power. K80 also has built-in wireless control function, you can set A-B-C-D-E-F six groups, each group can accommodate dozens of channels, can be mutually controlled or grouped control, the same group of lights can also be individually controlled, wireless control function can guarantee 50 with a remote control distance of more than meters, there is no need to run around to adjust the parameters of a certain lamp, just pick up the K80 at hand and select the group and channel for remote control. In terms of output, the knob of K80 can be adjusted to 1% step by step. The fast dimming button on the second left can also be used to quickly switch among the four values of 25%, 50%, 75% and 100%.
Features :
LC8 WIRELESS CONTROL & SUPER BRIGHT AND WIDE RANGE: This 45W RGB video light can be wireless controlled by Pixel LC8 remote controller (not included), you can check our description for more details. It has a wide color temperature range 2600K-10000K, brightness adjustable from 0%-100%, illuminance @0.5M 5500Lux, @1M 2050Lux, super bright that can fill your studio room without other lights, save your space and simplify your work.
WIRELESS GROUP CONTROL AND MEMORY FUNCTION: Equipped with wireless group control function that any light can control the other with all the parameter changes when they are on the same channel and group. The built-in memory function enable to turn back the same settings when you reopen the lights. Save your time and make your work easier.
552PCS LED BEADS SUPPLY FULL COLOR: This RGB lighting consists of 552 pcs high-quality beads (240 pcs RGB, 156 pcs warm, 156 pcs white), more lamp beads make the light heat dissipation more efficiency and the light is brighter. Supply you with 360° full color, help to enrich your shooting with colorful light and create creative work.
9 PRESET LIGHTING SCENES SAVE YOUR TIME: There are 9 preset modes (SOS, Lighting 1, Lighting 2, TV Screen, Police, Ambulance, Fire Engine, RGB Circle 1, RGB Circle 2) can satisfy these effects and meet your different shooting requirement. Quick brightness adjustment at 0%, 1%, 25%, 50%, 75%, 100% by the quick button. Save a lot of time in the editing and more convenient for work.
TWO POWER WAYS AND WARRANT: This LED lighting can be powered by AC adapter( included ) or NP-F970 Li-ion battery (not included) for inside or out use. Package include: 2 * RGB Video Light, 2 *Light Stand, 2* Soft Diffuser, 1 * Carrying Bag, 1 * Manual. Warranty: it includes 30 days full money back or replacement and 12month warranty, buy without hesitation.