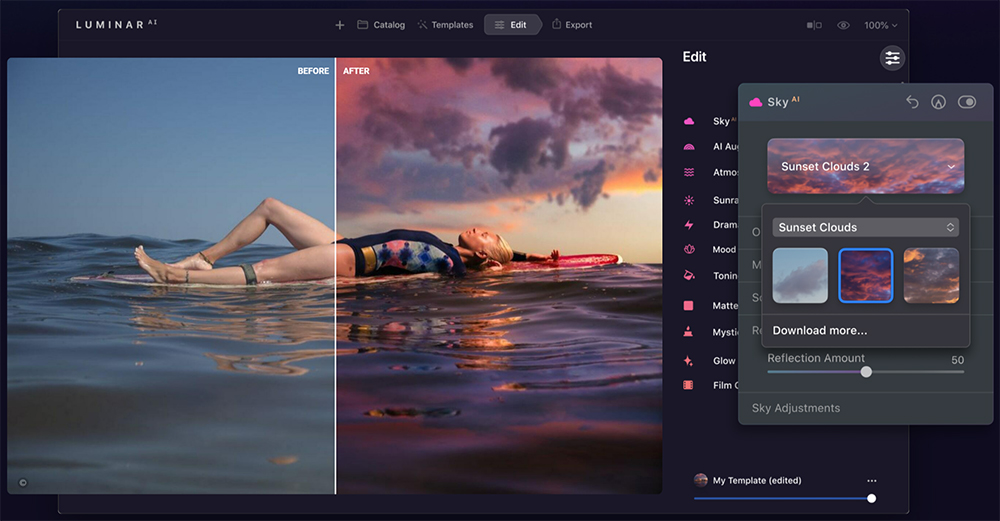 LuminarAI
is the first image editor fully powered by Artificial Intelligence With LuminarAI, creating striking photos becomes surprisingly easy and fun. While traditional photo editing is boring and time-consuming, LuminarAI is all about the result, not the process.
LuminarAI is designed for visual communicators, everyday people, and professional photographers alike. It's made for those who rely on images to communicate important messages, create new opportunities, and grow their reputation: bloggers, entrepreneurs, educators, marketers, small and medium-sized businesses, and many others.
LuminarAI
automates common manual tasks and reduces complexity so you can tell your story with rich and expressive images like never before.
From 6 am EST March 16 to 4:00 EST March 24, your can take advantage of a 40% OFF sale on the add-ons:
➤ Luminar X Membership - $59/year instead of $99/year;
➤ USA National Parks Skies - $17 instead of $29;
➤ Tropical Skies - $23 instead of $39;
➤ Northern European Skies - $23 instead of $39;
➤ Landscapes Template Pack by Team Skylum - $11 instead of $19;
➤ Earth from Above by Armand Sarlangue - $11 instead of $19 (February 23-24 only).

If you haven't purchased LuminarAI yet, you can get
$10 OFF
by using
coupon code 1KIND
. For LuminarAI upgraders, you can use this
link
or follow these instructions:
macOS: Open LuminarAI. In the Top Menu Bar, choose LuminarAI > Check for Updates. If you purchased via the Mac App Store, open the App Store and go to the Updates tab.
Windows: Open LuminarAI. In the Top Menu Bar, choose LuminarAI > Help > Check for Updates.
If you are running LuminarAIas a plugin with Photoshop, Lightroom Classic, or Photoshop Elements, it's also recommended you rerun the plugin installer.
So what's new with LuminarAI Update 2?
The second free update to LuminarAI is here. You'll find a major update to SkyAI (including water reflections and relighting). You'll also enjoy an improved Templates experience, transformable textures, and much more.
Here are the changes you should find useful.

Improved SkyAI with reflections and more
We've listened to feedback from artists in the Luminar community and delivered a faster, more robust experience in the next generation of our SkyAI tool, including some amazing new and improved tools.


Sky Reflections
No more worrying about sky replacement in photos featuring water. Ocean, river, lake, pool, it does not matter, SkyAI is now designed to automatically reflect the replacement sky in any body of water in the most realistic way. The new sky automatically conforms to the angle and depth of the scene to produce incredible results down to the smallest details. It even adds reflections to ripples on the surface of the water.

Once the new sky is in place, use the Reflection Amount slider to adjust the intensity of the reflection to your liking.
Scene Relighting
SkyAI now provides realistic scene relighting by eliminating strong color casts from the sky on foreground objects. The following sliders provide complete control of the way SkyAI relights the scene:
Relight Amount * matches exposure between the scene and the replacement sky.
Relight Saturation * adjusts color between the scene and the replacement sky.
Relight Human provides discrete control to realistically match people to the lighting provided by the replacement sky. Use this slider to create seamless, natural lighting in environmental portraits and lifestyle photos.
Sky Orientation
One of the toughest challenges in traditional editors is cleanly aligning a new sky to the original horizon. New and improved orientation controls help align the replacement sky until it is positioned for a perfect fit.
Flip the replacement sky to change the direction of the sun.
Rotate the replacement sky on the Z-axis for perfect alignment.
You can also freely position the replacement sky with the Vertical Sky Offset and Horizontal Sky Offset controls. Place it exactly where you want it in the scene and it will perfectly scale to fit while staying aligned to the horizon.
Seamless Skies
When merging two images, many small differences like film grain can make the result feel fake. With new and improved tools, artists now have the control needed to add new skies and produce realistic results.
Grain, Defocus, and Atmospheric Haze all help match replacement skies to the original scene for a seamless, realistic effect.
Horizon Blending creates seamless transitions between the scene and the replacement sky.
Fix Details take care of small imperfections around the edges of the replacement sky.
Sky Selection
Quickly browse and select new skies with a new visual interface from the SkyAI panel. We've added six new free skies with this release and made it easier to add your own skies or add new sky packs.
Transformable Texture Overlays
With Update 2, Local Masking adds new creative abilities. The Texture tool now offers advanced controls to transform texture and image overlays.

PNG overlays
PNG files with transparency can now be uploaded as textures in LuminarAI. These files can be used to add special effects to photos, including watermarks, text, emoticons, and other decorative elements.

Easy placement
New overlay elements can be easily moved, flipped, rotated, resized and placed anywhere you want. There are even blending modes and masks to precisely control how the object interacts with the original image.

Overlays in Templates
Once applied, an overlay can be synced across multiple images or saved as a custom Template for future reuse.

Discover an improved Templates experience
In LuminarAI Update 2, finding the perfect Template for your photo is even faster. Installing new Templates is easier too.

Easy access
To make them easier to find and use, all Templates, including Favorites, My Templates, Purchased, and Legacy Templates, are now available within the main Templates tab, just beneath For This Photo.

Easier browsing
Template Group previews are now uniform in size to make them more visually accessible and comfortable to work with.

Marketplace integration
Templates purchased in the Luminar Marketplace are now automatically added to For This Photo and may be presented by LuminarAI when suggesting enhancements for your photo

Add new templates easily
On Mac or Windows, add external Templates by simply double-clicking in File Explorer. No need to use the plus button inside LuminarAI.
Improved camera support
Update 2 brings support for new cameras and file formats to LuminarAI.
New Cameras
Canon EOS R5, Canon EOS R6, EOS 850D, EOS-1D X Mark III (lossy compressed files)
Fujifilm X-S10
Leica M10-R, S3, SL2-S
Nikon Z 5, Z 6 II, Z 7 II
Olympus E-M10 Mark IV
Panasonic DC-G100 / G110, DC-S5
Sony ILCE-7C (A7C), ILCE-7SM3 (A7S III)
Zeiss ZX1
New Formats
Lossy compressed CR3 files
Lossy compressed RAF files
Here are the Luminar AI system requirements:

FOR MAC
MacBook, MacBook Air, MacBook Pro, iMac, iMac Pro, Mac Pro, Mac mini, early 2010 or newer
CPU Intel® Core™ i5 or better
Memory 8 GB RAM or more (16+ GB RAM is recommended)
macOS 10.13.6 or higher. IMPORTANT: macOS 10.12 is not supported
10 GB free hard drive space; SSD for best performance
Display 1280x768 size or higher resolution

FOR WINDOWS
Windows-based PC with mouse or similar input device
CPU Intel® Core™ i5 or better, AMD Ryzen™ 5 or better
Open GL 3.3 or later compatible graphics card
Memory 8 GB RAM or more (16+ GB RAM is recommended)
Operating system Windows 10 (64-bit OS only)
IMPORTANT: Windows 7 and Windows 8.1 are not supported.
10 GB free hard drive space; SSD for best performance
Display 1280x768 size or higher resolution