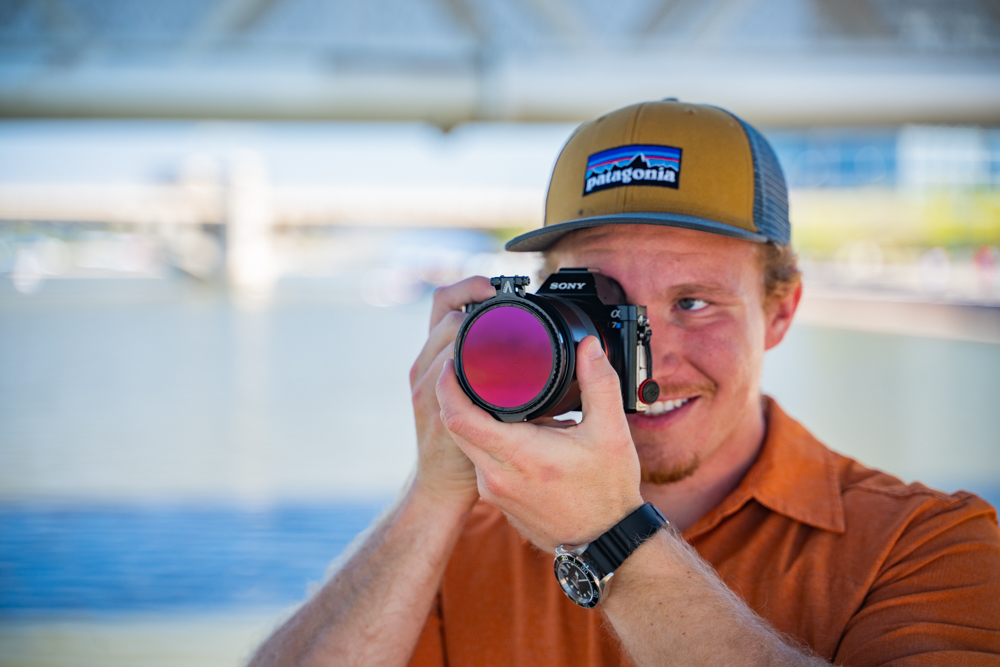 There are magnetic quick release filter adapters available on the market (Breakthrough Photography and Manfrotto XUME). But when you don't need the filters, where do you put them? In your pocket or in your bag? It can be a hassle having to retrieve them or keeping track of them.
Meet Alter. It's a
Rapid Filter System
(RFS) that lets you engage and disengage lens filters the moment you need them. It attaches via the universal filter threads your lens has, and then you can screw a ND or CPL filter on to it (between 40.5mm and 105mm filter thread size). Yes, it still works with your lens caps but it will not work with lens hoods.
So how does Alter RFS work? Since it's attached to the filter threads on your lens, you simply lift the "window" out to expose the camera lens when you don't need to use the filter you have attached. This is great when you're going from indoors to outdoors. This also keeps your filters close to your lens at all times. The "window" is held in place with magnets so it will not flip open easily.
Two things to note is that the RFS does vignette primes past 18mm and zooms past 30mm and it will not work with lens hood to the way it flips open.
Features:
Adjustable friction hinge
270 degree hinge rotation
Zero light leak
360 degree hinge orientation
Magnetically secured closed
Milled aerospace aluminum with anodize
Alter RFS is available at a discounted price through their
Kickstarter
campaign and will retail for $79. Estimated shipping date is September 2019. There are a limited number of Early Birds (Early Adopters), so get in on it early before its sold out.
Early Adopter Single - $63 (20% savings)
Early Adopter Double - $118 (25% savings)
Early Adopter Triple - $165 (30% savings)
And if you need more than 3, just add $55 for each additional RFS to your pledge amount.
Also, instead of using step up rings, you can pledge an extra $10 for each RFS you back to get their RFS+. It is essentially a hinged step up ring. The lens ring has a smaller diameter than the filter ring. This solves the need for step up rings and removes vignetting on wide angle lenses. It has the same slim profile and forward depth as the standard RFS and is great for shooters who step up to the same size filters on all of their lenses.
Alter offers a 30 day satisfaction guarantee as well as a
lifetime warranty
against defects and workmanship for the life of the product when used in normal shooting conditions and for the intended purpose.
Continue for full press release.