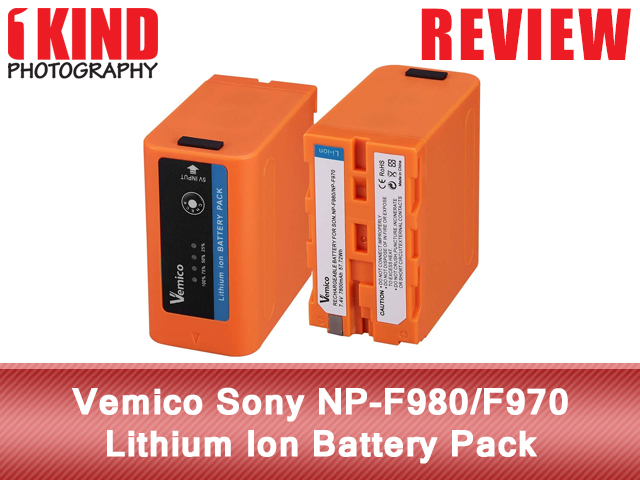 Overview :
The Vemico replacement battery was built exactly to the specifications of the NP-F970, NP-F960, NP-F530, NP-F550,NP-F570, NP-F730, NP-F750, NP-F770, NP-F930 and NP-F950. Larger capacity of 7800mAh. Just like the original, the Vemico replacement battery can be charged in the camera with the original charger. The Vemico NP-F970 battery is made up of high-quality premium cells to provide stable power supply and longer battery life.
Features :
Compatible with DCR-VX2100, DSR-PD150, DSR-PD170, FDR-AX1, HDR-AX2000, HDR-FX1, HDR-FX7, HDR-FX1000, HVL-LBPB, HVR-HD1000U, HVR-V1U, HVR-Z1P, HVR-Z1U, HXR-MC2000U, MVC-FDR1, NEX-EA50UH, NEX-FS100U, NEX-FS700U Handy cam Camcorder.
7800 mAh high-quality rechargeable lithium ion battery with premium cells for longer battery life with no memory effect; 2 replacement batteries provide enough power for your digital camera. No more afraid with no battery no shoots.
Upgraded high-quality rechargeable lithium ion battery with premium cells, ultra-high capacity replacement battery for NP-F970, NP-F930, NP-F950, NP-F960, NP-F770, NP-F750, NP-F570, NP-F550, NP-F530.
4 LED indicator lights shows battery level,you can check the remaining capacity, shutter count and recharge performance on the cameras power source info screen. Enjoy shooting and replace the battery in time.
PACKAGE INCLUDED: 2 x NP-F970/F980 Batteries, 1 x USB Charging Cable.