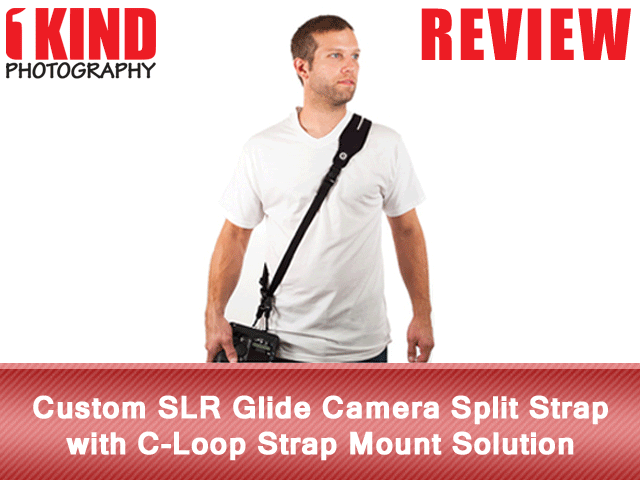 Glide Split Strap Overview :
The
Glide Strap with Split Strap Technology
is designed to make it easy to draw the camera from your side. The camera glides up the strap so your are ready to shoot quickly. This strap works with the C-Loop and is compatible with the hardware from most camera sling systems. Includes everything you need to attach it to the C-Loop.
Glide Split Strap Features :
Split Strap Technology™: Distributes weight evenly to reduce pain/fatigue and provides superior ventilation
Unique Ergonomic Design: Conforms to shoulder for unparalleled comfort
Swiveling Quick Release Buckles: Rotates for maximum flexibility and detaches for increased mobility
Silicone Print: Reduces slippage
High Quality Material and Construction
American Design and Innovation
C-Loop Overview :
C-Loop is truly a sweet, "why didn't I think of that?" solution. We designed the C-Loop in response to how the traditional top mounted camera strap always gets in the way. By relocating the mounting position to the bottom of the camera and integrating a swivel, we discovered numerous benefits that improved the shooting experience when using a camera strap.
C-Loop Features :
Eliminate Strap Interference: Quicker access, flexibility and improved handling.
Smooth Rotation: The C-Loop swivels 360° degrees to reduce tangling and for smooth panning
Low Profile: Makes it easier to transition from landscape to portrait shots
Increased Security: Lens comfortably tucks away making mobility easy in tight or crowded areas
Compatibility: Works with existing camera straps and all devices with a tripod mount