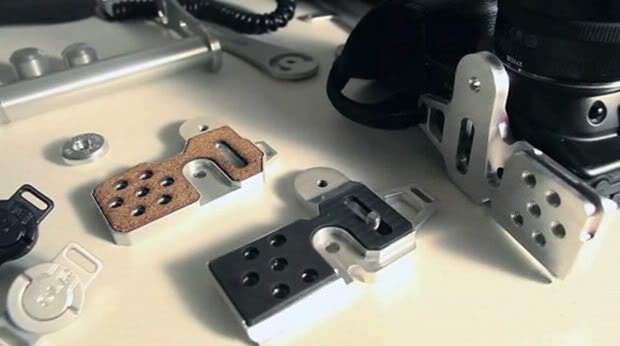 One draw back about camera sling straps is that they take up your tripod mount. Granted, some may have some accessories to fix that problem but it still requires you to unclip your strap from your camera. What if there was a way to leave your strap on your camera and still use the tripod? San Francisco-based
Custom SLR
(makers of the C-Loop and Glide/Sling Strap - full review of C-Loop/Sling Strap
here
) has come up with a solution that offers the best of both worlds: the
M-Plate
.
The M-Plate, is a new tripod plate that offers universal mounting compatibility. The M-Plate is a plate that connects to both the Manfrotto RC2 and Arca-Swiss quick release systems. It also provides an array of additional mounting points for a strap, a hand grip and a few rig products that they say are in the works.
What is the M-Plate™?
The M-Plate is a camera tripod plate system with universal mounting compatibility, integrated Manfrotto RC2 / Arca-Swiss connections, and modular attachment points.
Features of the M-Plate:
World's first tripod plate to integrate both Manfrotto RC2 and Arca-Swiss mounts. Also compatible with other tripod plate systems.
Quick-attach to any tripod while using your favorite camera strap systems such as our own C-Loop. Also compatible with BlackRapid, SunSniper, Spider Holster and others.
Hand Grip Friendly. Adds hand grip function to cameras that lack the mounting point.
The built-in M-Link port will connect with future photo and video attachments, including flash brackets and video rigs that are currently in development.
How does it attach to the camera?
The M-Plate securely fastens to the base of the camera using a threaded hex head bolt, while a protective neoprene base layer prevents the M-Plate from moving once in position. A hex key will be included to attach your M-Plate.
For more information and how you can pledge ($50 will get you one; retail will be $74.95), go to CustomSLR's
Kickstarter
page.