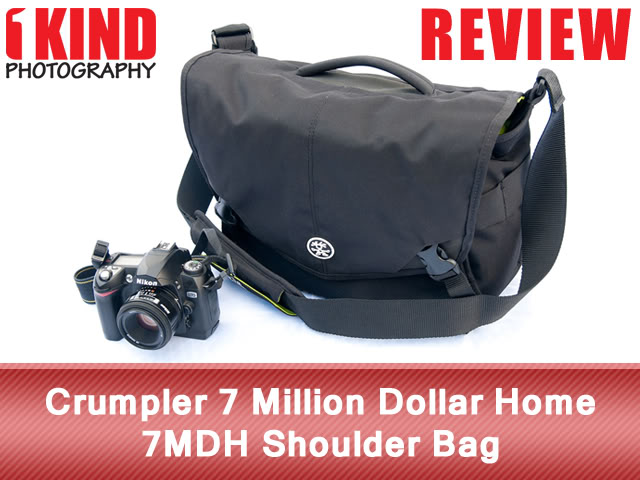 Overview :
The
Crumpler 7 Million Dollar Home Camera Bag
is a 900 denier, water-resistant, nylon shoulder bag made to carry photo gear with accessories. The bag can be customized using the 8 moveable dividers in the main section. It has a 2 strap with 2 buckle closure and a touch fastener Silencer flap that prevents the "hook and loop" closure from being used.
There are four pockets for accessories and the bag is carried by a padded handle or an attached, adjustable shoulder strap with removable pad. It is suitable for a digital SLR, vertical grip & attached lens up to 8"/20cm long, external flash unit and basic accessories, or DV cam and accessories. E.g. EOS D series SLR's, Nikon D series SLR's & attached lens up to 8"/20cm long & external speedlight.
Features :
Water resistant 900D shell & 300D Ripstop lining
One external pocket with internal mesh pocket
Two internal side pockets
Two external accessory attachment straps
One mesh zip pocket under clip & Velcro release flap
Padded & Brushed Nylon lined main compartment with Eight configurable dividers
Plastic stiffening layer in base
Carry handle
Adjustable removable shoulder strap & shoulder pad
Construction :
900 denier, water-resistant nylon
Lined with 300 denier ripstop nylon
Padded and brushed nylon main compartment
Eight moveable dividers to customize the bag
Plastic stiffening layer in base
Two strap and 2 buckle closure
Touch fastener Silencer flap prevents the "hook and loop" closure from being used
Pockets :
External pocket with internal mesh pocket
Mesh zip pocket under flap
Two hidden internal side pockets
Carrying options :
Padded carry handle
Attached, adjustable shoulder strap with removable pad
Dimension :
Width:
34.5 cm / 13.6 inches
Height:
28 cm / 11 inches
Depth:
21 cm / 8.27 inches
Volume:
13 L / 793 cubic inches
Empty Weight:
1.2 kg / 2.64 lbs
Quality/Usability :
I've been in the market for a new camera bag ever since I upgraded from a Nikon D70 to a Nikon D7000. I was using a LowePro SlingShot 200 AW to carry my gear. Since I got the MB-D11 grip for my D7000, I outgrew my Slingshot and it was small to carry a pro-sized camera body with grip along with SB-600 flash and 2-3 lenses.
I was looking for a bag that was comfortable and slightly less bulky but still be able to hold all my gear without a problem. I have heard a lot of great things about Crumpler shoulder bags and they look like messenger bags. This is great as it doesn't scream out to would-be thieves that there is a camera inside with expensive gear.
Once I got my eyes set on a Crumpler bag and color, it was a matter of what size to get. I didn't want anything too small where it wouldn't fit my gear and I would outgrow it as well if I was to purchase new gear. I also didn't want anything too big where it would be bulky but would leave plenty of room to add more stuff (this could be a good thing or bad thing). After reading around on the web and seeing what camera's people were putting into Crumpler bags, I decided on the 7 Million Dollar Home (7MDH).
Now it was a matter of where to purchase. $145 for a camera bag is a bit pricey for me. I could of purchased from eBay and gotten the bag for $50 or so. Of course, they were sold by overseas sellers and had a feeling they were counterfeits. Luckily, I checked
Amazon
and saw that they were selling the bag for under $100 (the new model has green on the sides, as shown in the pictures. The one I purchased has black on the sides - only the interior was green). What made the deal even sweeter for me was that I signed up for Amazon's credit card and got $45 instant credit and I also had $30 in Amazon credit already. Essentially, the bag costs me $30 including free shipping. How can not jump on a deal like that!?
Let's talk about the exterior and interior of the bag. The bag exterior is made of nylon material. Outside are two buckles that keep the flap cover closed. Underneath the cover, there are velcros on each side. This clings to the velcro on the inside of the bag. What's nice about the Crumpler bags is that they added "silencers". To activate the silencers, simply pull out the flap that is hidden pocket behind the velcro and this will cover the velcro. So when the cover is closed, there is nothing for the velcro to attach to. This is great for when you want to be quiet whether you're at a church or at a show. On the sides of the Crumpler, there are "handles". I call these handles because you can grab them and hold your bag. You can also add attach other small bags such as
Crumpler Thirsty Al
or ThinkTank Modular Components such as
ThinkTank Lens Changer
.
With the flap open, you have a zippered netted pouch. The pocket is fairly big and can hold documents, caps or small items. You don't want to add anything too big or it will make it bulge. On the front of 7MDH, is a pouch which uses velcro to keep it closed. You can store your cables, chargers, documents as well. Inside the front pocket are also smaller pockets to hold pens, memory cards and smaller items. There are is a side pocket on each side. You can fit a flash but there wouldn't be much of a protection. It would be good to hold cables, possibly a Joby GorillaPod and pens.
The main compartment includes 8 configurable dividers. You can configure it however you like and what you feel is the best for your setup. The picture above is a bit outdated with some of my old gear that I got rid of but you get an idea of how I have the bag setup. Of the 8 dividers, I didn't use one of them. With the camera in the bag, I had room to put my
BlackRapid RS-7
(now
BlackRapid RS-Sport
) strap on top of the camera and the bag closed without a problem. Something I couldn't really do in my LowePro SlingShot even after rearranging the dividers.
left: Crumpler 7MDH with gripped Nikon D7000 and BlackRapid RS-7 camera strap in place
right: Crumpler 7MDH divider layout
The shoulder pad is fairly comfortable, better than some other straps found on shoulder bags. It's not too thick and not too thin. The velcro on the pad keeps it from falling off the strap but allows you to slide it up and down the strap. The underside where the pad would rest on your shoulder has a rubber texture. This keeps the pad from moving either in front or behind you.
Conclusion :
Overall, the Crumpler 7 Million Dollar Home 7MDH Shoulder Bag is a roomy camera bag. The 6MDH would hold just about the same amount but probably wouldn't be able to hold a gripped camera. There's also the 8MDH and Brazillion. These two are even bigger and will hold more than the 7MDH.
I did notice that when I was adjusting the dividers, I noticed that some of the claws from the velcro would fall off and get stuck on the inside of the main compartment. It's not a big issue but I thought I would mention it. I also read on the web from other user experience that if you use the velcro to close the flap cover, eventually the fuzzy velcro would become to peel and it would lose its effectiveness.
Not many bags out on the market are really geared towards cameras with grips. The Crumpler 7MDH had no problem accommodating my gripped Nikon D7000 with Sigma 24-70mm F/2.8 EX DG HSM lens attached. I was able to store my Nikon 50mm F/1.8G, SB-600 flash as well as all the little nick-nacks such as battery charger for my camera, charger for my Sanyo Eneloops, a set of 4-AA batteries,
LensPen
and a few other smaller things. Unfortunately, there is no way to hold a tripod.
Counterfeits/Fakes :
As I mentioned before, there are fake Crumpler bags out there. To avoid purchasing a counterfeit, I highly suggest avoiding purchasing from eBay no matter how good the price is. Unless of course, you don't care. There are a few ways to tell how its a fake (additional information can be found via Google search):
loose threads and obvious stitching faults
inconsistent color
stress whitening on molded plastics
inferior, non-water resistant outer and lining materials
different color options to those at crumpler.com
different or misspelt product names to those at crumpler.com
Counterfeiters will try and make it look as real as possible. If you still can't tell, another way to tell is by the buckle. From my experience and browsing on the web, the back of the buckle will have the name of the maker (
nifco
). If it does not have this name on the back of the buckle, it's a fake. Counterfeits will skip on small details to save on costs and hope that people will not know and usually, people wouldn't.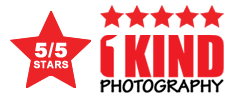 ---
Manufacturer: Crumpler