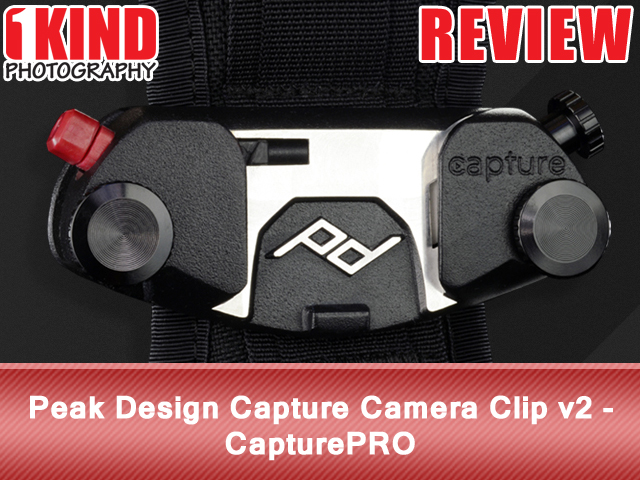 Overview :
Capture is a compact metal clip that lets you carry your camera on any backpack strap, belt or bag. Its unique quick-release system keeps your camera rigidly secure, yet instantly accessible with the click of a button. Capture frees you from cumbersome camera straps and holsters and lets you go anywhere and do anything with your camera safe and in reach, making sure you
never miss another shot
.
Updated Features :
There's a Standard and Pro version now: Hobbyists and beginners have different needs than serious pros and adventurers, hence 2 versions of the clip (more info below).
Beautiful new ergonomic shape: The new Capture looks sleek and stunning - but the new shape is more than just eye-candy. It was redesigned to give you total comfort no matter where on your body you wear it. Peak Design also redesigned the clamping bolts to make them easier to screw down, even if you're wearing gloves.
Lighter and slimmer: They trimmed the fat, making an already compact product lighter, slimmer and more unobtrusive.
Better security features: There are now 2 new secondary locking systems to give you more security options. A safety lock has been added to the quick-release button, giving you a quick and easy way to prevent accidental release. For maximum security, the all-new twist lock tightly clamps your camera in. The new twist lock also stabilizes your camera if you're using Capture as a tripod clamp.
That's right, it works as a tripod clamp too (PRO): CapturePRO has a ¼" tripod mounting hole in it's back plate. This means you can put it atop your tripod or monopod and have a fully functioning quick-release clamp for your camera.
Works with more tripod heads (PRO): CapturePRO comes with one of our three PROplates. These plates offer compatibility with more tripod heads (ARCA and Manfrotto RC2) and camera types (SLR and Compact Mirrorless).
Works with sling straps (PRO): Capture, equipped with the standard plate, is designed to work with Leash and Cuff using our micro-anchor attachment system. CapturePRO, equipped with one of the PROplates, works with Peak Design straps as well as classic sling-style straps made by companies like BlackRapid®. PROplates feature a special load-bearing D-ring that lets you attach your sling strap directly to your camera when you're not using Capture.