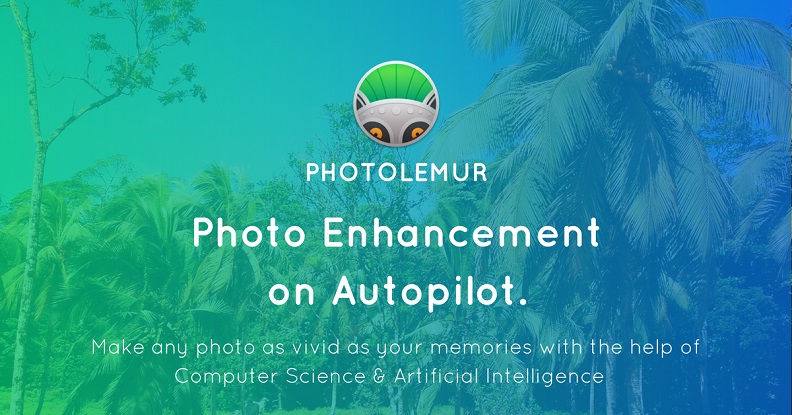 Photolemur
is the world's first fully automated solution for creating perfect photos.
It works on Mac and PC, automatically analyzes and perfects your images, and doesn't require any manual involvement.
Photolemur is powered by artificial intelligence that recognizes objects, faces, trees, sky, foliage and more; distinguishes between portraits, landscapes and macro photographs; and applies the appropriate enhancements for each type of image.
Photolemur 3.0 includes the world's first fully automatic processing and retouching of faces: skin smoothing, removing skin defects, smart eye enlargement and hair structure.
The new Photolemur 3.0 version has six new styles along with the ability to impose them on images. The program is also able to enhance a large number of photos simultaneously: more than 200 images at the same time, which will speed up a workflow considerably.
Here are the most essential changes:
Automatic Face Enhancement with skin retouching and teeth whitening
Smart Eye Enlargement
Adding Styles to photos
New menu for opacity settings
Quick access menu for face enhancement, lens correction and eye enlargement
Apply settings from one image to all images in batch
SmugMug Export (for Mac version)
Performance and stability boost
Photolemur 3.0
will be available for pre-order on August 28, and released on September 14.
Pre-Order Pricing:
Current users may upgrade at a special pre-order price of $19
New users can purchase Photolemur 3.0 Family at a special pre-order price of $49
A collection of bonuses will also be included in every purchase.
Photolemur 3.0 Regular Pricing:
Current users may upgrade at a special pre-order price of $19
New users can purchase Photolemur 3.0 Family at a price of $59
New users can purchase Photolemur 3.0 Single at a price of $39
Pre-order bonuses:
The Shotkit EBook
The 2018 Gear Guide
$300 Off a multi-day (3+ day) Iceland Photo Tours