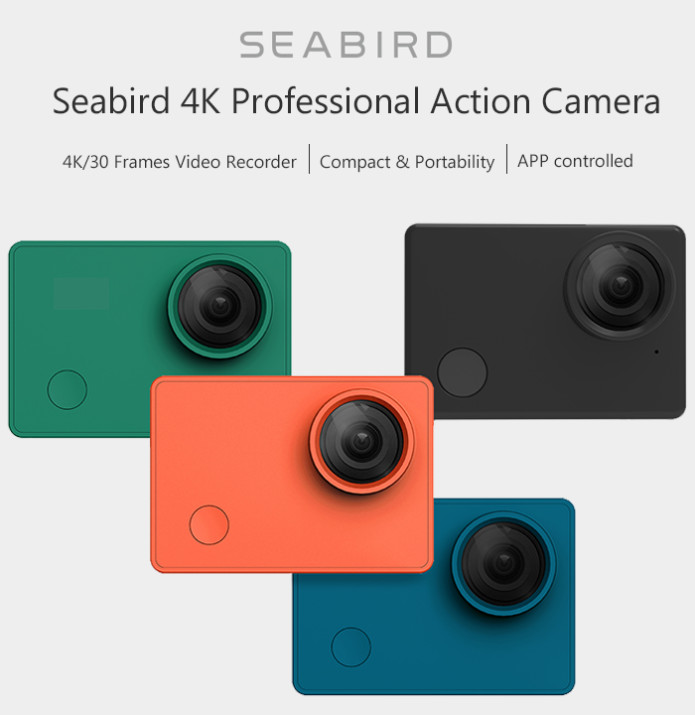 The
Seabird 4K HDR Action Camera
looks and resembles exactly like a GoPro Hero 3, 3+ and 4 but with features like the GoPro Hero 5. Its packing a HiSilicon Hi3559, 7G lens with 155° FOV, that supports 4K@30fps video recording, up to 4X more detail than HD (FHD, 1080P) and maximum 60Mbps encoding. The 7 layer optical glass lens, alongside 155° viewing angle and f2.4 aperture, making HD images sharper, clearer and more realistic. The Seabird can be used for skydiving, diving, swimming, biking, selfies, snowboarding, skiing, car dashcam and many more.
It can record in the following sizes:
4K @ 30fps
2.7K @ 30fps
1080p @ 60fps
1080p @ 30fps
720p @ 120fps
720p @ 90fps
720p @ 60fps
720p @ 30fps
480p @ 120fps
480p @ 90fps
480p @ 60fps
480p @ 30fps
It features a 6-axis gyros detect angular velocity, along with dynamic compensation for shooting scenes, keeping shots stable and detailed without troublesome editing.
With lens distortion correction (LDC), Seabird can correct the distortion in real-time. You can get more real recordings and images.
Seabird 4K Action Camera supports various shooting modes, like time-lapse video, burst shot, delayed shot, looping video, slow motion and more, that help you to put your cinematic ideas in motion.
Seabird can utilize time-lapse video recording to produce magic work that you might have missed in normal life. The time-lapse video compressed and sped up a standard video taken over a period of time, which is often used to shoot dynamic landscapes, city scenes, the celestial event, architecture scene and biological evolution, etc.
The Seabird 4K HDR Action Camera is available through
Indiegogo
and at a very affordable price. You can get it as cheap as $89 for Super Early Bird. Otherwise, its $99. You can also get the Selfie Stick pack which offers a protective case and selfie stick for $118 or the Floating Rod pack which gets you the waterproof case and floating rod. Since it is similar to the GoPro Hero, the Seabird will also work with GoPro Hero accessories.
Check out our unboxing and overview video: