With the release of Canon's new full-frame mirrorless cameras, the EOS R5 and R6, the EF-RF lens mount adapters extend the range of compatible lenses designed for attaching any EF or EF-S-mount lens to the EOS R-Series mirrorless digital camera. Canon offers four different version of the adapters:
Canon Mount Adapter EF-EOS R (MSRP $99)
Canon Control Ring Mount Adapter EF-EOS R (MSRP $199)
Canon EF-EOS R Drop-In Filter Lens Mount Adapter with Circular Polarizing Filter (MSRP $299)
Canon Drop-In Filter Mount Adapter EF-EOS R with Variable ND Filter (MSRP $399)
These adapters are either hard to find, have a long back-order whether it be from
Amazon
,
B&H Photo
,
Adorama
, Canon's online store or even price gouged on
eBay
.
However, if you are in need of an EF/S-RF lens mount adapter immediately for a project or vacation, there are other alternatives from 3rd party manufacturers. The adapters retains full auto-focus and image stabilization capabilities and contains no optical components, thereby maintaining the original optical quality of the mounted lens. The only difference between OEM and 3rd party is the material quality and added lens/tripod collar (if applicable).
We've compiled a list of brands and where you can purchase them. They don't break the bank like the Canon or the price gouging from 2nd hand markets but it will hold you over until you're able to find an Canon version or if you feel the need to get OEM. You never know...you may end up liking the aftermarket ones and save some money.
If you find any additional adapters that we may have missed, please let us know.
EF-RF ADAPTERS
Model: CA-EF_RF
Price: $57
Model: MK-EFTR-A
Price: $52-$57
Model: EF-EOS R
Price: $45
Model: CM-EF-EOS-R
Price: $59-$99
Model: LAE-CR-CEF
Price: $89.95
K&F Concept
[
NOTE: This adapter doesn't support auto-focus
]
Model: KF06.383
Price: $39
Metabones EF-RF Speed Booster ULTRA 0.71x
[for EOS R and RP
ONLY
] - Filmmakers are now able to mitigate most of the 4K video crop factor of EOS R (1.75x) and EOS RP (1.63x) and reduce it to 1.24x and 1.15x respectively. The field of view is now much closer to still photo mode.
This Speed Booster is not intended for still photography but will work if the camera is configured to APS-C mode. 60p FHD video does not work at all.
Model: MB_SPEF-EFR-BT1
Price: $479
DROP-IN FILTERS
Breakthrough Photography
Choose from more than 20 filters, including: Neutral Density, Dark CPL, Night Sky, Infrared, Circular Polarizers, Variable ND and B&W Polarizers. Each drop-in filter features a rugged dust and water resistant design.
The X4 CPL and Dark CPL drop-in filters feature a larger adjustment wheel for ultra-fine and smooth polarization adjustment. Each drop-in filter is color coded to make filters quickly identifiable.
EF to RF Drop-In Filter Adapter ($199)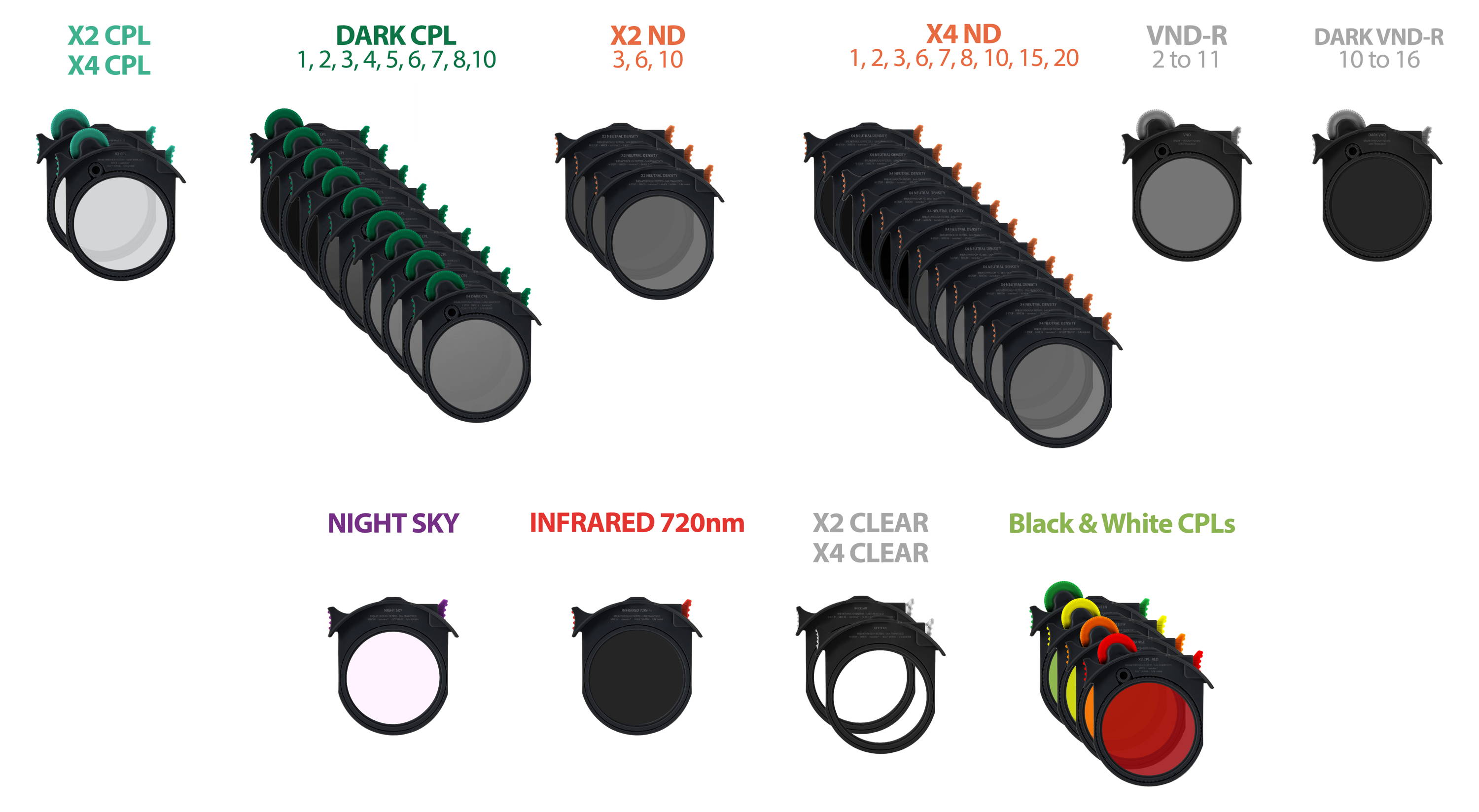 Kolar Vision
The unique, class-leading optics you've come to expect from Kolari Vision are now available to fit Canon's next-generation form factor. Our Drop-in filters bring you our Infrared, Ultraviolet, Neutral Density, IR/UV Cut, and IRchrome glass to Canon's new R lens adapter system. Machined from solid aluminum with wide grip and lanyard attachment point for lightweight durability, ease of use, and user customization. Our attachment system provides the exact pressure needed to make swapping filters intuitive and easy while never shaking loose on their own. All of our filters are coated with AR/AS coatings for increased transmission, reduced reflections, and easy cleaning. The IRND filters are built on an ultra-strong Gorilla Glass substrate.
2-stop IRND
4-stop IRND
5-stop IRND
10-stop IRND
15-stop IRND
20-stop IRND
590nm Infrared
665nm Infrared
720nm Infrared
850nm Infrared
IRchrome
UV Bandpass
UV/IR Cut Hot-Mirror
CPL