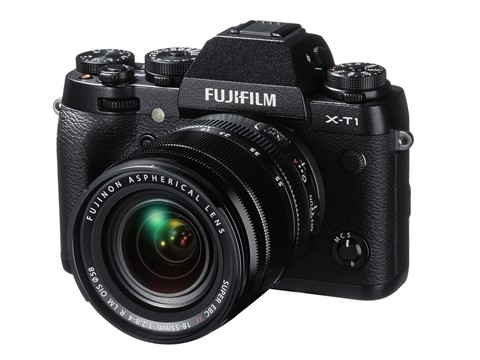 The Fujifilm X-T1 makes its official debut. Inside the X-T1′s retro body you'll find the newest generation Fuji's 16MP APS-C X-Trans CMOS II sensor, an EXR Processor II, built-in WiFi, a 1.04 million dot high-precision 3-inch tempered glass tilting LCD and a built-in wide-angle 2.36M dot OLED EVF with the world's highest magnification for a digital camera (0.77x) and a short lag time of 0.005 seconds.
The X-T1 ships next month for $1,299 for the body only, and $1,699 for the camera and the XF 18-55mm f/2.8-4 lens. You can pre-order yours today at the following authorized retailers:
Fuji X-T1 Body Only:
B&H Photo
|
Adorama
Fuji X-T1 with XF 18-55mm f/2.8-4 Lens:
B&H Photo
|
Adorama
The weather-resistant lenses will arrive sometime this year, but no specific pricing and availability info has been released yet. Until they arrive, you can use the X-T1 with any of the current X-Series lenses.
Continue reading for full press release and you can also find more information by visiting
Fuji.com
.
X-T1 features a huge, real-time OLED viewfinder, extreme AF speed, and premium craftsmanship for photographic freedom anywhere
Valhalla, N.Y., January 27, 2014
– As a leader in advanced digital camera technology and outstanding image resolution, FUJIFILM North America Corporation today announced the new FUJIFILM X-T1, a weather-resistant premium interchangeable lens camera with a large OLED electronic viewfinder (EVF) that delivers a near-instant image preview, the latest generation 16.3 Megapixel APS-C X-Trans CMOS II sensor and the segment's fastest autofocus of 0.08 seconds
*1
for a truly remarkable photographic experience anywhere.
The FUJIFILM X-T1 now gives professional and enthusiast photographers the award-winning imaging power of the X-Series in a water, dust and temperature resistant body that braves outdoor challenges like never before.
OLED viewfinder perfection
The FUJIFILM X-T1 combines a unique wide-angle 2.36m dot resolution OLED view with the world's highest magnification (0.77x) for a digital camera
*2
and shortest display lag-time of just 0.005sec
*3
to react as quickly as you need in any environment.
The OLED viewfinder also includes cutting-edge technology to bring users even closer to their subjects. The X-T1's viewfinder uses a newly designed Graphic User Interface that provides an exciting shooting experience with clear details and a comfortable at-a-glance view of your settings.
The X-T1 has four
OLED EVF Display Modes
:
"FULL" mode takes full advantage of the high magnification ratio of the X-T1's viewfinder to give an unrivalled view of the scene
"NORMAL" provides an optimum view, including shooting settings
"DUAL" is specially designed for manual focusing with a clever split view. The regular view and manual focus area can be simultaneously checked (with Digital Split ImageTM or Focus Peak Highlight)*4
"PORTRAIT" view in "NORMAL" and "FULL" modes automatically rotates the displayed information when the camera is held vertically
Award-winning 16.3 Megapixel APS-C X-Trans CMOS II sensor and EXR Processor II
The FUJIFILM X-T1 uses the award-wining EXR Processor II and X-Trans™ CMOS II sensor with built in phase detection that delivers an astonishing response time of just 0.08 seconds and a super-fast 0.5 second start-up time
*5
, along with a 0.05 second shutter time lag and a 0.5 second shooting interval
*6
.
The X-T1 can also shoot up to 8 frames per second
*7
with tracking AF and is the first-ever CSC
*8
to be compatible with SDXC UHS-II format memory cards for data writing speed (in Continuous Mode) that is approximately twice that of a conventional SD card.
Tough, weather-resistant design
The FUJIFILM X-T1 is the first weather-resistant X-Series CSC (when used with a weather-resistant lens) that performs in a wide range of challenging environments. The X-T1 uses more than 75 points of weather sealing, and the camera body is dust-resistant and water-resistant. The X-T1 is also freezeproof to -14°F for full-fledged field photography work, while the premium clear 3" LCD screen with 1.04 million dot resolution is made of tempered glass for additional outdoor protection.
Traditional handling, modern response
With five mechanical dials on the top-plate, two command dials; one on the front and one on the rear, and six fully customizable function buttons, the FUJIFILM X-T1 feels and functions like a proper photographic tool in the hand. The top-plate includes two machined-aluminum double-deck dials for the shutter speed and metering, and the ISO sensitivity and drive modes, and each is designed to turn with a reassuring click, while their textured surfaces gives a firm confirmation when setting up a shot.
With their exposure values clearly marked, the X-T1's settings can be checked at a glance without using the rear LCD and the dials are perfectly arranged so that functions can be changed without removing your eye from the viewfinder. The six customizable function buttons and two command-dials arranged on the front and rear complete the picture, ensuring instant setting satisfaction.
WiFi and remote camera operation
The X-T1 one-touch WiFi connectivity lets you easily share images to your smartphone or tablet – pictures that these devices cannot capture - and remote shooting via smartphone or tablet using the Fujifilm Camera Remote app for unique capture opportunities.
Additional grip and weather resistant lenses
The optional vertical battery grip (VG-XT1) has the same hardy structure as the X-T1, so when added to the body, it is completely secured against the elements.
Fujifilm is launching three weather-resistant zoom lenses to complement the X-T1 camera in 2014, including the XF18-135mmF3.5-5.6 R OIS WR, XF16-55mmF2.8 R OIS WR and the XF50-140mmF2.8 R OIS WR.
FUJIFILM X-T1 key features list:
16.3 million Megapixels APS-C X-Trans CMOS II Sensor
Dust and water-resistant body with more than 75 points of weather sealing. Freeze resistance to -14°F
EXR Processor II
o World's fastest AF of 0.08 seconds
o Startup time of 0.5 seconds
o Shutter time lag of 0.05 seconds
o Shooting interval of 0.5 seconds
o Phase detection AF and motion predictive AF for continuous shooting up to 8 frames per second
High-precision 2.36 million dot OLED viewfinder
o Highest viewfinder magnification for digital cameras of 0.77x
o Wide viewing angle (diagonal 38° and horizontal 31°)
o Ultra-fast Real Time Viewfinder with a lag-time of 0.005sec (less than 1/10 of existing models)
Four different display modes: Full, Normal, Dual and Vertical.
o Full mode: Displays shooting information at the top and bottom of the screen to avoid obstruction of the view
o Dual mode: Adds a small second screen for checking focus point with Focus Peak Highlight or Digital Split Image
o Normal mode: Lets you concentrate on framing the shot in Auto Focus mode while keeping you aware of how the shooting conditions are changing, making it the perfect setting for sports and action photography
o Portrait mode: When in Full or Normal modes, it rotates the shooting information interface when the camera is turned vertically
Tempered glass 1.04 million dot high-precision 3" tilting LCD monitor
Digital Split Image and Focus Highlight Peaking
World's first compatibility with Ultra High Speed UHS-II SD memory cards
Vertical battery grip VG-XT1 and three new zoom lenses offer the same weather resistance to secure the entire system
Redesigned circuit board design enables high ISO 51200 setting*9
ISO200 - 6400, extended ISO 100, 12800, 25600, Auto(maximum ISO setting from ISO 400 – ISO6400 available)
Lens Modulation Optimizer technology maximizes each lens' performance
In-camera RAW converter
Die-cast magnesium body provides a sturdy and durable, while compact and lightweight design
Body and grip designed for correct balance when attaching telephoto and large-diameter lenses
Two command dials and six Function buttons for instant control and customization
Interval timer shooting for Time Lapse photography is available with intervals of 1 second to 24 hours and up to 999 frames
FUJIFILM X-T1 accessories:
Dedicated all-leather case BLC-XT1 New
Vertical battery grip VG-XT1 New
Hand Grip MHG-XT New
Four dedicated flash models to choose from depending on requirements (EF-X8 New, EF-X20, EF-20, EF-42)
Protector filters (PRF-39, PRF-52, PRF-58, PRF-62 and PRF-72 (For XF10-24mmF4 R OIS) New)
DC coupler CP-W126 NEW
AC adapter AC-9V NEW
M Mount Adapter for additional lens compatibility
Remote release RR-90
Stereo Microphone MIC-ST1
The FUJIFILM X-T1 (body only) will be available for $1,299.95, and the X-T1 with the XF18mm-55mm (27-84mm) F2.8-4 lens (kit) will be available for $1699.95, both in February 2014.
The FUJIFILM X-T1 uses the same FUJIFILM X-Mount as the X-Pro1, X-E2, X-E1, X-M1 and X-A1, and all FUJIFILM XF and XC lenses work with all X-Series interchangeable lens cameras.
The current Fujifilm lens family includes the following FUJINON XF and XC lenses:
XF 14mm F2.8 R
XF 18mm F2.0 R
XF 23mm F1.4 R
XF 27mm F2.8
XF 35mm F1.4 R
XF 56mmF1.2 R
XF 60mm F2.4 R Macro
XF10-24mmF4 R OIS
XF 18-55mm F2.8-4.0 R LM OIS
XF 55-200mm F3.5-4.8 R LM OIS
XC 16-50mm F3.5-5.6 OIS
XC 50-230mm F4.5-6.7 OIS
*1
: Fastest AF speed among digital cameras equipped with an APS-C or larger sensor. Measurement conducted by Fujifilm research based on CIPA guidelines using the X-T1 equipped with XF14mmF2.8 R lens in High Performance mode as of January 2014
*2
: Highest VF magnification ratio among digital cameras. Fujifilm research as of January 2014. Approx. 0.77x magnification with a 50mm lens (35mm format equivalent) set to infinity and -1.0DP
*3
: Fujifilm research as of January 2014
*4
: "X-Trans" and "Digital Sprit Image" are a trademark or registered trademark of FUJIFILM Corporation.
*5
: Equipped with XF27mmF2.8 in High Performance mode
*6
: MF mode *7: AF-C shooting mode
*8
: RAW shooting mode
*9
: Expended output sensitivity