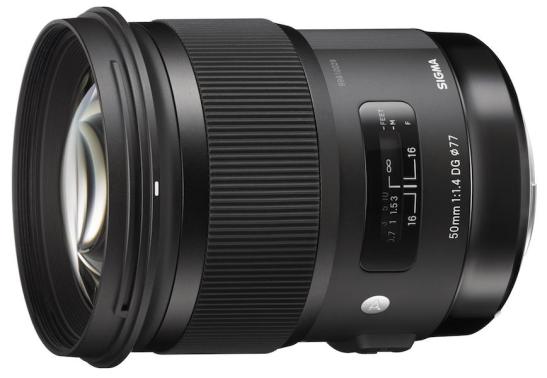 Sigma announced a new ART lens, the
Sigma 50mm F1.4 DG HSM
. This is a completely new designed lens and not really a replacement for the Sigma 50mm F1.4 EX DG HSM. Price and availability to be announced.
Staple lenses in Sigma lineup redesigned as part of the company's Global Vision Rework
LAS VEGAS– Jan. 6, 2014
– Sigma Corporation of America, a leading researcher, developer, manufacturer and service provider of some of the world's most impressive lines of lenses, cameras and flashes, today announced the launch of two new Global Vision lenses from the 2014 Consumer Electronics Show in Las Vegas.
The improved and redesigned 18-200mm F3.5-6.3 DC Macro OS HSM and 50mm F1.4 DG HSM lenses are the latest additions to Sigma's Global Vision lineup. Both lenses' availability and pricing have yet to be announced.
"These two lenses are among our most popular, and we're pleased to reintroduce these products by adding them to our Global Vision lineup," said Mark Amir-Hamzeh, president of Sigma Corporation of America. "The 18-200mm, in particular, is an exciting new lens as it now has macro functionality, updated optics and a Global Vision design, making it a fantastic alternative to the kit lens. As has been the case with our recent Global Vision lenses, we expect an array of photographers to gravitate to their technically advanced features and slick new look."
The
18-200mm F3.5-6.3 DC Macro OS HSM Contemporary lens
, designed specifically for APS-C DSLRs, is the successor to the 18-200mm F3.5-6.3 II DC OS HSM, which was launched in 2011. The smaller and lighter lens (15.2 ounces and 2.8×3.4 inches versus 17.3 ounces and 3×3.5 inches) now macro capabilities with a minimum focusing distance of 15.4 inches and a maximum magnification ratio of 1:3, as opposed to the lens' earlier minimum focusing distance of 17.7 inches and max magnification ratio of 1:3.8. Its minimum working distance is 14.7 inches, which makes the lens suitable for close-up shooting with natural light, keeping shadows of the camera and lens out of the image.
The 18-200mm F3.5-6.3 Macro has also been updated to incorporate Special Low Dispersion (SLD) glass elements that have a high refractive index and can correct chromatic aberration at the telephoto-end. Moreover, aspherical lens elements, including double-sided aspherical lenses, will ensure a compact size and excellent correction of distortion.
The new
Sigma 50mm F1.4 DG HSM Art
has been reengineered and redesigned to set a new standard of performance in the Art line. A staple focal length, the new Sigma 50mm F1.4 Art is a pro level performer for full-frame DSLRs great for many different types of photography including portraits, landscapes, studio work and still-life. It has been updated to include SLD glass and optimized for rich peripheral brightness with improved large aperture performance by positioning wide elements into the front groups. Other updates include an optimized autofocus algorithm for smoother focusing and a floating focusing system to reduce lens movement while focusing. Under the Global Vision line, it features a new matte finish, improved AF on/off switch and guarantees every lens is tested with Sigma's proprietary modulation transfer function (MTF) "A1" measuring system before being shipped. Now with 13 elements in 8 groups compared to the previous 8 elements in 6 groups, it also has improved close focusing at 15.7 inches and a maximum magnification ratio of 1:5.6
Both lenses incorporate Sigma's Hyper Sonic Motor (HSM) system to produce quiet, high-speed auto focus. In addition, they include Super Multi-Layer Coating to reduce flare and ghosting, and to ensure high-quality images throughout the entire zoom range. The 18-200mm F3.5-6.3 DC Macro OS HSM and 50mm F1.4 DG HSM lenses are also compatible with Sigma's USB dock and the company's Mount Conversion Service.
Other recently announced lenses and accessories such as the 24-105mm F4 DG OS HSM, 18-35mm F1.8 DC HSM | ART and USB Dock will be on display at Sigma's CES booth. Visit Sigma at CES 2014 at booth 10431in Central Hall at the Las Vegas Convention Center from Jan. 7 to 10.