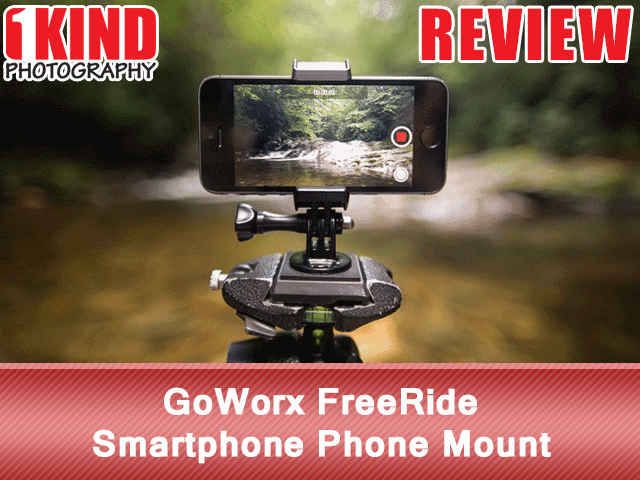 Overview :
Fresh off the GoWorx design table, the
FreeRide Phone Mount
transforms your phone into an infinitely versatile and mountable camera capable of shooting time-lapse photos, steady video, unique perspectives and anything else your creativity conjures up. FreeRide securely attaches to
GoKnuckles
and
The Original Handle
as well as any pole, suction-cup mount, tripod or any of the thousand other gadgets that hold a GoPro HERO or traditional camera. Whether using your phone for POV video, rigging up your smartphone as a GoPro camera display or adding a second perspective to your video production, the padded, vice-like clamps secure your phone so you can capture quality footage with the camera you already own.
Features :
Three-fin mount and included thumbscrew let you mount your smartphone (with or without a case) anywhere you can mount a GoPro HERO camera, unlocking the creative potential of your smartphone.
Included ¼-20 universal tripod adapter lets you mount your smartphone to any tripod or traditional camera mount built for a point-and-shoot or DSLR. With your phone on a tripod, you can finally utilize its powerful camera by capturing quality, shake-free video and truly stunning photos.
FreeRide works seamlessly with other GoWorx designs, including the skate-ready Original Handle and internationally acclaimed GoKnuckles.
Vice-like design fits any smartphone between 56.5mm and 86.5mm wide (2.2 to 3.4"), including all Apple iPhone and Samsung Galaxy models.
Top screw locks down clamps to ensure a solid hold during rowdy, in-motion skate shots.
Soft urethane rubber pads grip your phone (with or without its case) and prevent scratches from the mount itself.
Impact-resistant polycarbonate and precision-machined 304 stainless steel provide a long, adventurous product life regardless of use in saltwater, freshwater, snow, mud, dust or black Hawaiian sand.
With the GoPro® Smartphone App and a little ingenuity, the FreeRide lets you rig your smartphone as a touch-screen display to view and control your GoPro HERO camera in real time.
The FreeRide also enables secondary video perspectives when using your GoPro as the primary camera during your next video project.
With the FreeRide, a dashboard mount and your favorite map app, your smartphone becomes a removable GPS to guide you to your next skate or wave session.