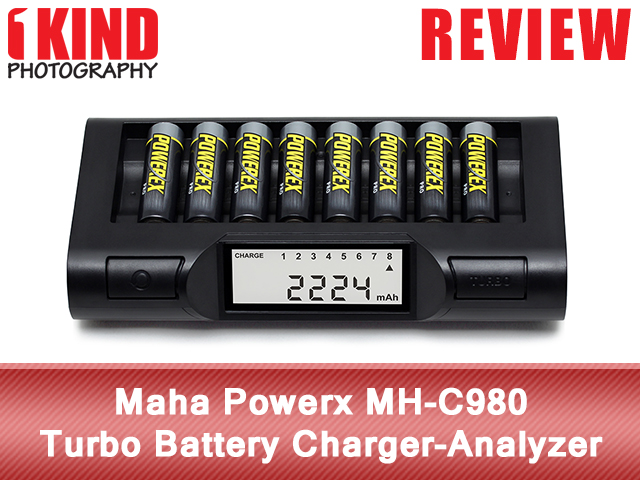 Overview :
The Powerex MH-C980 Turbo Charger-Analyzer charges up to 8 AA or AAA nickel-metal hydride batteries in approximately 1 hour. This charger is the best combination of an 8-cell charger with battery health analyzing features. It has a special One-Touch Battery Health Analyzer with actual capacity readout to provide the most accurate data. The Turbo charge mode allows you to charge your batteries twice as fast while the default mode will maximize battery life. With the Thermal Management System, your batteries will stay cool during charge. For older batteries, you can use the Deep Battery Conditioning System to revitalize them. The large backlit LCD display allows you to take quick glance of the charging status.
Features :
Eight independent charging circuits for flexible charging
One touch Battery Health Analyzer with capacity readout to provide accurate data
Turbo charge (2000mA) when you need batteries charged fast
Thermal Management System to keep batteries cool during charge
Deep Battery Conditioning System to revitalize old batteries
Large backlit LCD display to allow quick glance
Quality/Usability :
We have owned and review a few Maha Energy battery chargers starting with the
MH-C800S
Smart Charger. This was a nice little charger until we swapped it out for the behemoth
MH-C808M
Ultimate Professional Charger. We love the fact that it not only charges AA/AAA batteries like the C800S but it also charged C/D batteries as well.
Maha Energy reached out to us and wanted to know if we would be interested in reviewing their newest MH-C980 battery charger. The charger was officially released on April 29, 2019. They were nice enough to send it out along with a Powerex MHS-CC250 Accessory Padded Bag [
Amazon
|
B&H Photo
] and 8-AA Powerex Pro 2700mAh batteries [
Amazon
|
B&H Photo
|
Adorama
].
The MH-C980 includes the charger, wall charger, empty 8-AA/AAA plastic battery holder and instruction booklet. It's nice that they included the battery holder. It would have been nice if they included batteries to fill in the battery holder ;).
The design and look has not really changed that much. You have your eight battery bays at the top for any combination of AA and AAA batteries. In front of that, you have your Condition button on the left, LCD display in the middle and Turbo button on the right.
Here is a size comparison between the new MH-C980 and the MH-C808M. The MH-C808M swallows the MH-C980 which makes it portable and perfect for photographers or videographers who need to charge more than four AA/AAA batteries at a time.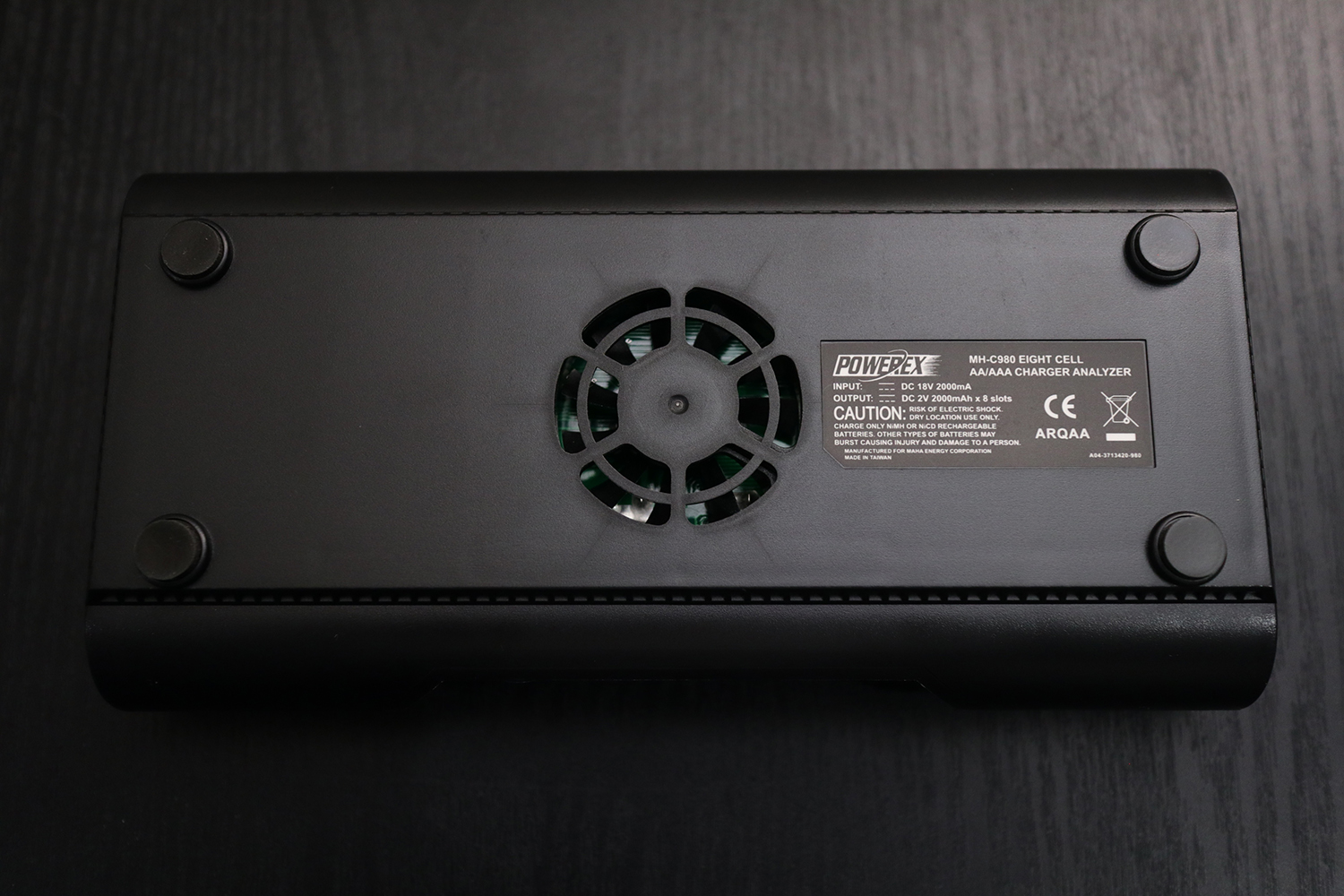 On the bottom, you have a cutout for a fan. The MH-C800S and MH-C808M did not have a fan which made them ultra quiet. While the unit is conditioning/charging your batteries, within a minute or so, the fan turns on which is the Thermal Management System to keep batteries cool during charge. Unfortunately, it is very loud and there is no way to turn it off.
The back uses a single DC barrel port to insert the wall charger. The C800S and C808M used a PS/2 style port/plug. So it's nice to see that they have gone with a barrel port. The included wall charger outputs at 18v – 2000mA.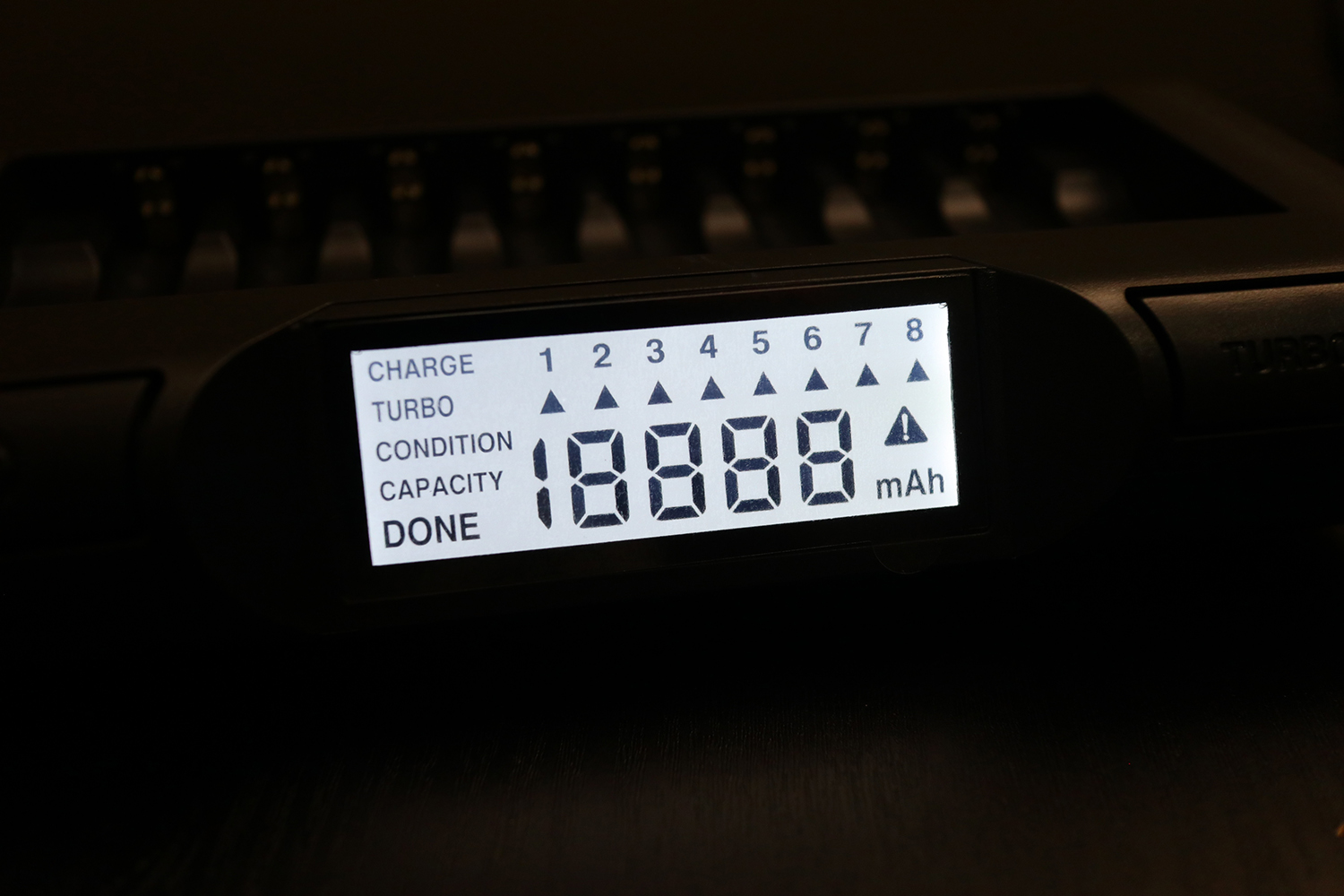 The backlit LCD display shows the current status along with your selections.
CHARGE: will let you know that is it charging at the normal charging current
TURBO: if you need your batteries to be charged quicker, it will charge it in half the time
CONDITION: if your battery isn't holding charge or is having issues, you can condition your batteries
CAPACITY: do not confuse this with the battery capacity (ie 2000mAh, 2500mAh, 2700mAh, etc.). This will show you the amount of charge it has put into the battery. It will start off at 0mAh and continues to go up until the battery is full charged.
DONE: when your batteries are completed, it will display DONE.
The numbers along the top represent the battery bay and the arrows will show you which bay it is currently displaying. If the battery is no good, it will show a triangle with an exclamation mark (located above mAh).
You can charge either a single battery, in pairs, three batteries or up to eight batteries. If you just want to charge your batteries, just insert them into the battery bays and it should take about 2 hours to fully charge.
Don't forget that the mAh capacity displayed is not the current battery capacity but how much charge was put into the battery.
If you need your batteries to be charged quicker whether it's an emergency or you're in a time crunch, you first have to insert one battery into a battery bay and press the Turbo button until it shows "TURBO". Once you see this notification, you can insert the remaining batteries. Turbo mode will charge your batteries in about 1 hour.
If your batteries are not holding a charge or they've been sitting on a shelf and unused for a very long time, you can recondition the batteries. Just like the Turbo charge process, you first have to insert one battery into a battery bay and press the Condition button until it shows "CONDITION" before inserting the remaining batteries.
The process with the conditioning mode is that it will first charge up your batteries to full before discharging it and recharging it again. Conditioning your batteries can take up to 24 hours. This doesn't mean that it will revive all batteries to 100% but it all depends on how far gone the batteries are.
I personally had batteries sit for over a year and wouldn't hold a charge even after a full charge. I've conditioned them and it has brought back majority of my batteries. A few weren't so lucky.
Conclusion :
Overall, the Maha Powerex MH-C980 Turbo Battery Charger-Analyzer is a nice small compact battery charger (compared to the MH-C808M). No longer does it just show the typical battery meter icons but it now displays how much mAh capacity was put into each battery.
Unfortunately, the fan is very loud. If you're charging batteries and you're working near the charger, it may be annoying. I have the batteries charging in my office while I'm sleeping. This way, I don't hear the fan running.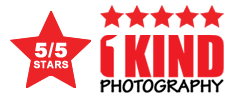 ---