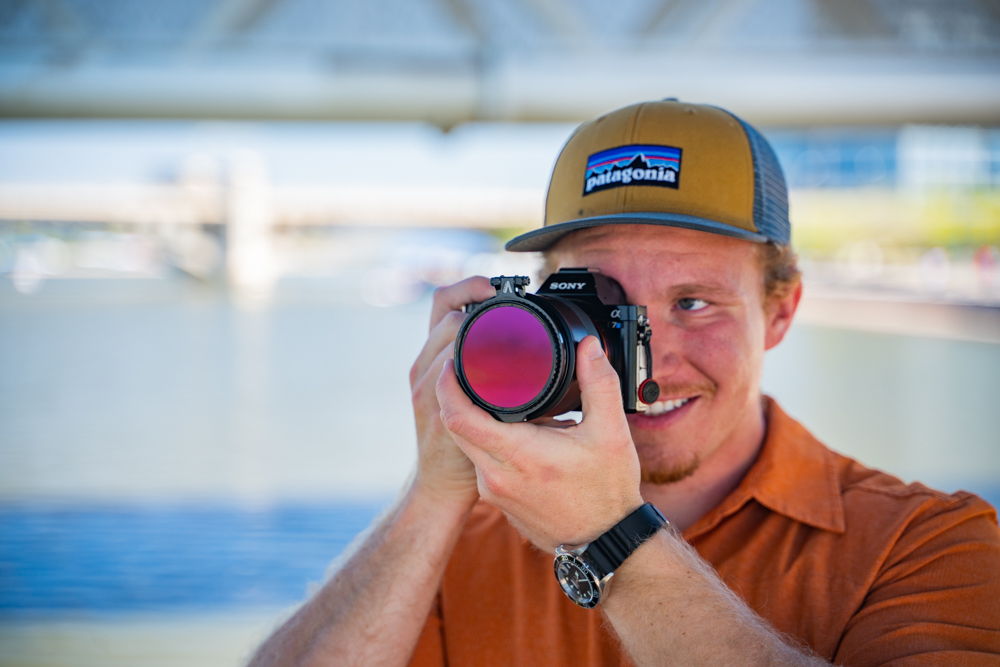 There are magnetic quick release filter adapters available on the market (Breakthrough Photography and Manfrotto XUME). But when you don't need the filters, where do you put them? In your pocket or in your bag? It can be a hassle having to retrieve them or keeping track of them.
Meet Alter. It's a
Rapid Filter System
(RFS) that lets you engage and disengage lens filters the moment you need them. It attaches via the universal filter threads your lens has, and then you can screw a ND or CPL filter on to it (between 40.5mm and 105mm filter thread size). Yes, it still works with your lens caps but it will not work with lens hoods.
So how does Alter RFS work? Since it's attached to the filter threads on your lens, you simply lift the "window" out to expose the camera lens when you don't need to use the filter you have attached. This is great when you're going from indoors to outdoors. This also keeps your filters close to your lens at all times. The "window" is held in place with magnets so it will not flip open easily.
Two things to note is that the RFS does vignette primes past 18mm and zooms past 30mm and it will not work with lens hood to the way it flips open.
Features:
Adjustable friction hinge
270 degree hinge rotation
Zero light leak
360 degree hinge orientation
Magnetically secured closed
Milled aerospace aluminum with anodize
Alter RFS is available at a discounted price through their
Kickstarter
campaign and will retail for $79. Estimated shipping date is September 2019. There are a limited number of Early Birds (Early Adopters), so get in on it early before its sold out.
Early Adopter Single - $63 (20% savings)
Early Adopter Double - $118 (25% savings)
Early Adopter Triple - $165 (30% savings)
And if you need more than 3, just add $55 for each additional RFS to your pledge amount.
Also, instead of using step up rings, you can pledge an extra $10 for each RFS you back to get their RFS+. It is essentially a hinged step up ring. The lens ring has a smaller diameter than the filter ring. This solves the need for step up rings and removes vignetting on wide angle lenses. It has the same slim profile and forward depth as the standard RFS and is great for shooters who step up to the same size filters on all of their lenses.
Alter offers a 30 day satisfaction guarantee as well as a
lifetime warranty
against defects and workmanship for the life of the product when used in normal shooting conditions and for the intended purpose.
Continue for full press release.
Alter Revamps Lens Filters with the Rapid Filter System
Innovative Hinged Filter Adapter Launches on
Kickstarter
as the First Product of its Kind
Alter designed the RFS to deliver a solution for the time consuming nature of using lens filters.
The RFS maintains a pristine image quality while focusing on ease of use and convenience.
Packed with innovative features, the RFS aims to change the way we use lens filters.
United States, April 30th -- Alter has changed the way we use lens filters by announcing the launch of the Rapid Filter System (RFS) on Kickstarter. The RFS, with its innovative hinged design, provides a solution to the time consuming nature of using lens filters and finding a safe place to store them. Whether you're shooting video or stills for fun or professionally, the RFS keeps your filter within reach at all times to enhance your creative experience.
The idea for the RFS originated two years ago when founder Joshua Kasumovic was switching between shooting videos and stills during a mountaineering trip. He found himself repeatedly removing and replacing his neutral density filter, disrupting his workflow and slowing him down. Convinced there had to be a better way, he began to formulate the concept for the RFS. He approached Jonathan Madonia, an old friend and mechanical engineer who had a machine shop in his garage. They've been passionately developing the design, testing prototypes, and building their company ever since. "Through my own frustration in shooting with lens filters, I became aware of the need for a solution to a common problem experienced by photographers and videographers around the world." - Joshua Kasumovic.
Approached with a minimalist design and innovative engineering, the RFS effectively remedies the inconvenience felt by photographers who utilize filters in their craft. The RFS maintains pristine image quality and is packed with functional features to enhance the photographic experience. "The objective over the past two years at Alter was to create a simple and streamlined product that was user friendly and durable." - Jonathan Madonia.
Uses - For enthusiast and professional level photographers and videographers.
With the RFS you can quickly:

Adjust to ambient light conditions
Shoot video and stills on one camera
Disengage dirty filter
Use polarizer on rangefinder
Set focus for long exposure
Set white balance with WB disc
Remove and replace a lens cap

Image Quality

Zero light leak due to the integrated Light Shield

Simple & Customizable Installation - The RFS is mounted with a threaded ring that secures the device firmly to the lens, allowing the user to rotate the hinge 360 degrees to securely orient it at any position on the lens.

Once installed, the intention is to keep the RFS attached to your lens providing the convenience to attach a filter or lens cap to the filter ring.
The RFS comes with a pre-tensioned friction hinge, which is user adjustable with the included wrench.

Build Quality - Milled from aerospace aluminum and coated with a hard black anodized, the RFS is designed for precision and longevity.
Universally Attached - The RFS is available in sizes from 40.5mm to 82mm and mounts to your lenses and filters via the universal threads.
One Handed Use - The filter ring is slightly wider for easy opening and the adjustable friction hinge allows the filter to pivot 270 degrees while staying in place at any desirable position.
Stable & Secure

The device firmly holds the filter close to your lens, keeping it safe and out of the way.
High grade neodymium magnets ensure the RFS stays in the closed position.

Compatibility

Filters, Lens Caps, Step-up Rings, and White Balance Disks
The RFS is not compatible with lens hoods.

Guarantee - The RFS boasts a lifetime warranty and high quality craftsmanship encouraging you to take it anywhere.