I just found a new site where we can get photography gear whether it be cameras, tripods, filters and lenses for cheap. The site is called
Greentoe
. All you do is "name your price" for the product you want to buy - then
Greentoe
will automatically check with their vast network of certified retailers (such as
Adorama
, UniquePhoto and many others) to see who is willing to meet that price. The first retailer to agree to your price gets the sale.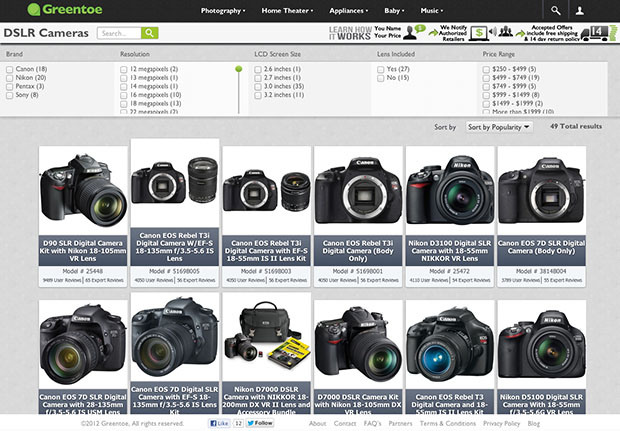 There's no gimmick or any catch. The trick is timing. Retailers are constantly cycling through inventory they need to sell. They're just waiting for the right buyer to come in and make the right offer.
The more reasonable your offer is, the more retailers will jump. But make ANY offer you want and see what happens. It can't hurt. There's nothing to lose - but a huge chance to save.
Below is a video of how it works:
The most important thing to know about
Greentoe
is that as a user, you can name your price for the products you want to buy. Using their system, you can search or browse thousands of products. If you know of the exact product you want, forgo search and go straight to the fun part – placing an offer. When you make your offer, there's no need to search the web endlessly price comparing or sleuthing for the lowest possible price. In an effort to help you zero in on a price,
Greentoe
provides you with the lowest average price online. You can use that information to determine what your final offer will be. Obviously their retailers can't give their goods away so when you type in an offer, they'll help you gauge how likely it is to be accepted. They'll also account for shipping and sales tax as the price you submit will account for both. Armed with this knowledge, you submit the final price you want to pay. You review your final offer for accuracy, set a time limit or expiration date for your offer and submit your credit card, which is only billed once your offer is accepted.
What next?
After you submit your price, their network of certified retailers is notified that there's an offer available. The first retailer to accept your offer, makes the sale. They'll reach out to you with a receipt and shipping information. All of the retailers undergo a rigorous screening process and agree to the same 14-day return policy. So, there's no guesswork when it comes to a retailer's individual policy – their policy is actually a universal Greentoe policy.
Each Greentoe member has access to their detailed account information at any time. Just login to
Greentoe.com
click on "my account" and voila! In this section, you can monitor your offer status and check on recent orders.