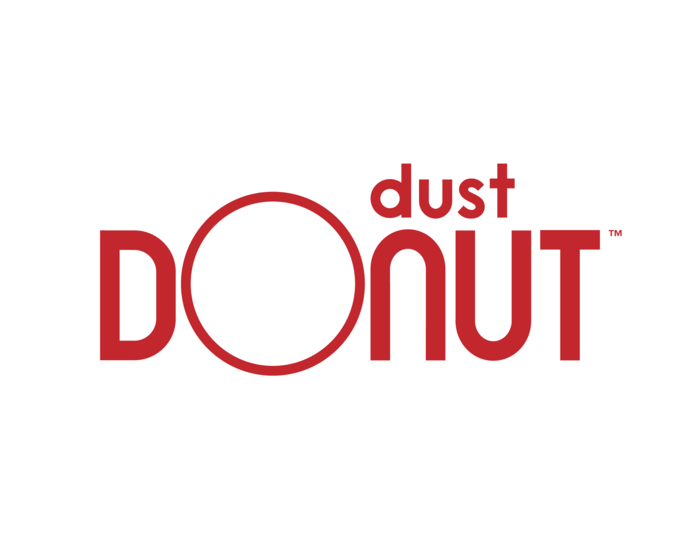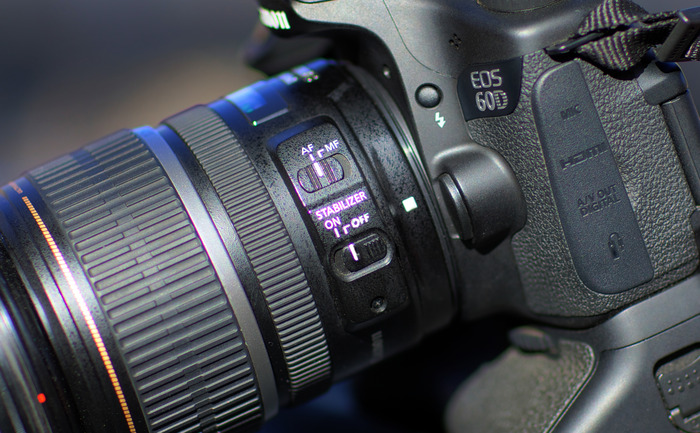 Dust Donut installed on the Canon 60D with EF-S 17-55mm f/2.8 IS lens
The
Dust Donut
is a weather sealing rubber accesory that attaches to the mounting surface of your DSLR's lens and blocks dirt and moisture from collecting around your lens and camera's connecting area. This prevents harmful dirt and moisture from entering your camera body's opening and collecting on the digital sensor causing serious damage and image degradation.
The Problem
Nearly 75% of lenses available on the Canon EF lens mount lack any form of weather sealing
All users whether professional, amateur, or anywhere in between are vulnerable to dust and moisture entering their camera's sensor cavity and lens optics during use regardless of the operating environment
There currently is no way for a photographer to add weather sealing of any kind to the mount of their lenses without the use of bulky and cumbersome rain covers
Interchangeable lens cameras require frequent and time consuming sensor cleaning due to dust build up
Dust particles can also penetrate the lens and collect between its optics and cause resolution loss and negatively effect the resale value of the lens
Moisture can easily pass through an unsealed lens mount and condense on the optics causing haze and the growth of fungus
The
Kickstarter
campaign are needed a goal of $2,000 and as of this posting, it has gotten over $5,500! If you're interested in the Dust Donut, pledge $20 and you can pre-order a Dust Donut for Canon EF mount lenses. If you want more than one (1), just add $20 for each additional Dust Donut. Retail price after Kickstarter will be $24.99. Shipping is free within the US and $6 shipping for overseas and is due to begin shipping in May 2013.
What about Nikon, Olympus and Sony users who are interested in the Dust Donut? There is a pledge tier for $3 or more where you can get yourself on a priority mailing list for the future versions of Dust Donut that are in development. Pentax users seem to be picking up steam and may be on the list as well.
There's not much too choose from in the pledge tier that is "affordable" except for the ones I mentioned above. The early bird special was $15 which has since been sold out. The other tier is a whopping $600 that includes a tour in a 4-wheel drive vehicle of Joshua Tree National Park in California given by the creator of the Dust Donut, Tyler Sterbentz. You'll be taking scenic shots, starry skies and end the night having steak at a restaurant. Oh, flight and hotel is not included but he'll drive you to the airport and give you a set of Dust Donut's for all the lenses in your bag ;).
It would be nice if there was another pledge tier where if you bought more than 1, there would be a slight discount or even maybe a colored version. Instead of black, it could be Canon red to match the L lenses or yellow for Nikon colors or even green as limited edition Kickstarter version.
Continue reading for more information as well as what lenses the
Dust Donut
is compatible with.
The Solution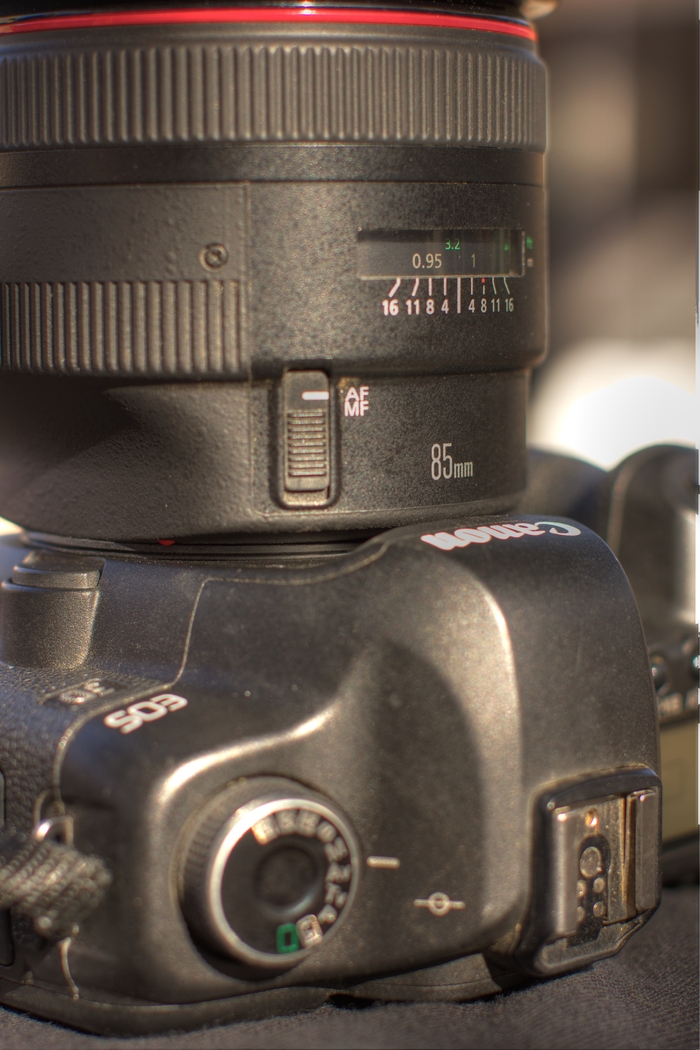 Dust Donut installed on the Canon 5D Mark II with 85mm f/1.2 II lens
Installing a Dust Donut to your unsealed lens offers a convenient, seamless solution some of the most harmful and expensive problems that threaten DSLR users.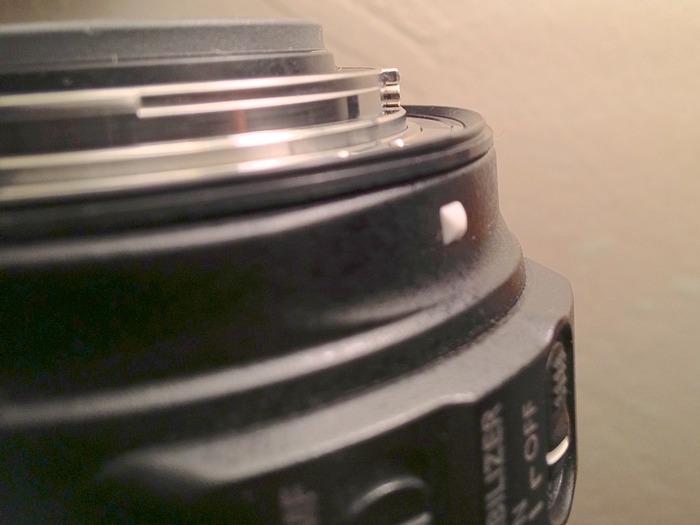 Close up showing the Precise fitment the Dust Donut weather seal has with Canon EF mount lenses
Fits as if it were made by Canon:
Dust Donuts create a weather resistant seal in the same way that high end Canon "L" series lenses do. Dust Donuts are manufactured to a level of precision found only in aerospace engineering with extremely tight tolerances to ensure that the seal fits in exactly the same manner as the factory Canon sealed lenses do with no sloppy over hangs or gaps that could allow leaks or impede lens attachment or removal
Becomes one with your lens:
Dust Donut's apply directly to the mounting surface of the lens and requires no further attention once installed, just use your lens as usual but with the added peace of mind that both of your investments are protected against dust and moisture.
Peace of mind with any lens:
Now photographers everywhere can take full advantage of Canon's non-weather resistant lenses and even the more affordable third party lenses while still benefiting from the increased durability of a dust and moisture resistant camera/lens combination!
Spec's and FAQ's
What lenses does the Dust Donut fit?
The Dust Donut fits all Canon EF mount lenses including third party brands that have a minimum of two tenths of a centimeter thick mounting surface. For a quick test to see if your lens will accept a Dust Donut simply hold up an SD memory card against the lens mount if the thickness of the mount is equal to or greater than the thickness of the memory card then your lens is able to be dust and moisture sealed with a Dust Donut. The Lens Compatibility List below represents all of the Canon lenses that the Dust Donut is known to fit. Please note that if your Canon lens is not listed this is because it most likely has either an in compatible plastic mount surface or a metal mount surface that is too thin to hold a Dust Donut in place. A third party Canon EF mount Lens Compatibility List is in progress so please
check back
if you do not see your lens listed.
Lens Compatibility List
Canon EF-S Lenses:
EF-S 10-22mm f/3.5-4.5 USM, EF-S 15-85mm f/3.5-5.6 IS USM, EF-S 17-55 f/2.8 IS USM, EF-S 17-85mm f/4-5.6 IS USM, EF-S 18-135mm f/3.5-5.6 IS, EF-S 18-200mm f/3.5-5.6 IS, EF-S 60mm f/2.8 Macro USM
Canon EF Telephoto Zoom Lenses:
EF 28-135mm f/3.5-5.6 IS USM, EF 70-200mm f/2.8L USM, EF 70-200mm f/4L USM, EF 70-300mm f/4.5-5.6 DO IS USM, EF 70-300mm f/4-5.6 IS USM, EF 75-300mm f/4-5.6 III USM, EF 75-300mm f/4-5.6 III, EF 100-300mm f/4.5-5.6 USM, EF 100-400mm f/4.5-5.6L IS USM,
Canon EF Wide Angle:
EF 15mm f/2.8 Fisheye, EF 20mm f/2.8 USM, EF 24mm f/2.8 IS USM, EF 28 f/1.8 USM, EF 28mm f/2.8 IS USM, EF 35mm f/1.4L USM, EF 35mm f/2 IS USM, EF 35mm f/2
Canon Standard & Medium Telephoto:
EF 40mm f/2.8 STM, EF 50mm f/1.4 USM, EF 85mm f/1.2L II USM, EF 85mm f/1.8 USM, EF 100mm f/2 USM
Canon Telephoto:
EF 135mm f/2L USM, EF 135mm f/2.8 with Softfocus, EF 200mm f/2.8L II USM
Canon Macro:
EF 50mm f/2.5 Compact Macro, MP-E 65mm f/2.8 1-5x Macro Photo, EF 100mm f/2.8 Macro USM, EF 180mm f/3.5L Macro USM,
Canon Tilt Shift:
TS-E 17mm f/4L, TS-E 24mm f/3.5L II, TS-E 45mm f/2.8, TS-E 90mm f/2.8