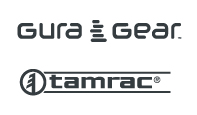 OGDEN, UT (June 18, 2014) – GuraGear, LLC, makers of innovative carrying solutions for discerning creative professionals has agreed to acquire the brand and assets of Tamrac, Inc. The U.S. Bankruptcy Court approved the sale through the Chapter 11, Section 363 Sale of Assets process. Tamrac entered Chapter 11 bankruptcy protection in early 2014 and has a 37 year history of developing affordable carrying solutions for photographers.
Gura Gear President, Gregory Schern stated, "this acquisition represents an exciting opportunity for Gura Gear to build upon a brand with a legacy of designing solutions for photographers and a dedicated customer following while leveraging worldwide distribution. We look forward to providing customers a high level of service and implementing solutions from a new perspective in a rapidly evolving industry."
Tamrac, Inc. will continue to operate normally until the acquisition is finalized in late June. Once the transaction is complete, Gura Gear will relocate Tamrac's assets and expand its Ogden, Utah facilities.
Questions regarding the acquisition can be directed to
info@guragear.com
.
About Gura Gear
Gura Gear began in 2008 as an idea on the back of a napkin by a team of passionate photographers looking for the perfect photography bag. Today, Gura Gear has expanded to a full line of carrying solutions built to the highest standards utilizing only the best materials and workmanship. Gura Gear focuses on creating innovative products for discerning creative professional and enthusiast photographers who love to explore the world.
About Tamrac
Since 1977, Tamrac has offered a diverse product line to meet a wide range of travel and photographic requirements. From the first bag a beginning enthusiast will purchase to a bag suitable for the professional, Tamrac is committed to continuing to offer innovative products that are easy-to-use and understand.