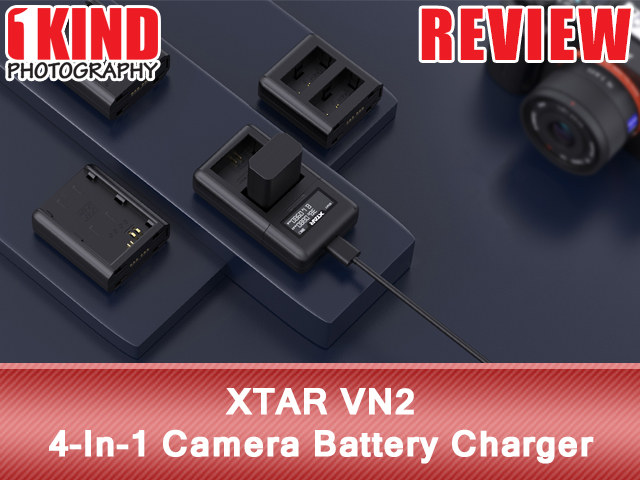 Overview :
VN2 has a design of removable charger head and plates. Simply by replacing charger plates, it becomes compatible with many camera batteries. VN2 currently has four replaceable plates (to be purchased separately) and allows charging four types of camera batteries: Canon LP-E6/E6N/E6NH, Canon LP-E17, Canon LP-E8 and Sony NP-FW50.
Features :
A smart 4-in-1 LCD display charger
Removable charging plates for 4 battery types:

Canon LP-E6/E6N/E6NH
Canon LP-E17
Canon LP-E8
Sony NP-FW50

2-bay charger, 2x0.5A, 1x 1A
Digital display shows real charging status
USB Type-C port, with maximum input 5V 2.1A
Automatically cut-off after fully charged
0V activation function revives your camera battery
Multi-protection for over-charge, over-discharge, over-temperature and soft start
Compact size, easy to carry out.
Quality/Usability :
We were contacted by XTAR to see if we were interested in checking out their new VN2 4-in-1 Camera Battery Charger. We have never heard of them before but having looked at their site and online reviews, they are heavily involved in vaping products such as portable battery banks, battery chargers for batteries such as 18650 and similar batteries.
The VN2 reminds us of the
Nitecore UCN1
USB battery charger that we've reviewed before. The UCN1 charged a LP-E6/E6N battery on one side and the LP-E8 on the other. The VN2 on the other hand features different plates for different batteries and charges two of the same batteries at the same time. So lets go ahead and take a closer look.
The XTAR VN2 is sold in various packages. You can purchase a main set for a single battery such as the LP-E6/N as shown on the left where it comes with the retail packaging, charger unit, USB-C cable and instruction manual.
You can also purchase additional plates separately or you can purchase the entire kit with all four charging plates.
The charger head/brains is made of plastic and houses a LCD display that will show you battery charging information. The back is your standard information and certifications.
The unit is able to detect how many batteries are inserted and will distribute the power evenly. If one battery is inserted, it will output at 1A. If two batteries are plugged in, that 1A is now split between the two batteries, each getting 0.5A. So it will take slightly longer to charge.
XTAR does claim that the charger will also revive dead batteries that haven't been used in a while. However, we don't have any batteries that are dead and have been sitting around, so we can not confirm this.
Note: The green tab over the screen is just a screen protector that we never pulled off.


The top of the unit houses a USB-C port to insert a cable for charging. You can charge your batteries off of a portable battery bank, wall outlet with USB adapter, the USB port on your laptop/computer or even in the car if you're out and about. If you're shooting at an event, you can charge your batteries inside your Pelican or backpack and be able to move around. No longer do you need to be near an outlet.
On the left side is a switch that allows you to release the plate and swap to a different battery plate if needed.
Each battery plate has protruding prongs/brackets on each corner that is used to lock it in place. There are a total of six small pins in the middle that communicates with the six dots in the middle of each plate (as shown on the right). Each plate also have cut outs where the protruding prongs will lock into.
To attach the charger head and a battery plate, simply offset the placement and slide head to the left while holding the plate in place. The until will snap in place.
The remove, slide the release button up and slide the head to the right while holding the plate in place.
CANON LP-E6/E6N/E6NH
Canon EOS 5D Mark II / III / IV, EOS 60D, EOS 60Da, EOS 6D, EOS 6D Mark II, EOS 70D, EOS 80D, EOS 7D, EOS 7D Mark II, EOS R, EOS R5, EOS R6
The XTAR VN2 with the LP-E6/E6N/E6NH battery tray is about the same size as the OEM Canon battery charger but not as thick. Not to mention, the OEM charger can only charge one battery where as the VN2 can charge two batteries at the same time.
I've tested the VN2 with OEM Canon LP-E6N, the new LP-E6NH that came with my Canon EOS R6 and an aftermarket battery LP-E6 from
SterlingTek
. All three batteries charged on the VN2 with no problem.
On the front, you can charge one battery and if you turn it around, you can charge a second battery. With both batteries, its slightly thicker than the OEM charger.
CANON LP-E17
Canon EOS M3, EOS M5, EOS M6 / M6 Mark II, EOS 750D, EOS 760D, EOS 800D, EOS 850D, EOS 77D, EOS 200D / 250D, EOS RP
Next, we swapped the base to the LP-E17. Due to the LP-E17 batteries being smaller, they changed the plate to fit both batteries facing up.
The image on the right shows a comparison between the VN2 LP-E17 and the OEM Canon battery charger. The VN2 is a smidge smaller in thickness and in length. But again, you can charge two batteries at the same time on the VN2 versus one battery on the OEM.
The left image gives you a closer look at the LCD display readout. The battery is inserted on the top slot.
The image on the right shows the battery inserted into the bottom slot which it still charges regardless of which slot the battery is inserted into. Like the LP-E6/N/NH batteries, the VN2 charged my LP-E17 batteries with no issues.
CANON LP-E8
Canon EOS 550D, 600D, 650D, 700D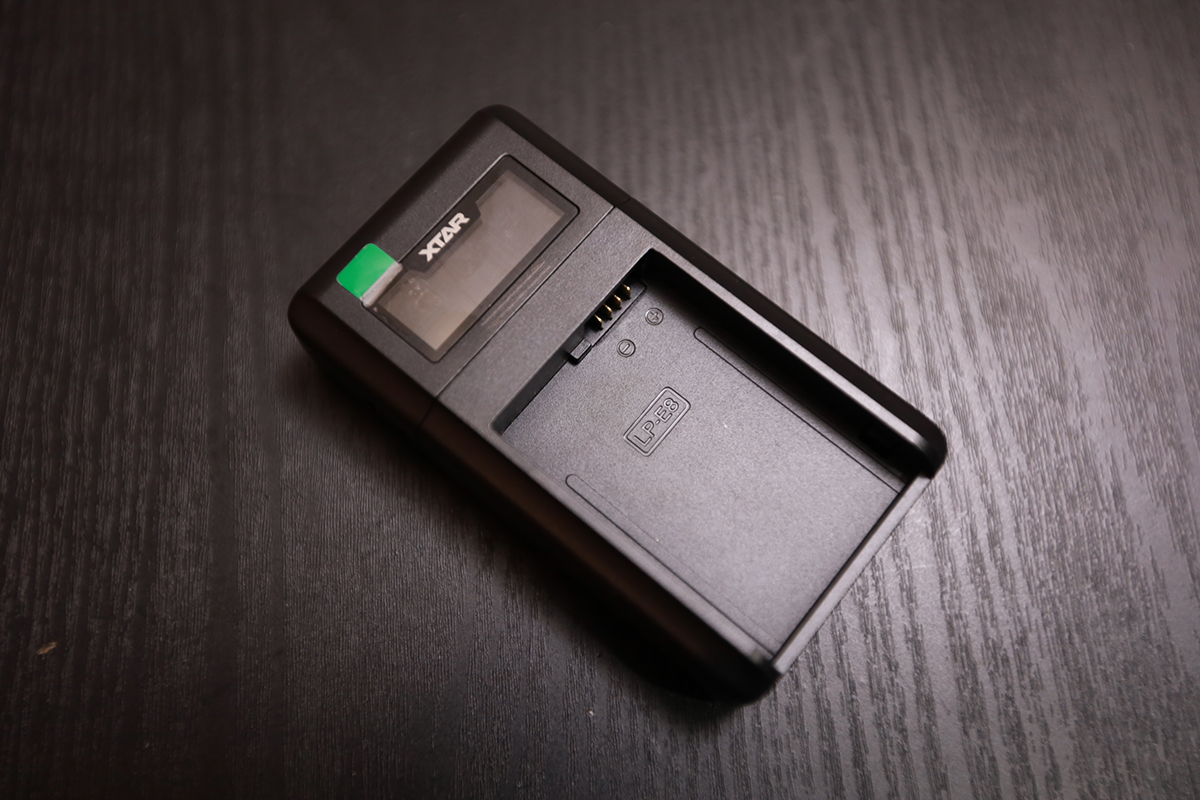 The third plate that XTAR offers is for the LP-E8. Unfortunately, I don't have this battery so I do not have the ability to compare the OEM charger or test out the battery.
Like the LP-E6 battery plate, you can charge a second battery on the other side as well.
SONY NP-FW50
DSC-RX10, DSC RX10 Mark II / III / IV
SLT-A33, SLT-A37, SLT-A55
NEX-3, NEX 5, NEX 6, NEX 7
a3000, a5000, a6000, a6300, a6400, a6500
a7, a7 Mark II, a7R, a7R Mark II, a7S, a7S Mark II
The last plate is the Sony NP-FW50. Like the LP-E8, I do not own any devices that uses this battery so I am unable to compare with the OEM charger. XTAR did however send me their own NP-FW50 battery. This is set up similarly to the LP-E17 where it has two battery slots.
You can also check out our unboxing and overview video below:
Conclusion :
Overall, the XTAR VN2 4-In-1 Intelligent Visible Camera Battery Charger is a nice way to consolidate your battery chargers and be able to charge more than one battery at the same time. The fact that this runs off of USB-C, you're free to move and roam around while still charging your batteries whether its in your backpack or Pelican case.
Since I own a Canon EOS R6 and Canon EOS RP, I can bring the VN2 head and two battery plates to charge my batteries. This reduces on the bulk and me having to find two wall outlets to plug my chargers into. I can simple charge a set of batteries and swap over to a different set of batteries and start charging those.
Even though everything was made of plastic, it felt a little flimsy especially when you're attaching and detaching the battery plate. I would have like to see the locking mechanism that locks the plate in place to be metal instead of plastic. When locked in place, it is securely in place though.
This makes for the perfect travel camera battery charger due to its versatility and small form factor.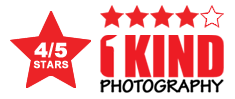 ---