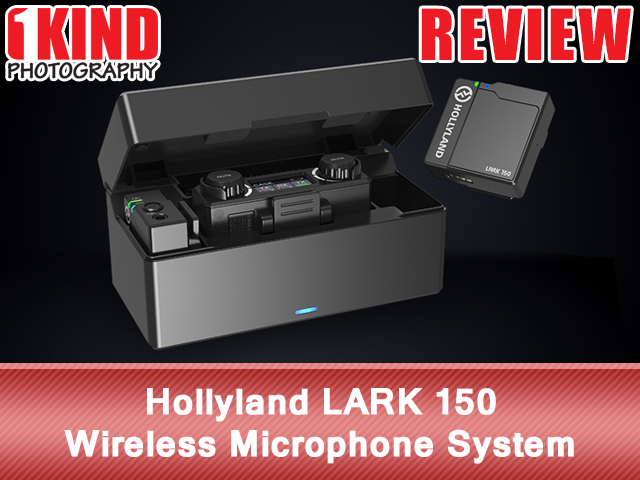 Overview :
Add a pair of compact, clip-on wireless microphones for your two-person interview, talk show, documentary production, or vlog with the LARK 150 Wireless Dual Microphone System from Hollyland. The LARK 150 system features two ultracompact microphone transmitters and a receiver that offer a portable, cost-effective, all-inclusive solution for recording two subjects at once to your audio recorder, camera, camcorder, or mobile device.
The LARK 150 system is automatically paired, charged, and stored in the included charging case that charges all three units using its USB input port. The transmitters are small and lightweight at less than 1oz, and they clip onto a lapel or shirt and feature a built-in omnidirectional microphone. They both feature a two-way mute button, built-in clip, and a 3.5mm headphone monitoring output. The receiver features volume buttons, a 3.5mm headphone monitoring output, a 3.5mm line output, and a display that shows the connection and battery status of all three units.
The transmitters feature an anti-vibration design with intelligent noise cancellation and smart frequency selection using FHSS (Frequency Hopping Spread Spectrum) technology for a crisp, clear signal. You can transmit a strong signal with less than 5ms latency at up to 328' away from the receiver. The system also supports switchable safety, stereo, and mono modes for different configurations.
Features :
Anti-vibration sound chamber design
DSP (Digital Signal Processor) intelligent noise cancellation
Built-in high-sensibility omnidirectional silicon microphone on the transmitter
Less than 5ms latency at 328' distance
Power-On Smart Frequency selection feature
Frequency Hopping Spread Spectrum (FHSS) method
Small and light transmitters weigh less than 1oz
Charging case that supports fast auto-pairing, upgrade, and storage for the whole system
Mono/Stereo/Safety switchable output modes
Two-way mute buttons on transmitters
Real-time audio monitoring with 3.5mm headphone output on transmitters and receiver
3.5mm line output on receiver
Quality/Usability :
The Rode Filmmaker Kit have been our go to wireless microphone system and for our YouTube videos. It has great audio and runs on AA batteries but we wanted to go with something smaller. When Rode released the Wireless Go, we wanted to get it but for $200 it only had one transmitter and didn't come with a lapel microphone. It was also backordered after its release.
Eventually, other companies started to come out with their own smaller wireless microphone systems. We never did get the Wireless Go but we have tried a few other brands. Hollyland was gracious enough to let us take a look at their new wireless microphone system, LARK 150. If the LARK 150 is anything like their
MARS 400S Pro
, we are in for a treat!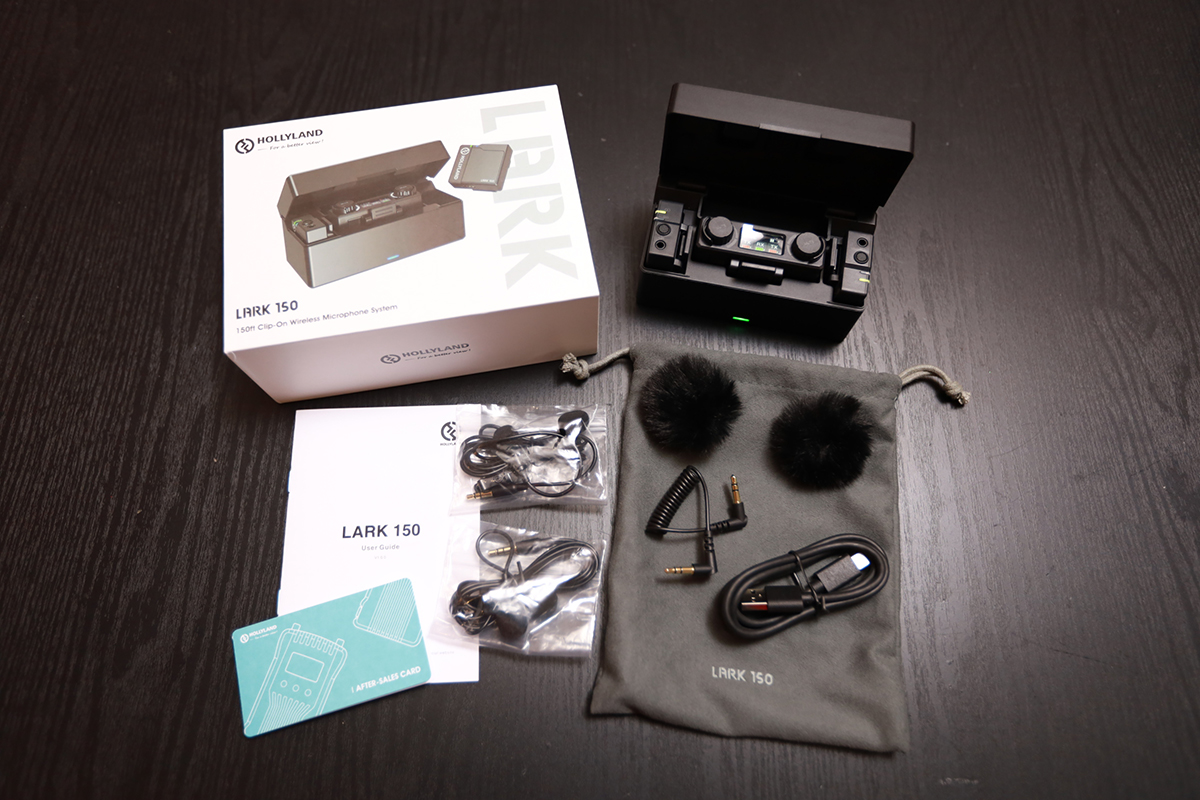 The LARK 150 is Hollylands first wireless microphone system and it comes with everything you'd need. It includes a rechargeable carrying case, RX receiver, two TX transmitters, two...yes, TWO lapel microphones with extra pop filter windscreens, two dead cats, 3.5mm TRS to TRS camera cable, USB-C to USB-A charging cable, cloth pouch and pamphlets.
Hollyland scores brownie points because the LARK 150 includes a sleek charging case to charge your receiver and transmitters. There is a USB-C port on the back of the case to charge it and can recharge the RX and TX approximately 2.5 times. The front also has a small LED indicator letting you know when the case is being charged (orange) and fully charged (green).
The lid is also magnetic to ensure that the case stays closed.


There are three bays and a compartment. To the sides are slots for your transmitters and in the center is for the receiver. Right above the receiver is a small compartment area to store your 3.5mm TRS to TRS cable. Unfortunately, there's nothing else you can really store like the lapel mic. You can probably fit the dead cats but that's about it. It would be nice if it can store the lapel mics but I guess that is what the cloth pouch is for?
The three bays each have a 4-pin connection for charging. In addition to the lid being magnetic, these bays as well as the RX and TX are magnetic too. Once they get in close proximity, they automatically gravitate into its slot and begins charging.
What I like about having two transmitters is that if you're using one and it dies on you, you can easily use the second one and place the first one back in the case to charge. So you're never pausing or stopping your shoot because you have a dead transmitter and you need to charge it.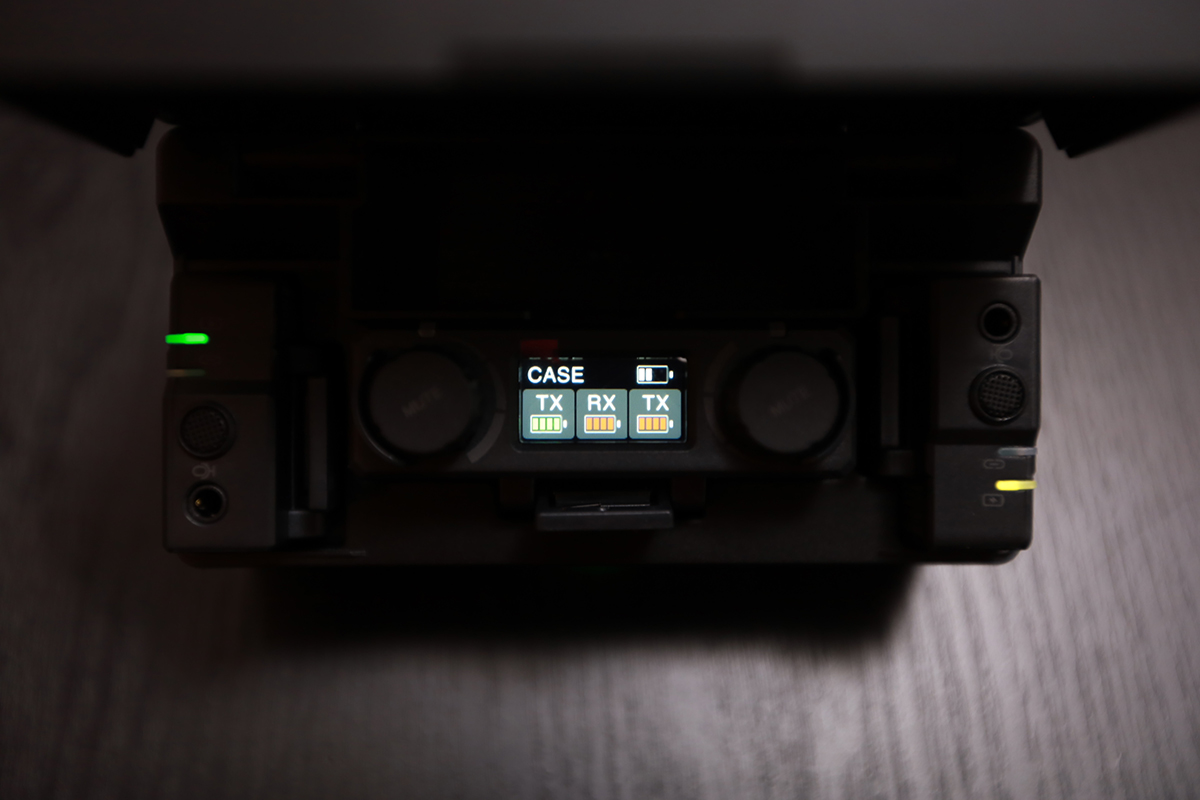 The transmitters LED will light up yellow when it is charging and green when fully charged. The receiver will display the battery level for the transmitters, the receiver itself as well as the case.
It takes up to 1.5 hours to fully charge the transmitters and up to 2 hours to charge the receiver.
One good thing about the charging case is that when you're done, you put them back in the case and it charges your receiver and transmitter. It keeps everything all in one central location. So the next time you're ready to use them, they'll be fully charged. I've had to find a case for my other wireless units just to make sure they were all together and I had to make sure I had to charge them after I was done or have spare AA batteries with me.


The receiver has two LED indicators to let you know that it is connected to the transmitters. There are two MUTE dials which can mute each transmitter individually. These dials also allows you to change the dB from -10dB up to +10dB. In the middle of the MUTE dials is an OLED display that shows you battery, decibel level, audio level and the mode you're in.
By pressing the left dial in for a few seconds, you can change to Mono, Stereo or ST (Safety Track). Mono records the audio on one channel. Stereo records onto two channels so if someone is talking on the left side, you'll hear the audio mostly on the left. If someone is talking on the right, you'll hear it mostly on the right. Safety track records one channel at its normal settings while the second channel is recorded at a -6dB.


On one side of the receiver, you have your LINE OUT port where you plug in one end of the 3.5mm cable and the other end goes into the microphone port on your camera. On the other side is your power button and a headphone jack to monitor your audio in real-time.
The bottom of the receiver has your 4-pins for the wireless charging. On a full charge, the receiver lasts up to 7.5 hours.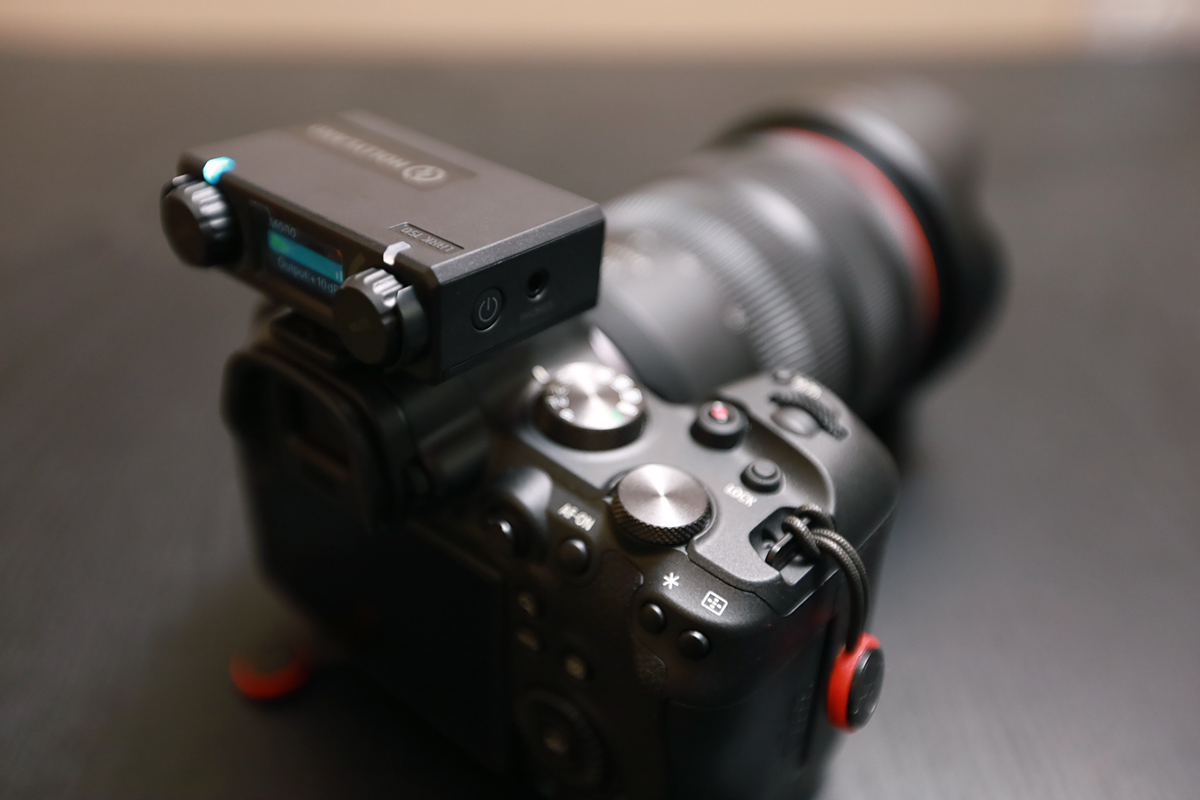 Like most wireless microphone receivers, it has a belt clip type system that attaches to the cold/hot-shoe of your camera. Depending on the camera, the top of the belt clip can get really close to the eyecup thus making it hard to squeeze. In this instance, you'd have to slide the receiver out.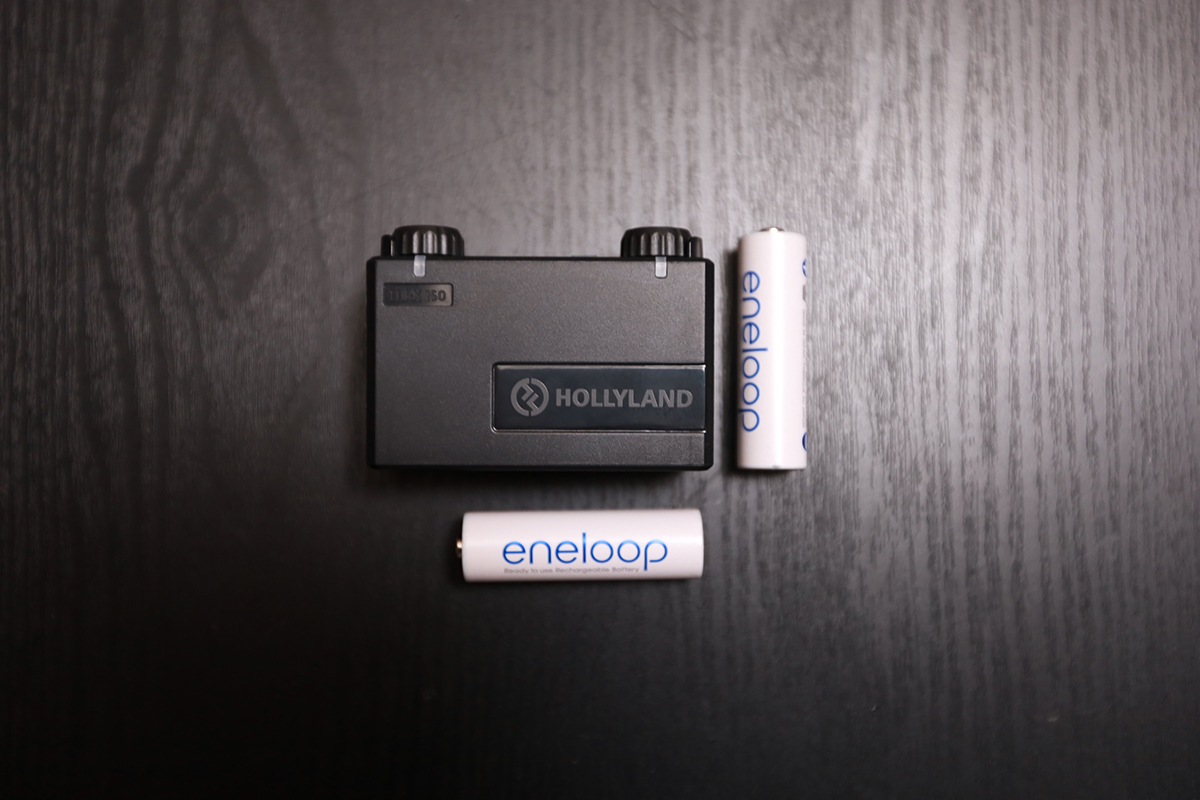 Here is a size comparison of the receiver to AA batteries. Its not the smallest compared to other wireless microphone systems but it does house two individual mute buttons and a large OLED display.

This is by far the smallest and lightest transmitters currently on the market. Rarely are you recording a subject from afar but this has a range of 100 meters (328 feet) with unobstructed view. On a full charge, the transmitter can last 4.5 hours and they auto-pair to the receiver in less than 3-seconds.
The top has the two LED indicators as well as a built-in microphone and a jack to plug in the lapel microphone. This is also where the dead cat plugs into as well. The back houses a belt clip to attach to either your pants or shirt.


On one side of the transmitter, you have your power and mute button and the bottom has the 4-pins for wireless charging.
I would have liked to see a USB-C port on the other side of the transmitter for emergency charging in the event the case is dead because you forgot to charge it. This way, you can still power the transmitter and continue recording your subject at the same time.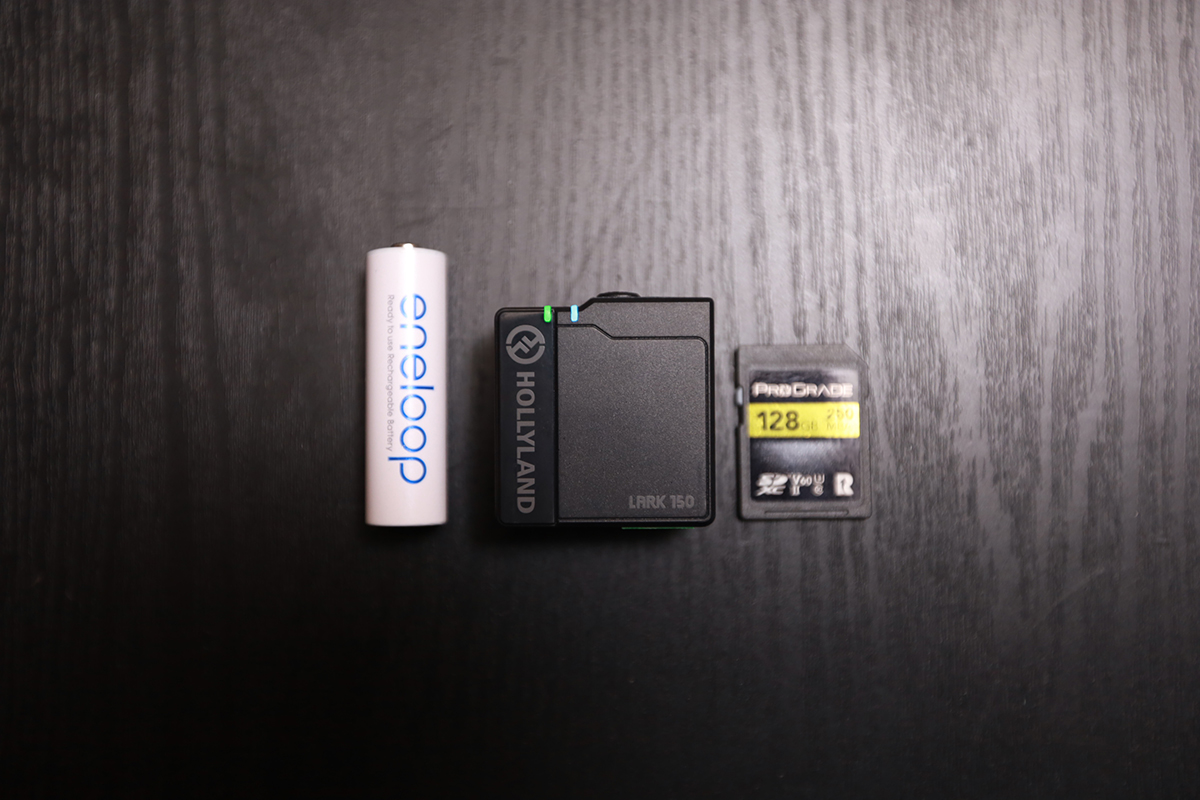 Here is a size comparison of the transmitter to a AA battery and a SD card.

If you're using the LARK 150 outside, the dead cat helps block the wind from blowing onto the microphone. Some other wireless microphone system uses a clip system where it has two small tabs on the dead cat where it attaches right above the built-in microphone. I feel this has a higher potential of being broken off rendering the dead cat useless.
The LARK 150 on the other hand utilizes the headphone jack to hold the dead cat securely in place. Smart.
The audio quality from the built-in microphone is fairly good and stands up to some other wireless microphones. We have some audio samples in our video below.


Even though you can use the built-in microphone on the LARK 150, Hollyland decided to include two lapel microphones...YES, TWO! The Rode Wireless Go doesn't include a lapel mic and you would need to go out and buy one on your own. Hollyland also includes an extra pop filter windscreen incase you lose the one that is already on the lapel.
The microphone isn't too small and isn't too big when put on a subject. The audio is fairly good and you can listen to an audio sample in our video below.
Conclusion :
Overall, the Hollyland LARK 150 Wireless Clip-On Microphone System is my new go-to wireless microphone system. It's small, compact and provides great audio quality. I love that the charging case is also your storage case and keeps everything together. So when you're done, you put them in the case and they'll recharge and the next time you need to use the receiver and transmitter, they'll be fully charged. I just wish there was room in the case to hold the lapel microphones. Yes, it does come with a cloth pouch to protect the charging case and to hold everything but I can do without it. Its just a personal preference.
One thing I wish it did have was USB-C charging port on each of the transmitter and receiver. This would allow for emergency charging/power in the event that you forgot to charge the case and it didn't charge the RX and TX units. If it had USB-C ports on it, you can easily attach a portable power bank to charge the unit while still powering it.
But if you're looking for a wireless microphone that comes with two transmitters, two lapel mics and offers great audio quality, I'd highly recommend this.
At $329, it may sound a little pricey but when you factor in that the Rode Wireless Go only allows for one transmitter (you can't have two transmitters to one receiver) and the Rode Lavalier Go retails for $79, that puts you at $279. For $50 difference, you get an extra transmitter, extra lavalier and a USB charging case with the LARK 150.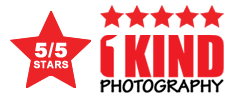 ---