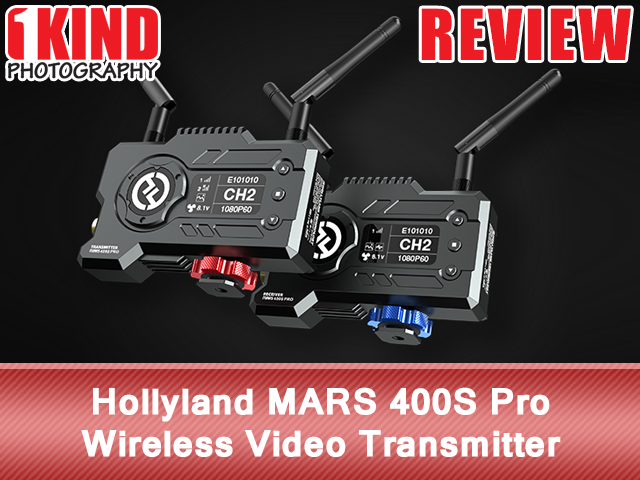 Overview :
Add up to 1080p60 wireless video transmission to your gimbal, mirrorless, or DSLR camera rig using the lightweight Mars 400S PRO SDI/HDMI Wireless Video Transmission System from Hollyland. The transmitter provides HDMI and SDI inputs and the receiver offers SDI and HDMI outputs. It features extremely low 0.08s latency with line-of-sight transmission up to 400' to the receiver and up to 300' to the Hollyview Wi-Fi app. For a strong line-of-sight signal, the system includes two external antennas on the transmitter and two on the receiver, and one is included as a spare.
The 400S PRO transmitter and receiver are compact in size, feature a bright OLED display for configuration, and an integrated shoe adapter with a 1/4"-20 mounting thread for different mounting options. Each unit can be powered using a USB Type-C source, the included locking DC power adapter, or by using a separately available L-series type battery using the integrated battery plate.
Features :
Transmits up to 1080p60 SDI or HDMI video
400' line-of-sight transmission to receiver, 300' to App
Bright OLED display
Real-time app monitoring and live streaming via the HollyView app
Simultaneously transmit to one receiver and two apps, or to four apps
HDMI and SDI inputs on transmitter and HDMI and SDI outputs on receiver
Two antennas on transmitter and two antennas on receiver
Power via L-series battery, DC adapter, or USB Type-C input
Integrated shoe adapter with 1/4"-20 mounting thread
Install optional channel scan firmware via the HollyView app to find the strongest signal
>
Quality/Usability :
Currently, my
YouTube
setup consists of running a HDMI cable from my camera (Canon RP) to my
Bestview S7 7" Field Monitor
. This worked great for me but due to the limited space in my studio (basement), I sometimes have to unplug the cables. So why not go wireless?
I also sometimes shoot video for my full-time job so this would come in handy as well. Hollyland was one of the brands that I've seen pop-up often. They are slightly pricier than others I've seen but I thought I'd give them a try considering the reviews I've seen have been positive.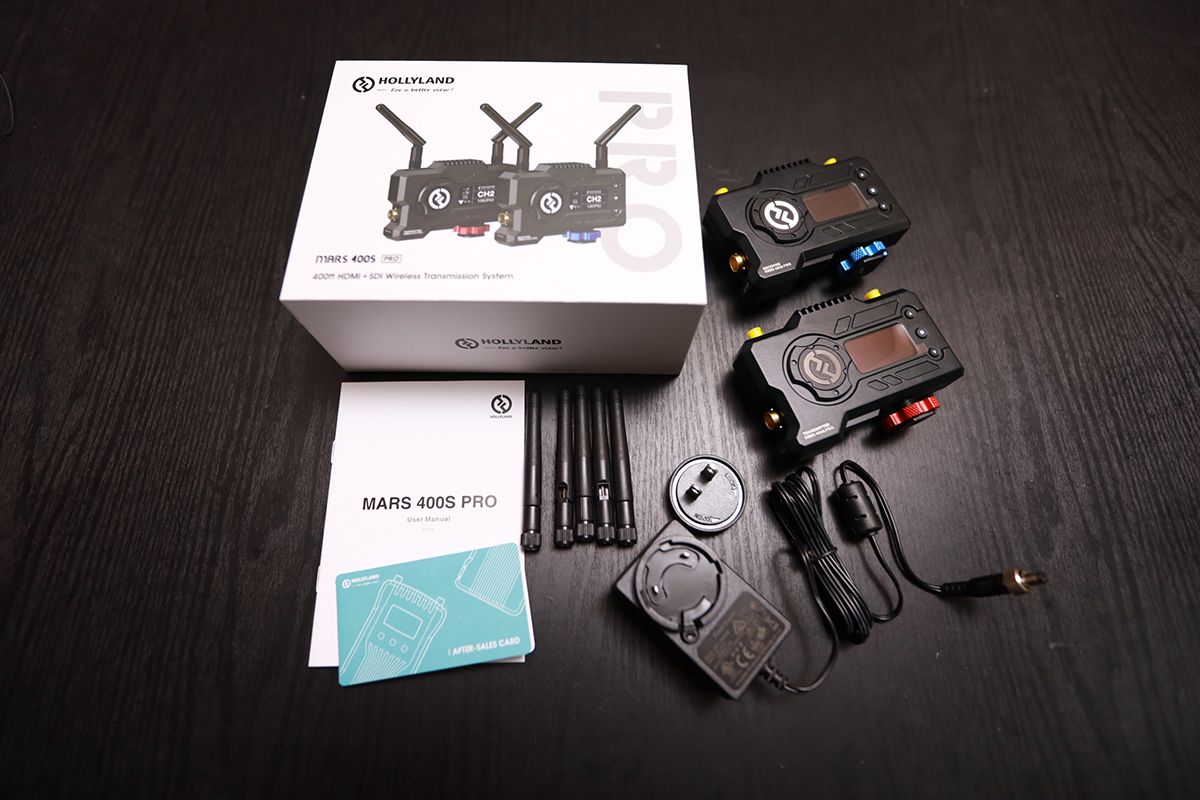 Inside the box you get one transmitter and one receiver, four antennas plus one extra spare, wall power adapter and pamphlets.
The power adapter is the same for all regions but has a swappable prongs depending on your country. On the other end is a screw type DC plug. You can use it to power the transmitter or receiver. You'd want to power the one that is mostly stationary which would be the receiver.


The MARS 400S Pro is a revised version of the MARS 400S. It has a new form factor and takes up less space and is made of all metal body design. On the front, you have the Hollyland logo on the left. In the middle is a nice OLED display and three buttons to the right of it; up, down and OK selection button.
On the back, you have a button that allows you to release the battery from its slot and right under it is a fan cutout. You have three ways to power the device; Sony NP-F series battery, USB-C or using the included wall power adapter that plugs into the DC port on the bottom right.
Next to the USB-C port is a power button and underneath is a full-sized HDMI port. Receiver has HDMI-Out and Transmitter has HDMI-In. To the right on the side is the SDI port.


On top is where you would attach the two antennas. On the bottom is a cold shoe along with a 1/4-20 thread. These cold shoes knobs are color coded to easily distinguish which is the transmitter and which is the receiver.


The right side has your brand and basic information, serial number and certifications.
On the left side is a closer look at the SDI ports. Receiver has SDI-Out and Transmitter has SDI-In. Right above it are additional vents for the fan.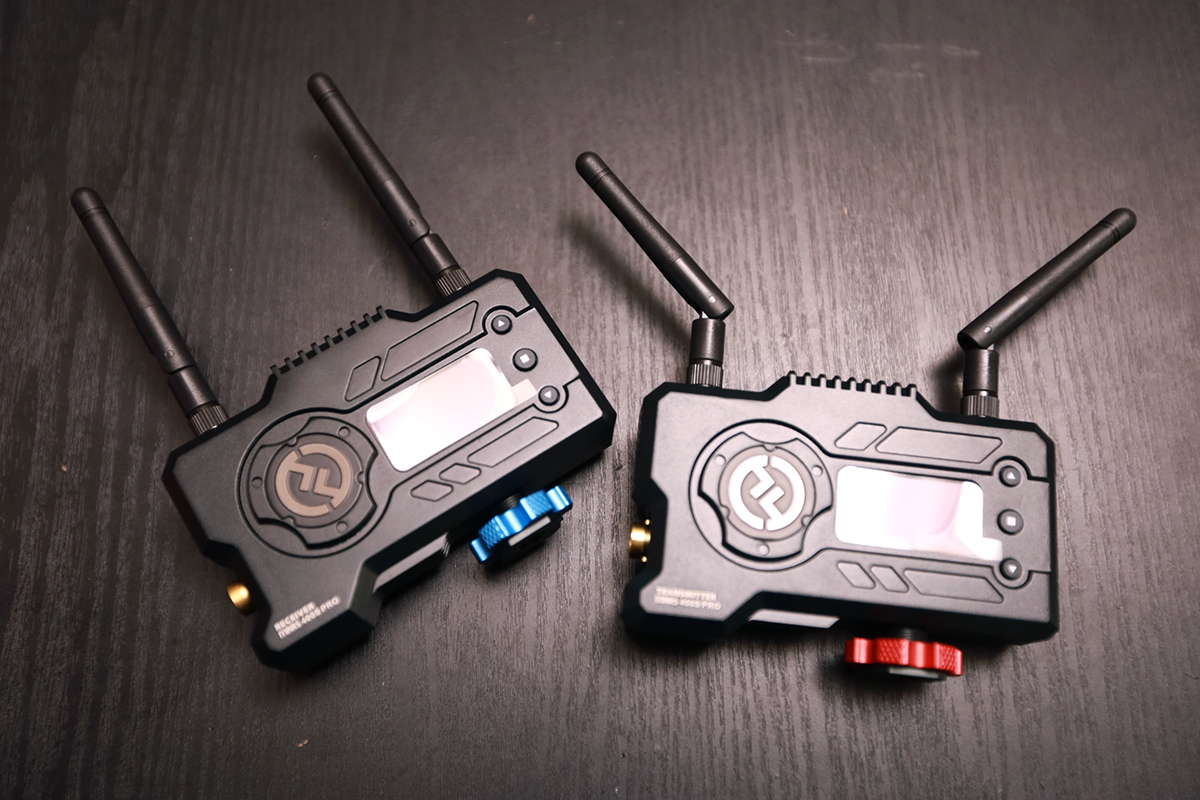 Here is how the MARS 400S Pro looks with the antennas installed. The antennas can angle at 45-degrees or 90-degrees and can rotate however you want.
I've read that if you wanted an even smaller look, you can swap out the antennas for FPV stubby antennas such as these
Foxeer Lollipop Stubby Antennas
. You will need two sets though.
As mentioned, you can power up the MARS 400S Pro either with the included wall power adapter or as shown, Sony NP-F batteries. The bigger the battery, the longer the battery life. On the left, I have the F970 sized battery and on the right, I have the F550 sized battery. This gives you a general idea with a battery mounted.
The third power option is via USB-C. You can use a portable battery pack to power the MARS 400S Pro. One thing I did notice was that it only works with a USB-C to USB-A cable. It will not work with a USB-C to USB-C cable. Just something to keep in mind if you were to use a battery pack to power the units.
The OLED display is nice and crisp. The display brightness does dim when in standby. It brightens when you're going through settings.
For the receiver, it displays the transmitters signal, fan indicator, power input/voltage, WIFI ID, Channel that is on and video signal (ie. 1080p60).
In the main screen, pressing the up and down arrows cycles through the channels. Pressing the square button will bring up the menu. In the menu, you can change things such as scene mode, fan speed, channel scan, system settings such as language, pairing, resetting defaults and WIFI password.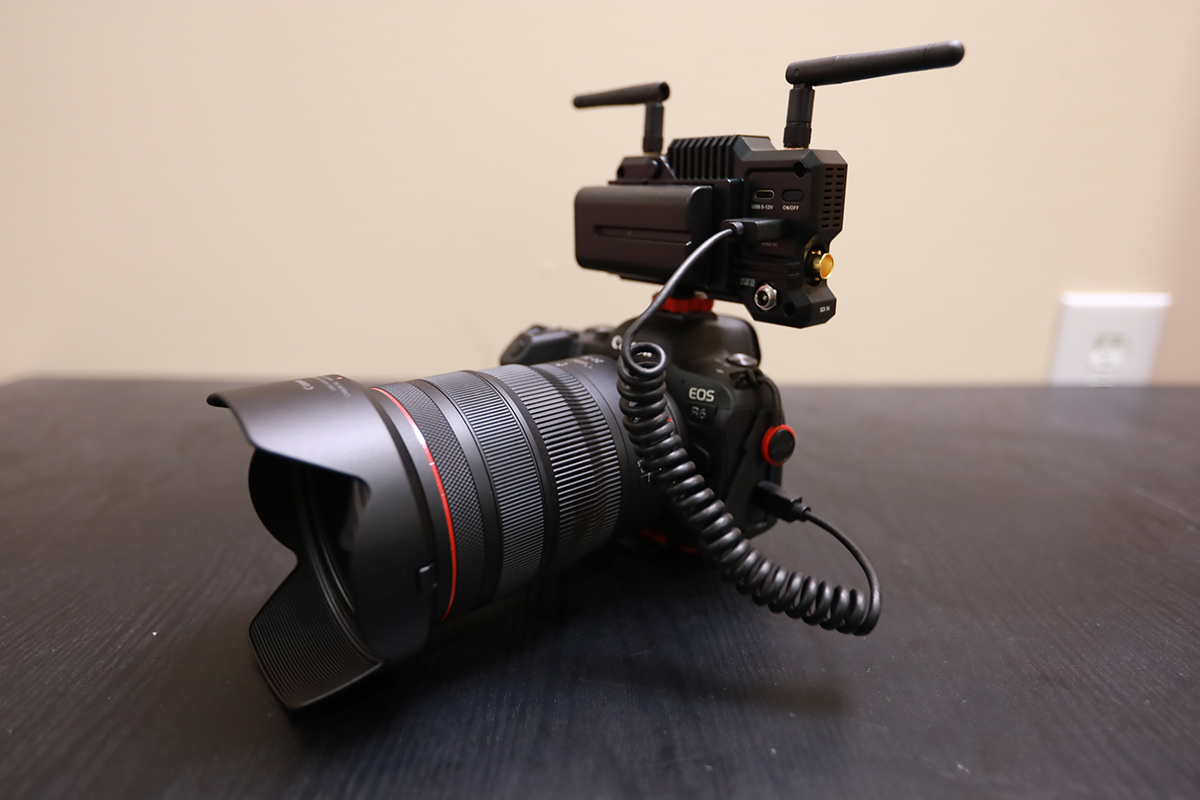 Here is the MARS 400S PRO Transmitter mounted to my Canon R6 with HDMI cable attached. The new design gives it a nice low profile and keeps things well balanced.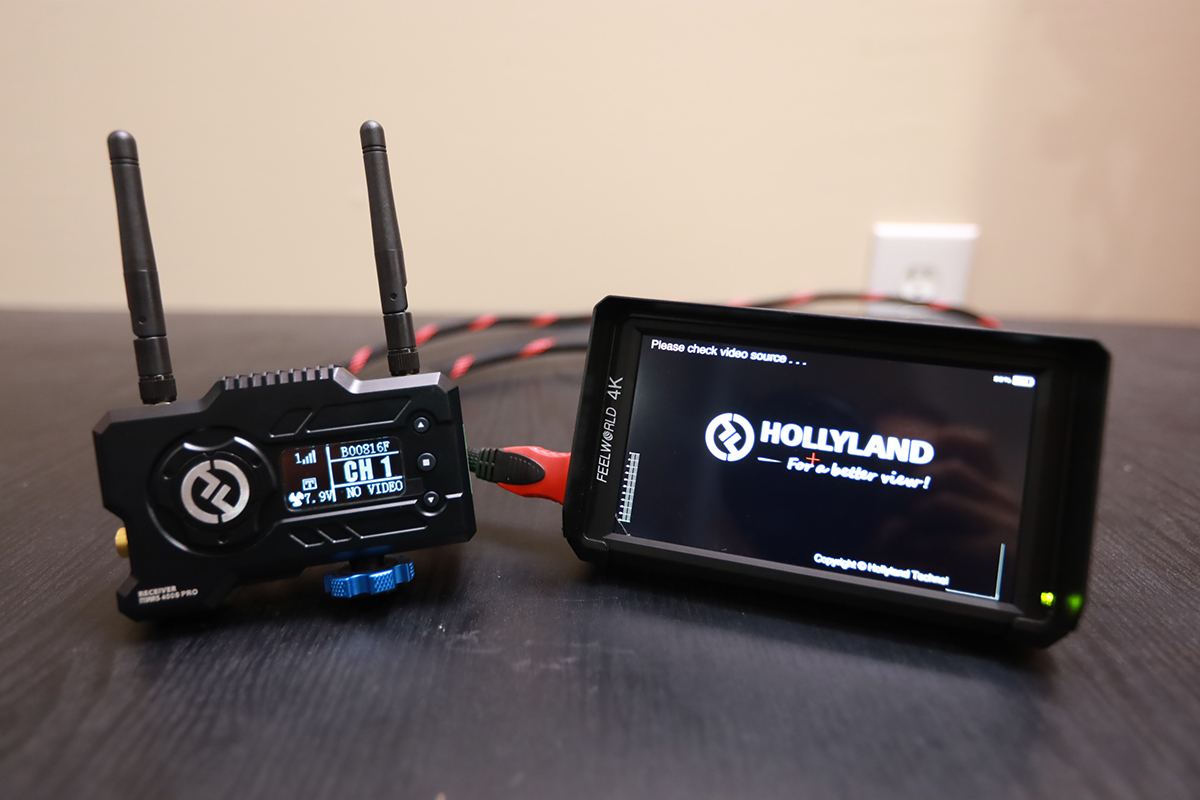 For this review purpose, the MARS 400S Pro Receiver is temporarily connected to a
FEELWORLD F6 5.7" Portable Monitor
and is also powered with a Sony NP-F battery. With no source, the monitor simply displays the Hollyland logo.
With everything powered on, the wireless transmission works very well. At a real shoot, I can have the monitor in a different area of the location or in a different room. There is definitely a slight latency delay which is normal for any wireless video transmitters. Hollyland says the latency is 0.08 seconds but nothing that would cause any issues.
The MARS 400S Pro alos allows you to output video for live streaming simply by using a USB-C to RJ45 adapter and a standard RJ45 cable. The cable would than go directly to your computer or a switcher which would require another RJ45 cable to your computer.
You can also connect the MARS 400S Pro via WIFI to either a tablet or smartphone by downloading the HollyView app (
iOS
/
Android
). You have multiple monitoring options:
2 RX - 0 App
1 RX - 2 App
0 RX - 4 App
As I shown at the beginning of the review with my "wired" setup, the pictures above is my "wireless" setup with the MARS 400S Pro. This cleaned up the area really nice. No more wires dangling and I wasn't limited to where I can be because of the HDMI cable. If I needed to shoot in a different location of the house, I can easily move around. And if I ever decide to mount my camera on my ceiling, I can do so with no wires hanging down.
To see more about connecting via WIFI, take a look at our full unboxing and overview video on YouTube.
Conclusion :
Overall, the Hollyland MARS 400S Pro HDMI/SDI Wireless Video Transmitter is very well built, sturdy and works flawless. I like that you have multiple ways of powering the transmitter and receiver. The OLED display works well in both dark areas and in bright sunny days.
The multiple monitoring options and different power options offers offers a lot more flexibility on set. Setting everything up and connecting was quick, simple and straight forward. You will have to purchase your own HDMI cables as they are not included.
I plan on using this at home for my YouTube videos as well as for my full-time job once things get back to normal.
Now, I just need to find myself a case for this to safely transport.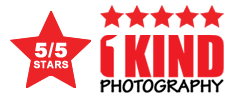 ---