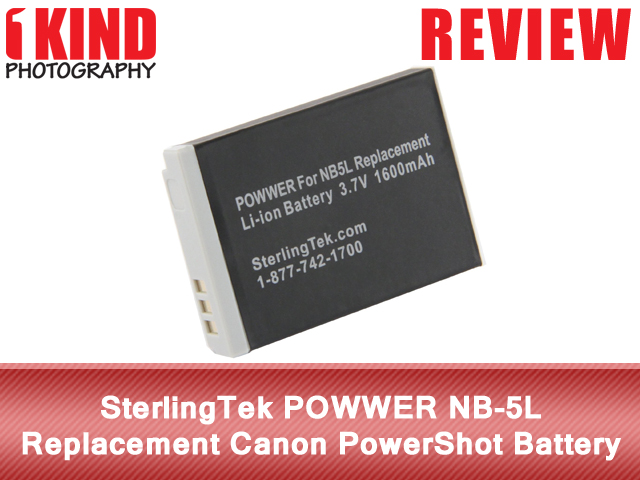 Overview :
The
SterlingTek NB-5L
is a replacement rechargeable battery pack for the Canon Powershot SD700 and IXUS 800. The lithium-ion chemistry makes the battery free from memory effect, takes approximately 240 shots with LCD on and 700 shots with LCD off on a single charge and lasts 360 minute for playback time.
Features :
Canon NB-5L Battery Pack (POWWER Brand name)
100% OEM Compatible - Complies with or Exceeds OEM Canon NB-5L Battery specs
Guaranteed to operate with your Canon NB-5L digital camera
3.7 Volt 1600 mAh*
Lithium-Ion Rechargeable
32.0 x 44.9 x 7.9 mm (1.26 x 1.77 x 0.31 in)
CE Safety Certification
SterlingTek's Canon NB-5L Battery pack is warranted for 12 months
*Web will say 1400mAh but the label on the battery we received stated 1600mAh
Quality/Usability :
I've been looking to upgrade my Canon PowerShot SD1000 with a new camera that allowed me more freedom to adjust settings and save files in RAW format. After much searching and reading of reviews, I purchased my new Canon PowerShot S100. In those reviews, the only downfall of the S100 was the battery life. 200 shots before the battery dies.
Like with all OEM products, they are pricey. I'm not fond of buying aftermarket batteries as they can fail or damage the camera. I did some searching and browsing of forums to see what replacement batteries people have bought. Many have recommended SterlingTek batteries. Not only did some purchase for their point-and-shoot cameras but they bought for their DSLR and had no complaints.
For $13.99, I decided to take a chance. Surely, I didn't want to spend $50 on an OEM Canon battery. Even if the aftermarket battery did fail after a few years, I can purchase a new one and it would still be less than what an OEM battery would cost.
The physical size of the aftermarket NB-5L battery is the same as the battery that came with the camera. It fit perfectly inside the Canon PowerShot S100.
The SterlingTek NB-5L has a slightly higher mAh, 1600mAh vs 1120mAh for the OEM battery. The mAh information on the web for the SterlingTek NB-5L is inconsistent. But the battery I received is 1600mAh. The SterlingTek's NB-5L battery also works with the following PowerShot cameras:
Canon Powershot SX210 IS, SX230 HS, SX210 IS, S100, SX230 HS, SX200 IS, SD790 IS, SD850 IS, SD870 IS, SX200 IS, SD800 IS, SD880 IS, SD970 IS, SD900, SD790 IS, SD700 IS, SD950 IS, SD870 IS, SD890 IS, SD880 IS, SD990 IS, SD800 IS, SD990 IS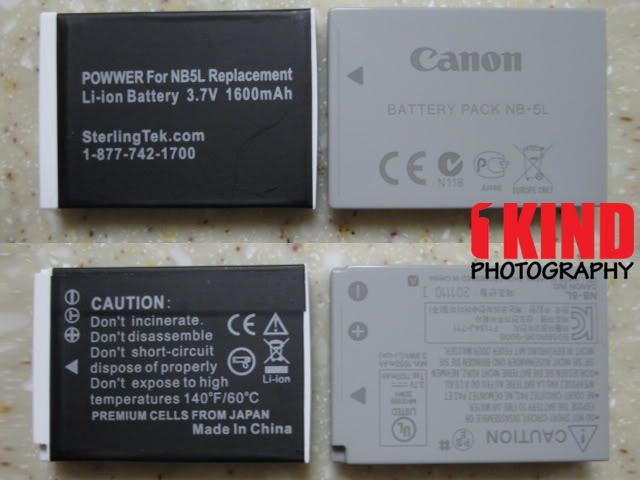 So with a bigger mAh, does it last longer? That's what we're about to find out. With the OEM battery from my PowerShot S100, I got about 170-200 shots before I have to recharge. Many factors can attribute to the battery life whether its taking pictures/video or viewing photos/video. With the SterlingTek battery, I was able to get slightly more and the battery lasted a lot longer. I was able to get between 220-240. Not using the camera for a couple of days and than using it again, the battery had plenty of life to it where as with the OEM battery, it would show 3 full bars and quickly drop to 1 bar.
*NOTE: Battery life can vary depending on camera as well. Certain cameras will last longer than others based on the features incorporated into the camera.
Conclusion :
Overall, the SterlingTek POWWER NB-5L Replacement Canon PowerShot Battery worked perfectly. The battery did not affect the performance of the camera and was the same size as the original battery. It offered additional shots and serves as a great main battery or even as a backup. SterlingTek offers a 1-year warranty. So if there was any defect from normal use, SterlingTek will replace it.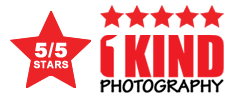 ---