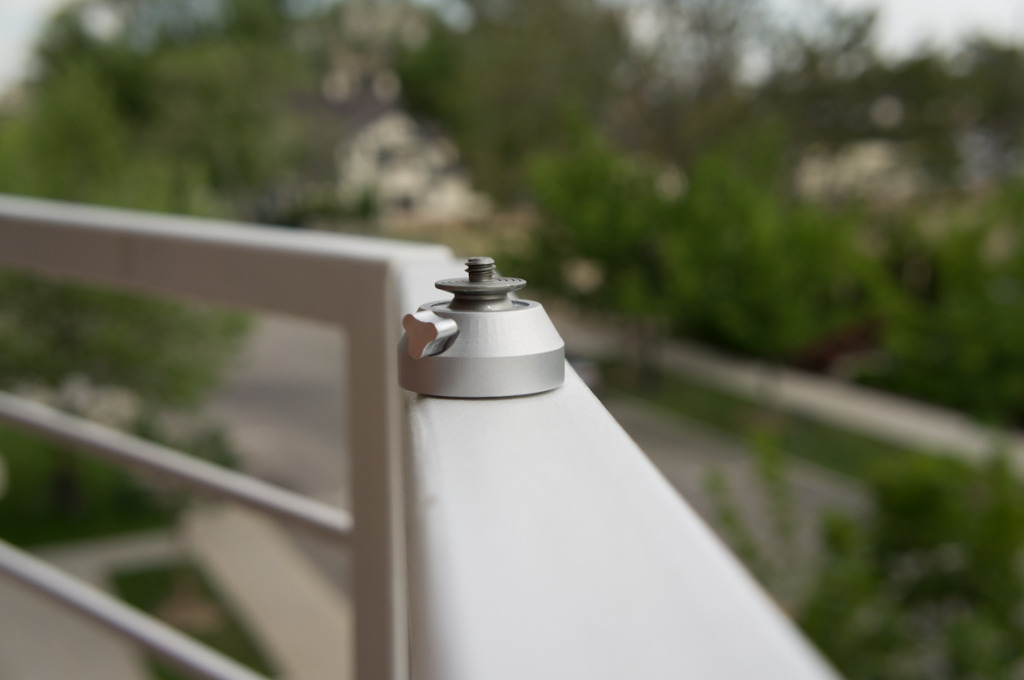 Statc
[stat-ik] - Pertaining to or characterized by a fixed or stationary condition.
Statc
is a portable micro pod that enables stable shots and unique perspectives while reducing the need to always lug bulky gear. It uses a magnetic interface to attach to most metal surfaces and will support cameras up to 2lbs. It's easy to store, and the integrated thumbscrew allows adjusting ballhead tension on the fly. This is great for MILC (Mirror-less Interchangeable Lens Cameras) like Sony's NEX series. It will easily accept point & shoot cameras, iPhones, POV cameras, small video cameras and any thing else with a 1/4-20 thread.
Statc works great as a way to stabilize your camera for self or group shots using the timer feature on your camera.
It's so portable, there is little excuse not to have it with you all the time.
The Statc can inconspicuously be attached to your camera allowing for sharper images and better low light photography without drawing attention to yourself.
Quickly attach and move your camera for great action shots from unique locations.
Capture perspectives that most tripods are not capable of.
Designed in Idaho. Made in the USA.
Statc is launching on
Kickstarter
to help raise the funding necessary for manufacturing.
Continue reading for more pictures and information about the Statc.
Sometimes hauling tripod gear can be a nuisance, especially when exploring urban environments. How about a portable alternative that actually adds functionality as well?

Statc's portability, ease of use and magnetic mounting system make stable shots accessible all the time, without any extra bulk. Plus it allows you to capture shots from unique perspectives that no other camera pod is capable of.

What is Statc?
Statc is a portable magnetic camera pod with a adjustable ball head. It is great for urban and cityscape photography because these environments have metal surfaces everywhere such as railings, benches, light poles, meters and more. It can be quickly attached and removed with virtually no setup time. Unlike many ultra portable camera pods, Statc only needs a surface area of about 1 inch to be stably secured and the surface does not have to be level, such as round railings or stairway rails.


How frustrating is it when you want to take a photo or video of yourself with your group of friends? Statc is great for taking self or group portraits without having to ask a stranger to take the shot for you. No more blurry photos, shaky videos, or badly composed shots by strangers. Statc attaches in orientations you never thought of, allowing for very unique perspectives of you and the group.

Statc Supports:


MILC (Mirror-less Interchangeable Lens) EVIL (Electronic Viewfinder Interchangeable Lens), and Micro 4/3 cameras.
Smart phones such as the iPhone with a Glif.
Compact cameras such as point and shoots.
POV cameras like the GoPro.
Small to medium sized video cameras.
Other accessories with a 1/4-20 mounting system, like friction arms, mics and lights.



Features:


360 degree swiveling ball-head.
Ball-head tension adjusting knob.
All aluminium body.
1/4-20 threads for all cameras.
Supports cameras up to 2lbs.
Plastic bottom to help prevent scratching surfaces.



Portable and easy to use.
Take Statc when you don't want to bring any extra gear and never again miss the opportunity to capture that perfect low light shot, HDR photo, stable video, or self portrait. It's easy to store in your camera bag, backpack, glove box, or keep it threaded into your cameras 1/4-20 slot.