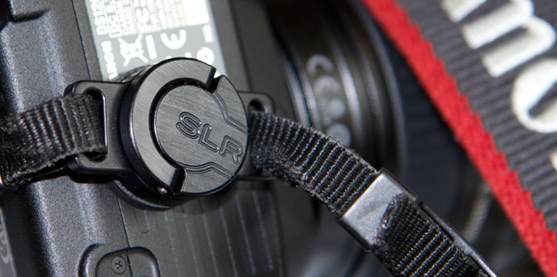 Custom SLR Announces the Return of the Black C-Loop Camera Strap Mount
Crowd-funded Custom SLR answers the call from photographers with the return of the highly popular black C-Loop, color-matched to blend sleekly with camera gear
SAN JOSE, CA, August 23, 2012
–
Custom SLR
, a design company creating performance products that improve the shooting experience for photographers, today announced the return availability of the black
C-Loop Camera Strap Mount Solution
, a mounting solution that allows a DSLR camera to hang safely and comfortably from virtually any strap or sling. Currently available only in its silver finish, this anodized black version of the C-Loop blends easily with the black form factor of most DSLRs. The black version was quickly sold out after its initial launch on crowd-funding site Kickstarter, and is now being made available once again in response to continued demand. Through a partnership with photography daily deal site PhotoWhoa.com, the black C-Loop will be available exclusively on the site until September 6, 2012 for $35.00, after which it will be sold through the
Custom SLR website
or its distribution partners for $39.95.
Produced in the United States and made of aerospace-grade aluminum, the C-Loop effectively eliminates the tangling of camera straps and enables the camera to hang safely and comfortably at a photographer's side. Turning any strap into a comfy sling, the C-Loop, which integrates the C-handle for easy hand tightening of the unit, swivels 360 degrees for smooth panning while still allowing quick access to the camera and full compatibility with most camera straps including the
Custom SLR Split Strap
and
Glide Strap
.
The C-Loop was the first project Custom SLR backed through the crowd-sourced funding site Kickstarter, the world's largest funding platform for creative projects. Since this early success, Custom SLR has expanded its product line-up of highly-sought after photographic accessories to include the ergonomic
Camera Split Strap
and
Glide Strap
, as well as the multi-purpose
M-Plate Pro Universal Tripod Plate System
. With each subsequent project, Custom SLR returned to its humble beginnings on Kickstarter, and has now become one of the first teams to deliver three projects to its loyal backers.
"We greatly appreciate all of our Kickstarter backers who have not only helped fund the development of our products, but have continually returned to support our future endeavors," said Ivan Wong, Chief Operations Officer for Custom SLR. "In our efforts to make products that help and inspire photographers, we maintain close ties to our supporters and have been bombarded by their growing wish for a return of the black C-Loop as a sleek, low-profile accessory for cameras. So, after a brief hiatus, the black C-Loop is coming back indefinitely."
The black C-Loop Camera Strap Mount is available for purchase only at
PhotoWhoa.com
, for $35.00 until September 6, 2012, and will then be sold direct through the
Custom SLR website
as well as its worldwide distribution partners for $39.95. To take advantage of the introductory pricing, please visit
http://www.photowhoa.com/cloop
.
About Custom SLR
Custom SLR was started by a passionate group of photographers, Anne, Ben and Ivan, who like to design useful and innovative products. The company launched in 2010 with its first product, the C-Loop camera strap mount backed by funding provided via Kickstarter, the world's largest funding platform for creative projects. The ergonomic camera straps,
Split Strap
and
Glide Strap
, followed in 2011. With a constant focus on research and development, Anne, Ben and Ivan are always working on finding new solutions to improve the shooting experience for photographers. Custom SLR is headquartered in the San Francisco Bay Area and for more information, visit
http://www.customslr.com
.