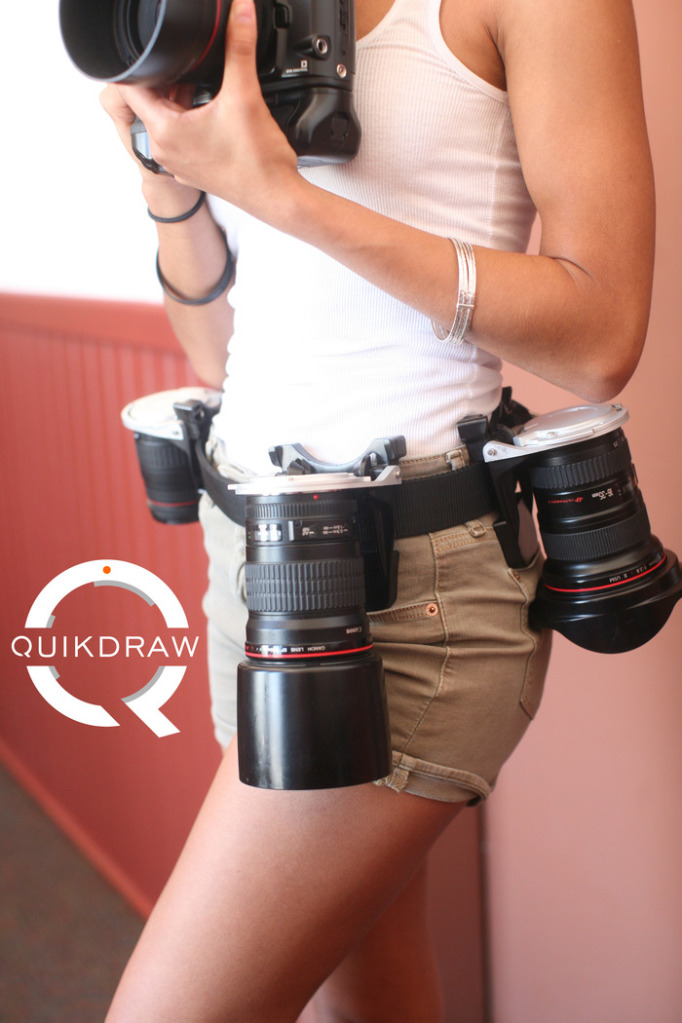 The Quikdraw - Enabling photographers to fulfill their creative vision
The Quikdraw is an innovative lens holster for photographers on the go. The same twist-and-lock motion as your Canon EOS camera is used to securely store your lenses at the hip so they are instantly accessible.
The Quikdraw conveniently fits onto any standard-sized belt and securely holds any Canon EOS or Nikon F mount lens. Developed with serious photographers in mind but you don't need to be a pro to use it. If you have ever attached a lens to a camera you can use Quikdraw.
Stop fumbling with your gear and effortlessly transition between your glass to capture the perfect photo every time. Hang on to your camera and change glass with one hand!
With Quikdraw, your glass is at your fingertips.
Things you should know - also known as - Specifications:
The Quikdraw can be equipped with any Canon EOS or Nikon F mount lens. Be sure to choose the correct reward!
Made from aircraft aluminum and high strength precision molded plastic.
The production version will have alignment marks so you know what state your Quikdraw is in.
Each Quikdraw will be hard anodized for durability.. - Your Quikdraw will be all black.
Can be used with any belt with a thickness between .75" and 1.75".
Continue reading for a video and for more information about the Quikdraw.
Is the Quikdraw easy to use?
Yup, it's super easy! The Quikdraw uses that same mechanical connection that your camera uses. If you have ever attached a lens to a camera you are ready to use the Quikdraw.
Step one - Get your glass out of your bag and get it ready for action!
Step two - Strap on your Quikdraw belt and load your glass. To load your lenses first make sure your Quikdraw is in the upright locked position (the new alignment marks will help with this). Once the lens is in the bayonet mount and you need is a simple twist of the wrist
Step three - Go rock your shoot with all your glass around your waist.
Use the Quikdraw Rather than digging through bags - With the Quikdraw all of your glass is ready to be deployed.
The Quikdraw is fool proof. Once you insert a lens and rotate it more that 5 degrees it's secure. It's impossible for the lens to become disengaged in the down position.
The Quikdraw keeps your lenses in the ready state - Lens cap and back cap off with the light hood attached.
With the Quikdraw your next lens change is within arms reach. Just reach down and grab the lens you want.
Change glass within 5 seconds and unleash your creativity.
Leave your backup camera in your bag and retain all your camera settings.
Keep the back element of your lenses clean and dust free.
Show your glass off! Camera envy now gives way to lens envy.
UPDATE 8/25/12:
The inventor, Riley Kimball has released a video answering peoples concerns about the risk of dropping the lens. He goes into more detail about the locking feature
UPDATE 8/27/12:
Another video update from Riley. He talks more about the locking feature and even a cute girl in a bikini jumps on a trampoline to show how secure the Quikdraw is.
If you're interested in the Quikdraw, be sure to put your pledge in -
http://www.kickstarter.com/projects/1022605159/quikdraw-an-innovative-lens-holster#