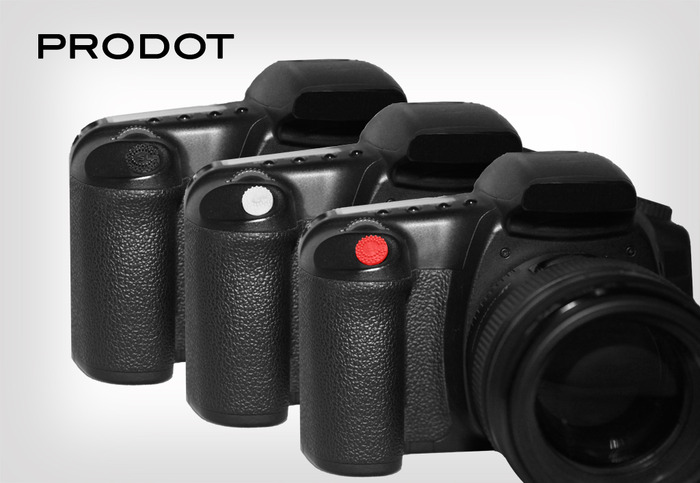 A month ago, we
made a post
about our good friends over at CustomSLR announcing a new product on Kickstarter called the
ProDot
. Within a month, they exceeded their goal. We had the privilege of getting to play with the ProDot before it was announced and must say, this is a nifty and unique product.
We'll have a full review of it when we get our grubby little fingers on them. In the mean time, continue reading for full press release.
Custom SLR Announces Immediate Availability of the ProDot, a Simply Convenient Camera Upgrade
After exceeding all fundraising expectations for its just-concluded Kickstarter campaign, Custom SLR will bring the tactile adhesive dot to market
SAN JOSE, CA, December 17, 2012
– Custom SLR, a design company creating performance products that improve the shooting experience for photographers, today announced the general availability of its latest product, the Custom SLR ProDot. A textured, press-on dot, the ProDot easily adheres to a range of surfaces to provide more finite control and vibration dampening. While initially designed to be placed on top of a camera shutter button to offer photographers a more seamless shutter-release, free of residual vibrations, the ProDot is a remarkably-simple and convenient accessory for virtually any push-button experience. Today's announcement follows the close of the company's latest Kickstarter campaign in which the ProDot vastly out performed its stated goal by more than tripling its funding target.
Photographers have long sought more precision and control from their DSLR's shutter-release, and the ProDot's textured surface and raised button-padding allow for a more ergonomic feel and an instant improvement to that most critical engagement point, the shutter button. Despite this original design intent, the scope of use for the ProDot extends far beyond the photography market, as the opportunities for this simple adhesive dot are virtually limitless. For instance, any regular user of a computer mouse, from graphic designers to journalists, can attach a ProDot to their mouse for more reflexive clicks requiring less force, while heightening control and reducing the impact of repetitive stresses. Consumer electronics and video game enthusiasts will find their finite control enhanced with a ProDot's no-slip grip and welcomed finger cushioning adhered to their controllers.
"At Custom SLR, we are photographers who strive to improve the shooting experience for other photographers. Initially, we had this very audience in mind for the ProDot, but quickly realized that its use can be extended to a multitude of applications, such as videography, sports and numerous finger-controlled devices," said Ivan Wong, Chief Operations Officer, Custom SLR. "The emphatic response from the Kickstarter community, has not only enabled us to bring the product to market, but has proven that there is a demand for such a dynamic little accessory."
While the applications for the adhesive ProDot will continue expand in the hands of consumers, some of the finger-saving experiences include:
Relief for over-used buttons on a variety of appliances, from contractors' drills and power tools to blenders, food processors and television remotes;
Better grip and control for athletes, be it on a golf putter, a mountain bicycle thumb shifter or the trigger of a paintball gun;
An ideal aid for the elderly, the tactile nature of the ProDot makes buttons easier to decipher on a cell phone, or makes an emergency call button more reachable in dire circumstances;
Anyone from hairstylists to graphic artists will welcome the padding on any spray-can tab.
Available in low-profile black, high-visibility red, and clear colorface the ProDot is sold in packages of two for $9.95. Brought to market through crowd sourcing site Kickstarter, the ProDot successfully surpassed its fundraising goal in a mere three days. To purchase a set of ProDots, please visit
http://www.customslr.com/products/prodot
The ProDot is just the latest of Custom SLR's products to appear on Kickstarter. Its flagship offering, the C-Loop, which effectively eliminates the tangling of camera straps and enables the camera to hang safely at a photographer's side, found overwhelming success with Kickstarter backers. Following the C-Loop, Custom SLR introduced the ergonomic Camera Split Strap and Glide Strap, which provide efficiency and comfort, as well as the multi-purpose M-Plate Pro Universal Tripod Plate System to its product line of must-have photographic accessories. Custom SLR is excited to bring the ProDot to the market, as a photographic accessory as well as an invaluable tool across the board.