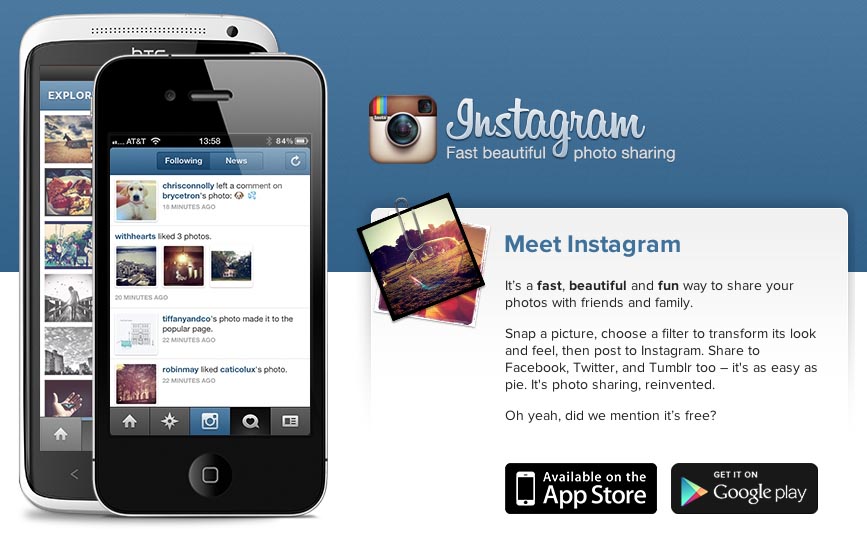 *UPDATE*
- After an uproar from the photography community, Instagram has back-pedaled on their decision and will not sell your images.
------------------
Instagram updated its terms of service on Monday, elaborating on how it can use personal data for advertising purposes, and making clear that user photos and information can be used across the web as the photo-sharing app works through monetization under Facebook.
Instagram
released an updated terms of service on Monday
, and while it doesn't seem like a fun read at first glance, it's an important indicator of where the company is headed after its acquisition by Facebook. So far, people have expressed some concern about the updated "Rights" section of the terms of service, which explains what content a user has control over and what Instagram can do with that data, particularly sections related to advertising.
While it doesn't seem that Instagram's rights as related to advertising are completely new, the updated terms, which will take effect on Jan. 16, do outline exactly what the company can do with your data. They also remind users that businesses can pay Instagram to use your data for advertising, and the company won't always identify advertising on the service as being paid.
The old terms of service noted that Instagram had the right to advertise on the platform or in "conjunction" with a user's content. Here's the
old explanation
:
"Some of the Instagram Services are supported by advertising revenue and may display advertisements and promotions, and you hereby agree that Instagram may place such advertising and promotions on the Instagram Services or on, about, or in conjunction with your Content. The manner, mode and extent of such advertising and promotions are subject to change without specific notice to you."
The new explanation goes into greater detail on what it means for Instagram to advertise "on, about, or in conjunction with your Content." Here are the
new terms
:
"Some or all of the Service may be supported by advertising revenue. To help us deliver interesting paid or sponsored content or promotions, you agree that a business or other entity may pay us to display your username, likeness, photos (along with any associated metadata), and/or actions you take, in connection with paid or sponsored content or promotions, without any compensation to you. If you are under the age of eighteen (18), or under any other applicable age of majority, you represent that at least one of your parents or legal guardians has also agreed to this provision (and the use of your name, likeness, username, and/or photos (along with any associated metadata)) on your behalf.
You acknowledge that we may not always identify paid services, sponsored content, or commercial communications as such."
It's not surprising that Instagram and Facebook are thinking about advertising and monetization strategies for the photo-sharing app, and Facebook recently announced that it planned to integrate user data with that from Instagram under new Facebook terms of service.
Source:
Gigaom.com