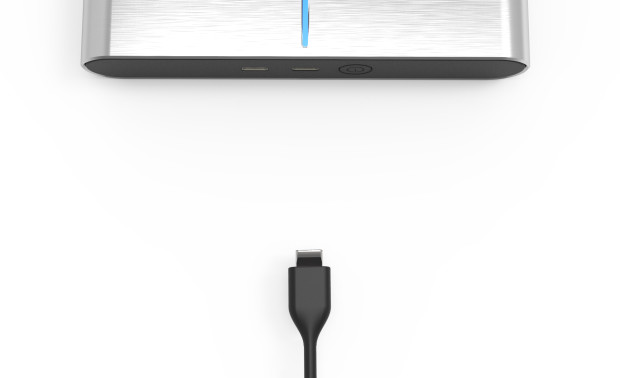 Battery packs are very essential whether it be for your smartphone, tablet, laptop or even charging batteries.
LIFEPOWR
has just launched a new
Indiegogo
campaign, the
A3
. It's compact & lightweight, but it packs the newest of technologies: 100W USB Power Delivery. It easily and quickly powers up all your daily gear with the same USB-C cable. Multiple times. In addition, it also features a standard AC outlet (!), two USB ports and QuickCharge technology.
The main focus is the included USB-C ports. USB-C being a new connector and soon to be the new standard port (bi-directional, provides power and data), this will be compatible with future devices.
Since it has a standard AC outlet, you can charge your laptop, small refridgerator, camping gear, electronics such as a fan, TV, speakers or light or even charge your camera battery.
To recharge the
LIFEPOWR A3
, you can use a standard wall outlet to charge the battery pack or connect a solar panel if you're not near an outlet.
It will be available in a both US Outlet Model (120VAC 60Hz) and EU Outlet Model (230VAC 50Hz). The basic A3 will start at $159. Solar panels are $39/$99 depending on model. A3 and top of the line solar panel is $239. There are other additional bundles as well such as if you want an additional solar panel for faster charging or for other use.
As of this post, it has met its funding goal and will start to ship sometime November 2017.
Continue reading for full press release or visit their
Indiegogo
page.
The LIFEPOWR A3, world's first USB-C Power Delivery Pack just launched on IndieGoGo.
The LIFEPOWR A3 will disconnect you from the grid and make your life much easier
It is the world's first portable battery pack fully integrating USB-C Power Delivery
USB-C PD is the newest technology of data and power transfer
30% funded on IndieGoGo within the first 24 hours
ANTWERP, BELGIUM: Belgian energy company LIFEPOWR has just launched the LIFEPOWR A3 on crowdfund platform IndieGoGo. It's the world's first powerbank to fully integrate the new USB-C Power Delivery technology up to 100W. Up until now, other powerbank manufacturers have only managed to integrate USB-C up to 30W. USB-C is the new standard connector, making other chargers and cables obsolete. Besides the new technology, the A3 also features a standard 120W AC outlet (!) and Quick Charge 3.0 technology. The LIFEPOWR A3 is quickly gaining funds on IndieGoGo. After the first 24 hours of campaigning the A3 was already funded for 30%. LIFEPOWR needs to raise at least 35k to be able to go into production.
It all started in a mission to disconnect people from the grid and help them achieve true freedom. Founder & CEO Dries Bols invented the LIFEPOWR A2, the predecessor of the LIFEPOWR A3, on one of his outdoor music productions. It was the perfect small generator for easy power on location, with the build in AC/DC converter and capacity of 99.9Wh. Small enough to carry everywhere, strong enough to power amplifiers, speakers, audio mixers, microphones and more. Funded on IndieGoGo two years ago, the A2 is currently being used by thousands of satisfied customers worldwide. But with the introduction of USB-C in the tech world, it was necessary to improve.
What will USB-C add to our lives?
It's compatible with other technology standards like Thunderbolt 3, USB 3.1 and Power Delivery, resulting in faster data rates and a bigger power transfer.
It's small, reversible, multi-functional and universal, making other cables obsolete
It's bi-directional; it can send and receive data and power.
The campaign will last one month, after this, the A3 will enter its final development phases and go into production. It is expected to be delivered to the backers in November 2017.