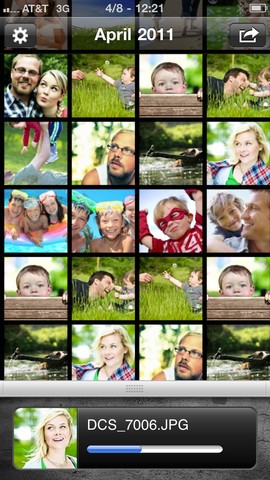 Eye-Fi has made downloading digital camera photos onto mobile devices a lot easier. Eye-Fi users have been wirelessly transferring images from card to computer for some time now, but the new Eye-Fi Mobi card uses Wi-Fi to wirelessly send images to your mobile device via a iOS, Android or Kindle app.
The Eye-Fi Mobi card functions as a normal SD card inside a digital camera. By entering the card's unique 10-digit code into the Eye-Fi app, users can download and transfer images to their mobile devices. Once the photos are on a smartphone or tablet, users can edit and share them as they would any mobile photo.
Eye-Fi hopes that the new Mobi cards will mean easier DSLR photo uploading for mobile-only editing apps and photo-sharing social networks like Facebook, Instagram and Twitter. The new cards could also mean lighter traveling for photographers. Instead of hauling around a laptop, photographers can back-up photos to both their smartphone/tablet storage or to the cloud through the mobile device.
For those users who prefer to edit their pictures on a computer Eye-Fi still offers the "traditional" Pro X2 16GB card, which offers wireless transfer to PC/Mac, RAW upload support and optional cloud backup.
You can purchase Eye-Fi products from
Amazon
,
B&H Photo
and
Adorama
.
Continue reading for full press release.
Source:
DPreview
MOUNTAIN VIEW, Calif., June 3, 2013
— Eye-Fi (
www.eye.fi
), the global leader in wireless memory cards, today launches Eye-Fi Mobi — the first card designed for the modern photo enthusiast to deliver high-quality digital photography combined with the convenience and connectivity of mobile devices. Mobi users can now share smarter, easier and faster, as their best photos and videos, from their favorite digital cameras, are instantly available on their smartphones or tablets.
"People like smartphones for taking pictures, mostly because of accessibility and instant sharing. Unfortunately, smartphones fall short for life's many moments that require zooming, high-speed shooting, low light and other features that make digital cameras superior," said Matt DiMaria, CEO of Eye-Fi. "Mobi is our simplest card yet, designed to provide photo lovers a no-compromises solution: the great quality pictures and videos of a digital camera and instant access on the smartphone to enjoy and share."
Mobi removes the hassle of transferring images so today's photographer can freely focus on taking beautiful, memorable photos. No more juggling devices, using a camera to capture quality images and then separately, taking similar, but inferior shots from a smartphone just to share. Simply replace any camera's standard SD card with Mobi, and just two quick steps later, the camera's photos instantly appear on the selected iOS or Android™ smartphone or tablet.
"Our research shows that the capabilities of Eye-Fi's Mobi cards are bridging a market gap: a majority of digital camera users are expressing interest in wireless transfer to mobile devices," commented Alan Bullock, associate director of InfoTrends. "Even more compelling is the data that many consumers say they would likely use their digital camera more if it had such a feature."
Editing and sharing photos are just as easy, because the higher quality images become part of the camera roll on the phone — ready for any favorite apps like Facebook, Instagram, Snapseed, Pixlr, and even a quick text or email. Any sharing, editing or display options people love about their phones and tablets are now easily used and enjoyed with their best photos and videos.
"Until now, sharing high-quality camera pictures while traveling meant waiting until the end of the day, or worse, waiting until the end of the trip to get images off my camera," says Francesco Rovetta, an avid Eye-Fi user and founder of Summit Stories, a philanthropic mountaineering project that helps disadvantaged children. "But with the Mobi card, I can take great pictures from places as remote as Mount Kilimanjaro, while still getting the real-time editing, sharing and backup of my phone. This new card connects my phone and camera so I can share my passion for photography in a way that's convenient and fun again."
Most notably, the new Eye-Fi Mobi lets photographers:
Set up simply and instantly: The Mobi has the simplest Eye-Fi card setup yet — no computer, no account and no cloud. Just download the free Eye-Fi app for iOS or Android, enter the Mobi card's unique 10-digit code, and the mobile device is paired. Use the same code to pair as many mobile devices as needed.
Share in real-time: High-resolution photos and videos instantly transfer from camera to a device's photo roll/gallery. From there, edit and share with any favorite apps.
Transfer anywhere: Built-in WiFi means no WiFi network, hotspot or internet connection needed for pairing or transfer; Mobi literally captures photos and then copies them from camera to device anywhere, whenever new content is detected.
Works with the devices users already own (and love): As with other Eye-Fi cards, Mobi works with thousands of cameras, including hundreds of Eye-Fi Connected cameras that have integrated Eye-Fi technology for improved usability. And, the Eye-Fi app can be downloaded for iOS and Android smartphones and tablets, including the Kindle Fire.
Back up automatically: Photos and videos transfer as they're taken, so if anything happens to the camera, content is already safe on the mobile device.
Exceptional quality and speed: Mobi reinforces Eye-Fi's commitment to provide state-of-the-art performance in SD memory. HD video, low light and fast action shots are easily captured with this Class 10, high-capacity card.
Eye-Fi will continue to provide wireless solutions for professional and amateur photographers with the Eye-Fi Pro X2 16GB card, which has feature-rich capabilities like RAW upload support, wireless transfer to PC/Mac and optional integrated backup in the cloud.
The Mobi card will retail for $49.99 for the 8GB card and $79.99 for the 16GB card and is available now on through
www.eye.fi
, Amazon and in Best Buy stores nationwide. For more information about the Mobi card or Eye-Fi products and services, please visit
www.eye.fi
.