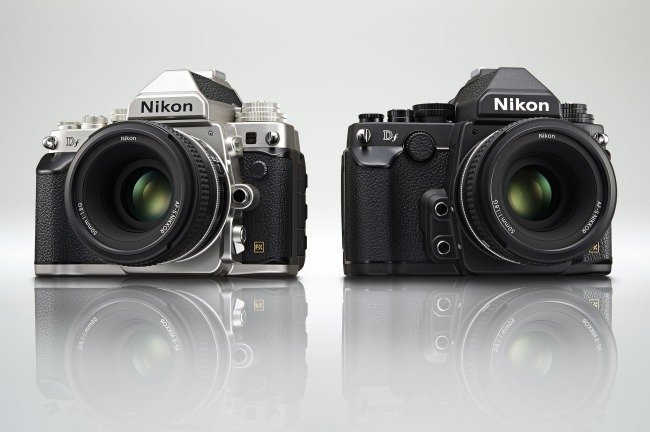 There has been a lot of buzz and hype lately about Nikon's new retro-styled full-frame camera. Nikon has been releasing sneak peeks of the new camera (which looks like Nikon FM film cameras) through the use of teaser videos. The announcement looks to be coming within the next couple of days and will be available in both silver and black based on the leaked images.
We'll have pricing and release date when it becomes available. In the mean time, continue reading for speculated specs on the Nikon Df.
Digicame-info
- Translated by Google
Df Basic control system is same as the D610.
Df will use Nikon D4 sensor
When using non-Ai lens is used, can be selected from the menu on the lens information manual setting.
Interlock lever formula flip-up.
It is equipped with a synchro terminal.
Continuous shooting speed: 5.5 FPS
Same battery as Nikon D5300.
Set the aperture value of the (added) non-Ai lens use, use it in conjunction with the actual aperture value of the lens-side sub-command dial side of the body.
Shutter speed is configurable in the main command dial, can be set in 1/3 steps.
Previous rumored specs of Nikon Df.
Previous rumored specs of Nikon Df.
The name will be called Nikon Df which stand for "Digital Fusion"
Nikon FM2 like design, but with a larger pentaprism
Most likely be available in two colors – all black and silver/black (a.k.a. as Panda version)
Standard Nikon F-mount
Pentaprism viewfinder (meaning the camera will not be mirrorless)
16.2MP 36×23, 9 full frame sensor (same sensor as in the D4)
The AF system of the Nikon DF will be most likely the same as in the D610 with 39 points
SD memory card
2016-pixel RGB image sensor
9-cell framing grid display
3D color matrix metering II
Native ISO range: 100-12,800 (incl. ISO 50 and ISO 102,400)
5.5 fps for up to 100 shots
3.2″ LCD screen
Expeed 3 processor
Battery: EN-EL14
Dimensions: 143.5 x 110 x 66.5mm
Weight: 765g
No video recording capabilities
The camera will meter even with non-AI lenses down to full aperture
The camera will ship with a new special edition Nikkor 50mm f/1.8G lens to match the look/design of the body
The camera will have physical controls and excellent build quality (which explains the 765g weight)
Nikon calls it a "hybrid" camera – not sure what exactly they mean with that
The Nikon DF will have settings for 1:1, 3:2 and 16:9 aspect ratios
The announcement will be on November 5th right on time for Le Salon de la Photo show that will take place in Paris (November 7-11, 2013)