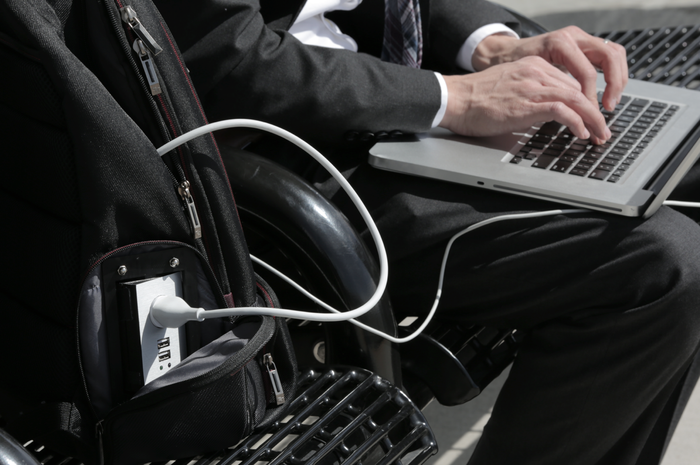 Ever been on vacation, at the airport or out in public and don't have access to an outlet or charger? Josh Cross has brought some sweet products to
Kickstarter
. GoPlug has products ranges from a pouch with USB cables to a computer bag to a camera backpack to a camera roller case. But these aren't your ordinary bags or rollers. They have built-in battery powered outlets! You can charge your camera battery, cellphones, tablets to powering your laptop. It even features a charging pass-through which means you can charge the bag as well as your device at the same time.
It uses a 12v LiPo battery (replaceable) and is waterproof. There's even a extension cord to allow you to charge the battery. He's taken it on to planes and it has passed TSA checks. He is in the process of getting it TSA approved.
GoPlug has redefined what a bag should be. Charge ALL of your devices, CAMERA BATTERIES, LAPTOPS, and more on the go.

GoPlug Redefines The Standard For What Bags Should Be




Smart technology needs to be handled in a smart way, and that is just what GoPlug has done. We have taken the most commonly used bags and enabled them to work with your devices to keep you connected and keep your electronics fully charged. The GoPlug baggage set is the world's best "smart" bag.

POWER, CHARGE, AND RECHARGE ON THE GO

The GoPlug baggage set is not just an ordinary set of bags. It contains its own battery pack that allows you to charge your electronic devices, even if you are not near a power outlet.

The built-in battery has the capacity to charge your smart phone up to six times, and your tablet up to two times, and doubles the life on an average laptop on a single charge (results vary). So, whether you are on the plane, in a car, or sitting in a waiting room, you will never have to worry about losing power.

Whether traveling for business, giving a presentation, or just working and playing from home, the GoPlug bags will make your busy life easier.

"Are GoPlug Bags waterproof?"

Yes! We've taken serious consideration with each component of the bags. From the zippers to the power button, everything is waterproof. Although your electronics will be protected from moisture, I would not use the bags as a floatation device or submerse them in water. Exposure to rain/sleet/snow is not a problem.
Continue reading for a list of items that will be available: (Not listed is an iPad case but it's just a case - all items include the Swag Pack)
GoPlug Swag Pack ($35)
SPECS:
Designed to fit portable bus-powered hard drives.
It can fit a hard drive up to 5.5 x 3.75 x 1.25" in size.
It features a zipper for closing and a mesh pouch that can accommodate a USB or FireWire cable.
Includes: Micro USB, Mini USB, and 30 Pin 4" cables
GoPlug Mobile Kit ($90)
SPECS:
Smooth, ebony varnish allows you to power up in style, while 4 status LEDs keep you informed of remaining capacity. Built-in flashlight for dark or low-light environments.
Ultra-high density battery cells make this the world's most compact 15000mAh external battery. Use a 5V / 1.5A adapter (not included) for fastest charging (9-10 hours).
Monster capacity (15000mAh) charges the iPhone almost 7 times, large-capacity phones like the Galaxy S4 4 times or almost a full charge to an iPad 3 / 4.
Super-fast charge output (5V / 3A total) through dual USB ports (5V / 2A and 5V / 1A) allow for simultaneous charging of your iPad, iPhone, Android, and more at high speed.
Package contents: External Battery, Micro USB cable, travel pouch, instruction manual.
GoPlug Computer Bag ($159-$179)
SPECS:
One 360° rotating AC outlets fit large plugs
Two front-facing USB outlets for charging iPhone®, iPod®, smartphones, and E-Readers
Unlimited clockwise and counterclockwise rotation for maximum flexibility
115v, 60Hz Patent Pending mobile outlet | Maximum output continuous power 80 watts
Rechargeable 12v LiPo battery (weighs 16 ounces)
Eight foot grounded extension cord
Durable, professional messenger bag with ample storage
Dimensions: 11" x 16.5" x 3.5"
Weight: 3.2 lbs (battery weight not including)
Padded computer compartment fits most 14"-15.4" laptops (internal laptop dimensions 14.5" x 11.1" x 1.8")
Organization panel stores your portable electronics, pens and more
Nylex lined accessory pockets keep your electronics scratch free
Nylex lined accessory pockets keep your electronics scratch free
Padded hip panel offers exceptional comfort
Matching USB shuttle included- holds two USB drives
Adjustable shoulder strap and grab handle allow for easy transport
GoPlug Backpack ($159-$179)
SPECS:
One 360° rotating AC outlets fit large plugs
Two front-facing USB outlets for charging iPhone®, iPod®, smartphones, and E-Readers
Unlimited clockwise and counterclockwise rotation for maximum flexibility
115v, 60Hz Patent Pending mobile outlet | Maximum output continuous power 80 watts
Rechargeable 12v LiPo battery (weighs 16 ounces)
Eight foot grounded extension cord
Padded pocket protects laptops up to 17.3 inches
Dedicated interior pocket for iPad, tablet, or eReader
Front zip-down organizer section plus separate file pocket, front zippered pocket, quick access pocket and side zippered pockets
Polyester body with padded carry handle and backpack straps for comfort
Rear Ride Along strap for consolidated travel
Dimensions: 18" x 15" x 7"
Laptop Pocket: 16" x 11.75" x 1.8"
Weight: 3.4 lbs. (battery weight not including)
GoPlug Roller Case ($249-$269)
SPECS:
Two 360° rotating AC outlets fit large plugs
Two front-facing USB outlets for charging iPhone®, iPod®, smartphones, and E-Readers
Unlimited clockwise and counterclockwise rotation for maximum flexibility
115v, 60Hz Patent Pending mobile outlet | Maximum output continuous power 80 watts
Rechargeable 12v LiPo battery (weighs 16 ounces)
Twelve foot grounded extension cord
Vertically oriented rolling laptop case compatible with most laptops with a 15 to 17 inch screen
Security Friendly laptop sleeve- Designed in compliance with TSA guidelines so your laptop does not need to be removed from sleeve when passing through airport security*
Dedicated iPad or 10.1 - inch tablet compartment
Full-featured business compartments are isolated from clothing storage for in-meeting functionality
Smart Organization panel provides a place for electronics, gadgets and accessories
Large rear compartment holds a change of clothes for the overnight business trip
Leave your laptop in the protective sleeve through the TSA screening process. To ensure an unobstructed x-ray view, place nothing other than your laptop in the sleeve.
Vertical orientation rolls easily down airplane aisles
Size L x W x H: 14.4 x 10.4 x 21.0" (365.7 x 264.1 x 533.4 mm)
Volume 2624.0 in³ (42999.6 cm³)
Weight 8.49 lb (3.85 kg) (battery weight not including)
GoPlug Camera Pack ($329-$349)
SPECS:
One 360° rotating AC outlets fit large plugs
Two front-facing USB outlets for charging iPhone®, iPod®, smartphones, and E-Readers
Unlimited clockwise and counterclockwise rotation for maximum flexibility
115v, 60Hz Patent Pending mobile outlet | Maximum output continuous power 80 watts
Rechargeable 12v LiPo battery (weighs 16 ounces)
Eight foot grounded extension cord
Material | 600 denier PolyTek
Type of Closure | Zipper
Exterior Dimensions | 13.0 x 11.0 x 19.5" (33.0 x 28.0 x 50cm)
Interior Dimensions Internal | Top: 10.0 x 6.5 x 8.25" (25.0 x 17.0 x 21cm) Internal | Bottom: 11.0 x 6.5 x 10.0" (28.0 x 17.0 x 25cm)
Tripod Holder
Waist Belt
Rain Shield
Carrying/Transport Options | Shoulder straps
Top carry handle
Weight 5 lb (2.3kg) (battery weight not including)
GoPlug Camera Roller Case ($369-$399)
SPECS:
Two 360° rotating AC outlets fit large plugs
Two front-facing USB outlets for charging iPhone®, iPod®, smartphones, and E-Readers
Unlimited clockwise and counterclockwise rotation for maximum flexibility
115v, 60Hz Patent Pending mobile outlet | Maximum output continuous power 80 watts
Rechargeable 12v LiPo battery (weighs 16 ounces)
Twelve foot grounded extension cord
Material High-density Cordura nylon
Type of Closure Zippers, quick-release buckles
Exterior Dimensions 14.8 x 9.1 x 22.1" / 37.5 x 23.0 x 56.0 cm
Interior Dimensions Main Compartment: 12.6 x 8.3 x 19.7" / 32.0 x 21.0 x 50.0 cm
Laptop Compartment: 13.4 x 0.4 x 17.7" / 34.0 x 1.0 x 45.0 cm
Carrying/Transport Options Retractable trolley handle and wheels, top, side, and base grip handles
Rain Shield
Weight 10.5 lb / 4.8 kg (battery weight not including)