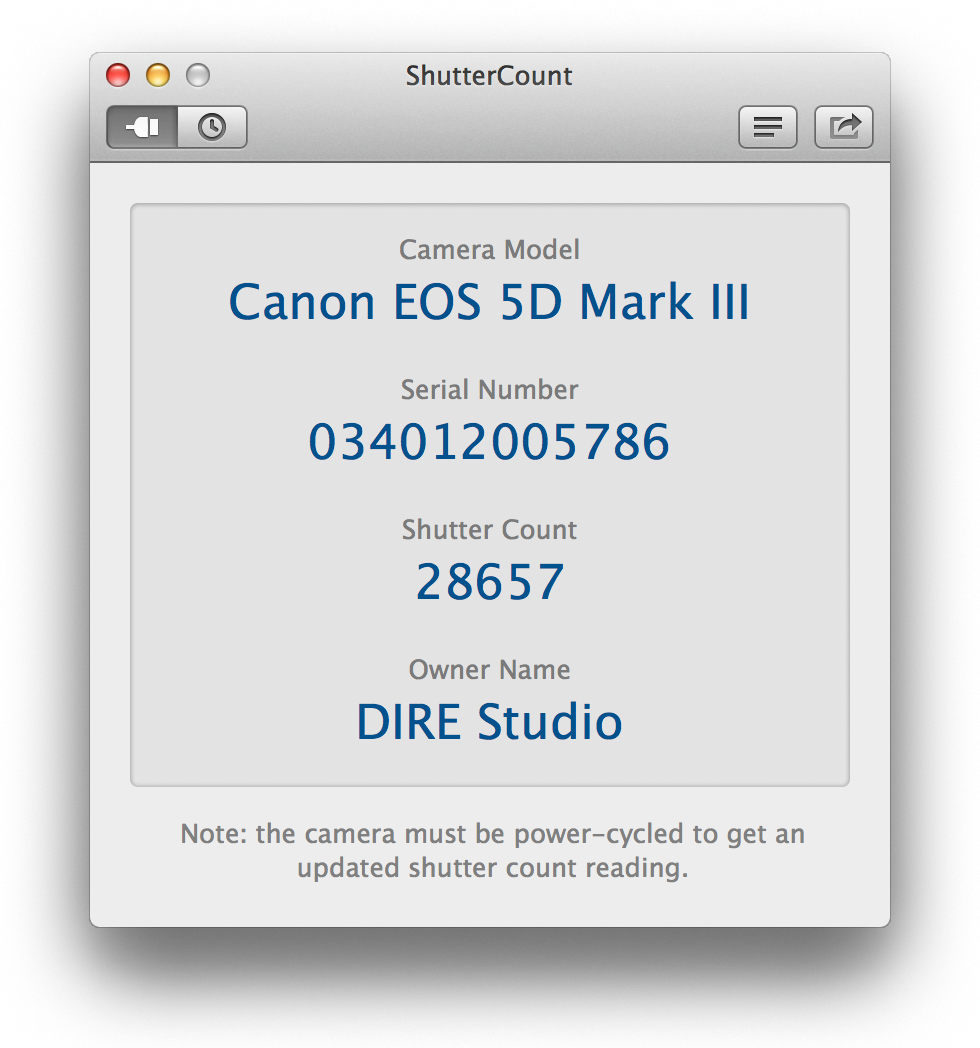 ShutterCount displays the number of shutter actuations (the shutter count) of your Canon EOS digital camera. The shutter count is read directly from a USB-connected camera, and thus provides accurate numbers that are not attainable with simple EXIF-based methods.
With ShutterCount you can easily check whether a newly purchased camera is really new, or check how heavily used a pre-owned item is. And you can save a trip to a Canon Service Center by doing the reading for yourself.
The app provides unlimited readings for an unlimited number of cameras, so you can freely track actual camera usage. Even if you work for a rental house or just lend a camera to a friend.
ShutterCount only displays the shutter count for still photos - video clips recorded are not included in the number. For a separate mirror movement reading (that includes videos) you should consult an authorized Canon Service Center.
History logging allows you to track camera usage. Logs are stored in CSV format that can be imported into Apple's Numbers or Microsoft Excel for further processing. History logging is not available on Windows.
Note: for the best compatibility with your camera it is recommended to upgrade the camera's firmware to the latest available version.
WiFi on the EOS 6D and 70D must be turned off as it blocks the USB port when turned on!
Supported cameras:
Canon EOS-1D C (requires firmware 1.1.3 or later for correct serial number display)
Canon EOS-1D Mark IV
Canon EOS-1D X
Canon EOS 5D Mark II
Canon EOS 5D Mark III (requires firmware 1.2.1 or later for correct serial number display)
Canon EOS 6D
Canon EOS 7D
Canon EOS 50D
Canon EOS 60D
Canon EOS 70D
Canon EOS 100D / Rebel SL1 / Kiss X7
Canon EOS 500D / Rebel T1i / Kiss X3
Canon EOS 550D / Rebel T2i / Kiss X4
Canon EOS 600D / Rebel T3i / Kiss X5
Canon EOS 650D / Rebel T4i / Kiss X6i
Canon EOS 700D / Rebel T5i / Kiss X7i
Canon EOS 1000D / Rebel XS / Kiss F
Canon EOS 1100D / Rebel T3 / Kiss X50
Canon EOS 1200D / Rebel T5 / Kiss X70
ShutterCount is certified to work with all of the cameras listed above, using their latest firmware revision.
Please quit all applications that might connect to your camera (e.g. Canon EOS Utility, Capture One, Adobe Photoshop Lightroom) before launching ShutterCount.
Questions? Problems? Check out the
ShutterCount FAQ
or contact our
support
!
Compatibility:
Mac OS X
($2.99) – Current version is 1.2, Requires OS X 10.6.8 or later, 64-bit processor
Windows
($2.99) – Current version is 1.0, Requires Windows 7 SP1 or later, 32-bit or 64-bit processor
Source:
DIRE Studio