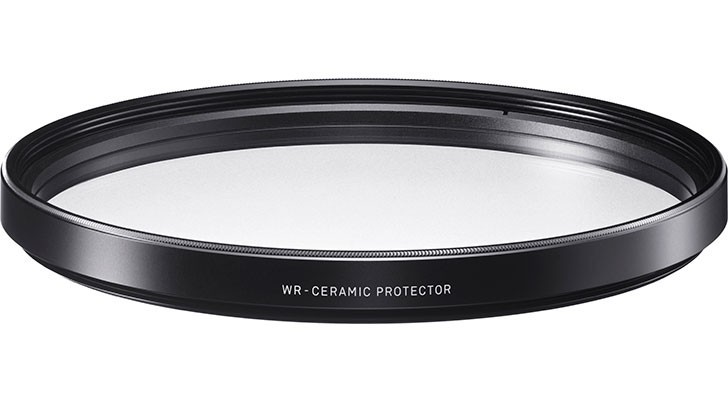 RONKONKOMA, NY — December 16, 2015
– Sigma Corporation of America, a leading DSLR lens and camera manufacturer, today announced the new Sigma Water Repellent (WR) Ceramic Protector, a lens filter that features new Clear Glass Ceramic material and provides enhanced protective qualities. Pricing and availability is not yet available.
This shock- and scratch-resistant Clear Glass Ceramic was developed specifically for Sigma in partnership with a glass manufacturer. Made with a special heat treatment that evenly precipitates microcrystalline spinel throughout the materials, the Clear Glass Ceramic is 10 times stronger than a conventional protective filter and three times the strength of a chemically strengthened filter. The lens protector also contains WR coating, which repels water, dust and oil, and allows fingerprints to be easily removed. This enhanced protection helps to preserve the lens and ensure long-term, top-notch image quality.
"The Sigma WR Ceramic Protector is the latest example of Sigma's dedication to innovative and first-to-market photography equipment," said Mark Amir-Hamzeh, president of Sigma Corporation of America. "The new Clear Glass Ceramic protector is the first of its kind and the strongest material used in the industry. It will enable photographers to safeguard their lenses, while maintaining the impressive sharpness offered by high-quality glass, like our Global Vision line of lenses."
Key features of the Ceramic Protector include:
Scratch-resistant – Sigma's Clear Glass Ceramic offers a Vickers hardness number of 700HV. The strength of the Clear Glass Ceramic is much stronger than chemically strengthen glass and is; 10 times stronger than conventional filters
Thinner and lighter – This new protector is up to 50 percent thinner and is up to 30% lighter than previous Sigma filters
High transmittance – Sigma's Clear Glass Ceramic offers very high transmittance, making it ideal for use as optical glass
Water- and oil-repellent coating – The water repellent coating reflects only 0.24 percent of visible light, thereby minimizing flare and ghosting. Its ability to repel both water and oil is also excellent, with water drops bouncing right off, and fingerprints easily to remove
This filter is offered in the most popular filter thread sizes, and is compatible with all Sigma lenses and other lenses that accept front filter threads that are 67mm-105mm diameters. Compatible lenses in Sigma's Art line include: 35mm F1.4 DG HSM, 30mm F1.4 DC HSM, 18-35mm F1.8 DC HSM, 24-35mm F2 DG HSM, 24-105mm F4 DG OS HSM, 50mm F1.4 DG HSM, 24mm F1.4 DG HSM, 19mm F2.8 DN, 30mm F2.8 DN and 60mm F2.8 DN. Compatible lenses in the Sports line include the 120-300mm F2.8 DG OS HSM and 150-600mm F5-6.3 DG OS HSM. Compatible lenses in the Contemporary line include the 17-70mm F2.8-4.0 DC OS HSM, 18-200mm F3.5-6.3 DC OS HSM, 18-300mm F3.5-6.3 DC OS HSM and the 150-600mm F5-6.3 DG OS HSM. As with all of Sigma's lenses, the filter is checked with Sigma's own Modulation Transfer Function (MTF) measuring system, "A1," in the company's factory in Japan.