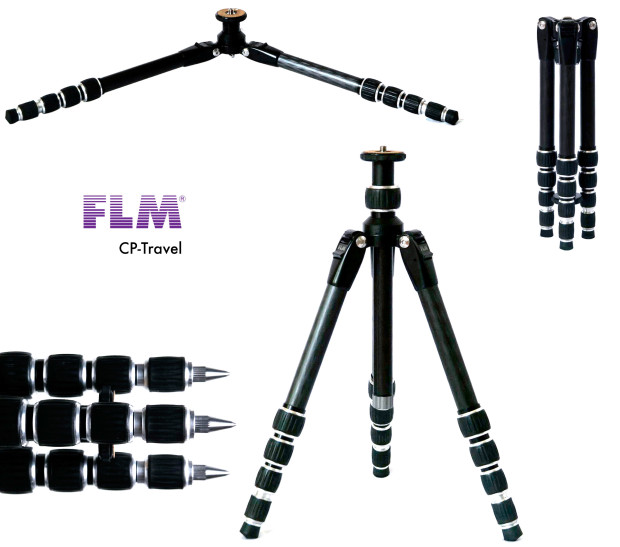 FLM is proud to announce its new CP-Travel tripod, a 5-section ultra-compact tripod designed to go anywhere and to support just about any camera gear. The CP-Travel features 10x carbon fiber tubes, with 26mm tubes at the top, a maximum load of 10kg (22 lbs.), and a folded length of only 39cm (15.3"). It offers the ultimate combination of stability and portability.
Full Specifications:
Name: CP-Travel
Materials: interwoven 10X carbon fiber, aluminum apex
Leg Sections: 5
Leg section diameter: 26mm, 22mm, 19mm, 16mm, 12mm
Weight: 1,28 kg (2.83 lbs)
Load capacity: 10kg (22 lbs.)
Max height w/center post: 142cm (55.9"), w/o centre post: 122cm (48.1")
Max height w/center post & CB-38FTR/QRP-50 ball head: 152,7 cm (60.1")
Min. Height: 11,5 cm (4.5")
Folded length: 39cm (15.3")
Folded diameter (at widest point): 9,8cm (3.8")
Head platform diameter: 5,2 cm (2.04")
Feet: rubber safety feet w/steel spikes (interchangeable)
Leg locks: safety-stop rubber and aluminum
The CP-Travel is available now for pre-order at a very special price on Indiegogo. Early bird pricing starts at $425. It will be available in retail stores in October 2016.
To order your tripod, visit:
https://igg.me/at/flmtripod/x/11127085
Full specs are here:
http://www.flmcanada.com/cp-travel-tripod---new.html