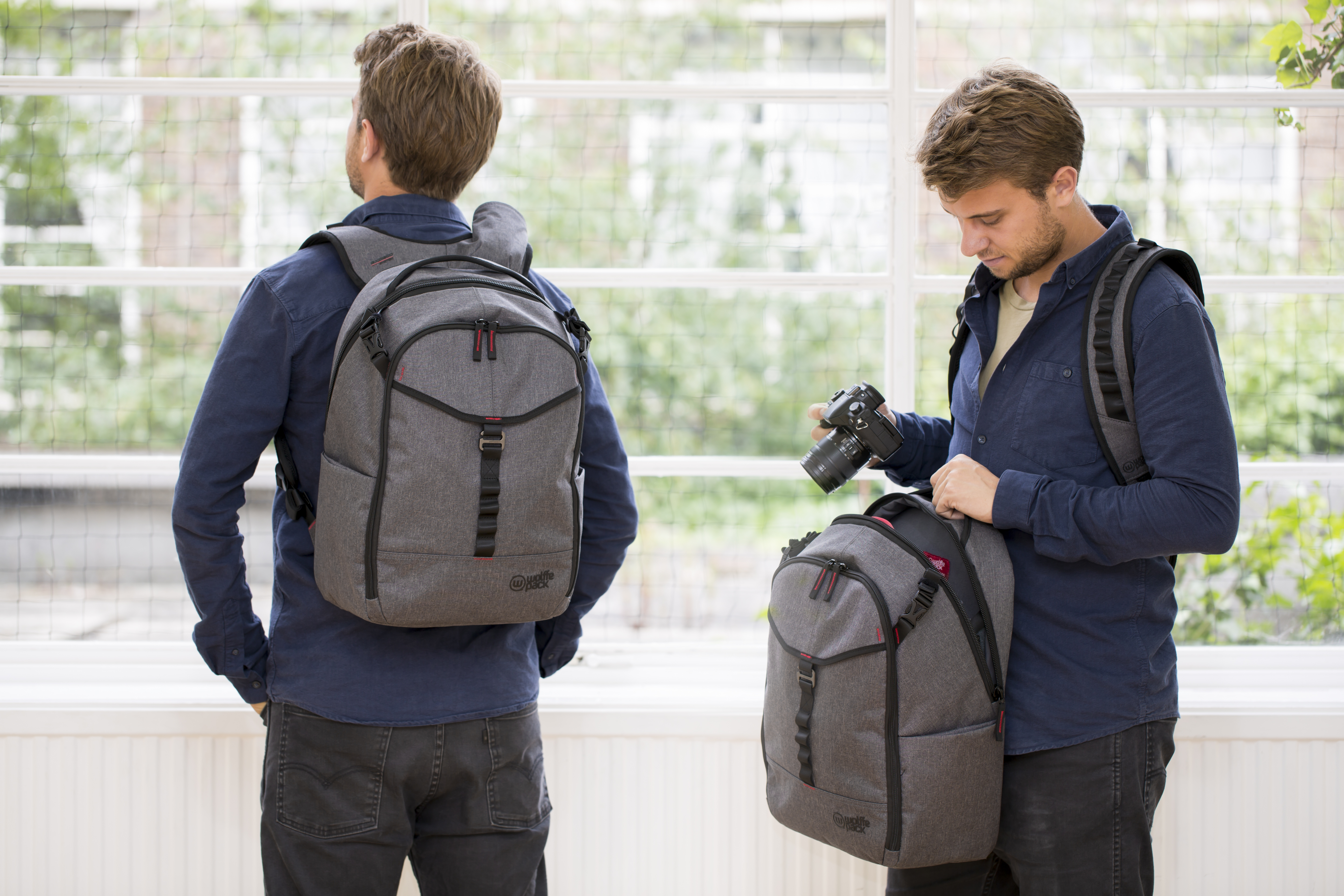 We were just informed of a new backpack launching on
Kickstarter
known as the
Wolffepack Capture
.
The Wolffepack® uses the world's first orbital trapeze technology in a backpack - the patented expetoSYSTEM® (from the Latin 'I reach') - has been developed by Wolffepack® engineers to provide convenience, comfort and security in an extraordinary way.
The revolutionary design connects the bag to the straps on your shoulders with super strong cords, made from Dyneema and able to pull a load of over 300kg. These cords can be released to allow the pack to separate from the straps and then revolve around the body from back to front. Inspired by technology in the world of yachting and mountaineering, it includes a totally new rope locking and releasing system to enable the user to move the bag where and when they choose. This is wrapped together with custom ergonomics and leading edge backpack design to deliver a great user experience.
Wolffepack® is available in 3 versions: the Capture, for cameras and access, the Metro, designed for urban use and the Escape designed for active use such as skiing, cycling, hiking. RRP for Capture is likely to be around £170 at retail, but is on Kickstarter at £125. The capacity of the Wolffepack® Capture is approximately 26 litres, the Wolffepack® Metro is approximately 22 litres and the Escape is approximately 18 litres.
Continue reading for full press release.
Wolffepack Capture: The Ultimate Backpack for Cameras and Access launches on Kickstarter
The award-winning team from Wolffepack have just adapted their unique Wolffepack access system for photography, and are now launching the Wolffepack Capture, the ultimate backpack for cameras and access.
This follows their successful Kickstarter in November 2014 with their first concept, Wolffepack, the world's first Orbital Backpack.
Wolffepack Capture is a revolutionary new camera bag that allows you to swing your gear round to your front whilst still strapped to your back. It offers groundbreaking gains in easier access, better workflow and greater security.
This innovation comes with a unique set of features:
Rapid Access: Wolffepack's unique system swings your camera bag swiftly round to your front without unstrapping, for rapid and easy access.
Padded Carry: a custom-designed and removable padded pod to hold camera, lenses and accessories that sits inside the top of the backpack. Removing the pod converts the Capture into an access backpack for everyone.
Ergonomic Workflow: the top of the bag opens in a clean one-handed single movement, allowing the pod entrance to naturally open in an 'aperture action'. This presents the camera in the perfect position to grab, shoot and replace.
Hands-free Platform: Wolffepack's system allows you to stow the bag on your front, creating an ideal platform to work cleanly and hands-free on shooting, lens changes, or reloading storage.
Customizable Loading System: with a moveable internal shelf, there are spaces for both camera equipment and everyday gear in 3 different configurations
Wolffepack's radical new concept in backpack design has won an ISPO Award 2016 for product excellence, following its December 2015 Good Design Award from the Chicago Athenaeum Museum of Design, and its Good Design Award 2015 from the Japan Institute of Design Promotion in November. It has also been nominated for a prestigious 2017 German Design Council Award.
Wolffepack Capture takes camera backpack design to a whole new level. The custom-designed padded pod includes all the pouches and compartments you need to safely carry and organize your camera, lenses and accessories. The customizable loading system stores away your belongings exactly how you need them - the camera pod docked and locked safely in one section, your day gear and belongings tucked away in the other. Alternatively, the 2 compartments can be converted into one large space. Stowing the bag to your front means you can work cleanly and safely without ever needing to put your backpack down on wet or dirty ground.
The ingenious expetoSYSTEM®, a patented orbital trapeze technology that frees the bag to rotate around the body on a super-strong cord system, is now available to the world of photography. It incorporates durable, high-performance materials such as Dyneema cords (15 times stronger than steel), Kevlar and carbon fibre componentry, as well as the latest magnetic catches.
David Wolffe, founder and inventor, said: "Since our Kickstarter success in 2014, we've been inundated with enquiries and requests to design a camera bag. As a photographer myself I always thought we'd produce a design for cameras. Now the Wolffepack Capture is finally here it has come out even better than I imagined."
"The Wolffepack Capture provides fast and easy access, comfort and convenience, not just for photographers but for everyone. It has been crafted with cameras in mind, but offers an innovative hands-free advantage for anyone on-the-go, from the commuter to the hiker, the parent to the traveller. With the camera pod removed, it's the perfect backpack for access for everyone."
The Wolffepack story started with a seed in the mind of David Wolffe, a former Finance Director who quit his corporate career to develop the Wolffepack® backpack. A successful initial campaign on crowdfunding website Kickstarter to boost the first production run of the Wolffepack® reached 157% of its funding goal and generated preorders in 28 countries.