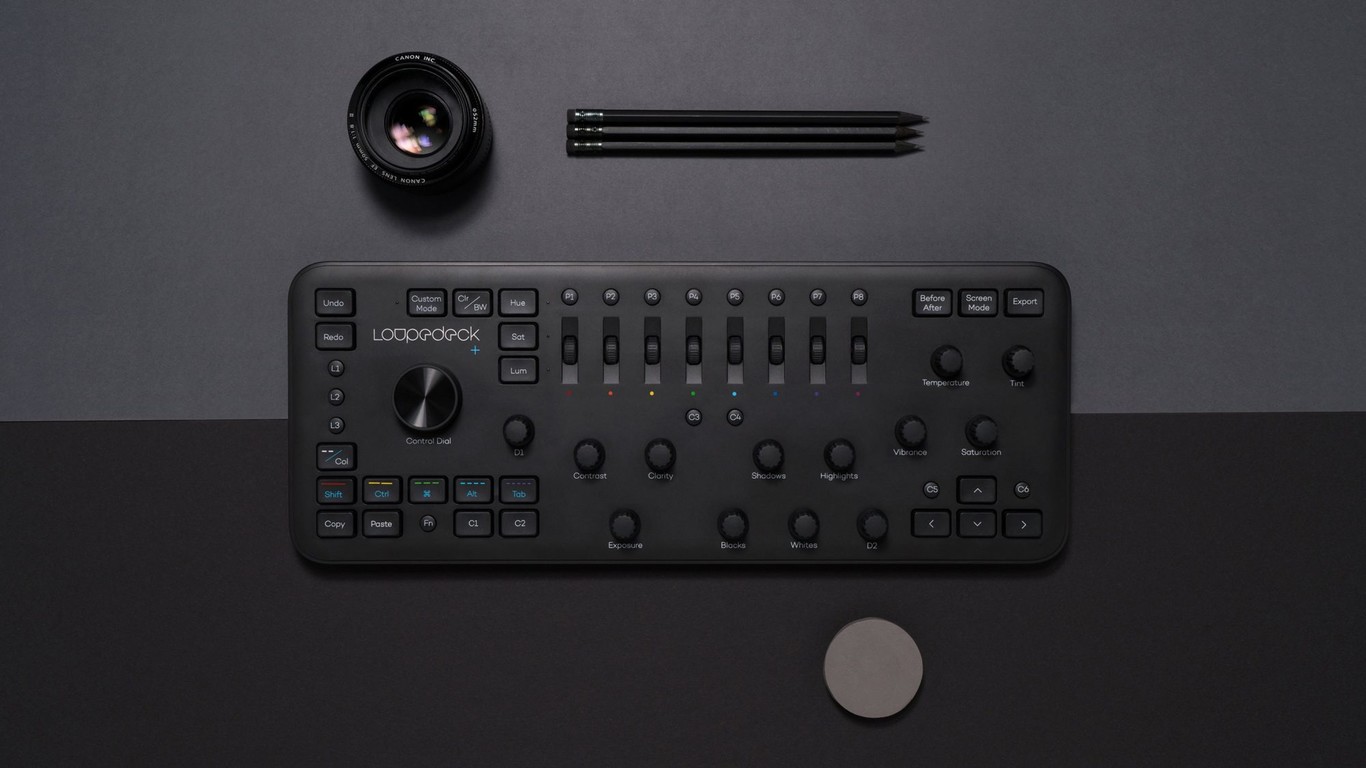 Loupedeck
made a splash when they released custom photo editing console for Lightroom back in 2016. The company just announced the original console's successor: the Loupedeck+.
While the original Loupedeck was designed specifically for Lightroom (
Amazon
/
B&H Photo
/
Adorama
) editing, the Loupedeck+ is compatible with Skylum's (formerly known as Macphun) popular
Aurora HDR
photo editing software. Loupedeck has actually entered into a partnership agreement with Skylum and will be supporting the company's other photo editing products (e.g.
Luminar
) as well.
Loupedeck+ is in beta integration with Capture One, and full integration with the software is "on the way," the company says. There are also additional software integrations that will be announced later this year.
When compared to the original Loupedeck, the console has also been improved with more functionality, control, and customization, all based on feedback received from the photography community.
The keys on the Loupedeck+ are now mechanical, providing a more precise touch and a more sturdy feel — the overall build quality of the console has been beefed up as well. There are also two dedicated customizable dials and seventeen buttons, and a "Custom Mode" allows users to fully control all dials.
The configuration software has been rebuilt from scratch, providing a photo experience that's both faster and more stable than before.
The Loupedeck+ is available for purchase in the
Loupedeck Online Store
,
B&H Photo
and
Amazon.com
for $229. Loupedeck is also offering a cashback opportunity of $50 for current Loupedeck owners.
Continue for full press release.
Next Generation Includes Skylum Aurora HDR Compatibility, Upgraded Build and More Customization Options, All Based on the Photography Community's Feedback
HELSINKI, Finland – June 20, 2018
– Loupedeck, the custom photo editing console built with an intuitive design that makes editing faster and more creative, has announced the next evolution, Loupedeck+. While the Loupedeck was the only device on the market custom-built to improve the Adobe Lightroom experience, the Loupedeck+ is now also compatible with popular photo editing software
Skylum Aurora HDR
(in addition to Adobe Lightroom Classic CC), and is designed with more functionalities, control and increased customization options. Following a year of overwhelming success and customer feedback, the Loupedeck+ was designed in Loupedeck's headquarters in Finland, with all updates solely based on feedback from the invested photography community.
Specifically, upgrades to the Loupedeck+ include:
Mechanical keys with a more precise and sturdy feel
Improved build quality
Two dedicated customizable dials and seventeen buttons
"Custom Mode" that allows full user control of all dials
Configuration software built from scratch for an even better, faster and more stable photo editing experience
"We know how dedicated both the professional and amateur photography communities are in their work, and we're committed to making their lives easier and more productive," said Mikko Kesti, Founder and CEO of Loupedeck. "There's no better way to create the next evolution of our flagship product than by going straight to the source and taking their feedback to heart. By adding even more control, efficiency and customization options to the editing process, we're able to help photographers be more successful by increasing their output and artistry, and look forward to continue supporting them in their work."
Following Loupedeck's new partnership with Skylum, the Loupedeck+ will include future integrations with Skylum's other professional photo editing products, including
Skylum Luminar
. It is also currently in beta integration with Capture One, with full integration on the way, as well as additional software integrations to follow later this year. These options will provide photographers with a more diverse, intuitive experience, helping to expedite the editing process and maximize the photo editing experience.
"Skylum and Loupedeck share the same vision. We want to help photographers create great photos, differently," said Alex Tsepko, CEO of Sklyum. "When I discovered that the new version of Loupedeck keyboard is coming out, I knew Skylum software should be the first to support it. This is the kind of innovation modern photographers really need."
The Loupedeck+ is available for purchase in the
Loupedeck Online Store
,
B&H Photo
and
Amazon.com
for $229. Loupedeck is also offering a cashback opportunity of $50 for current Loupedeck owners.
For more information visit
www.loupedeck.com
.