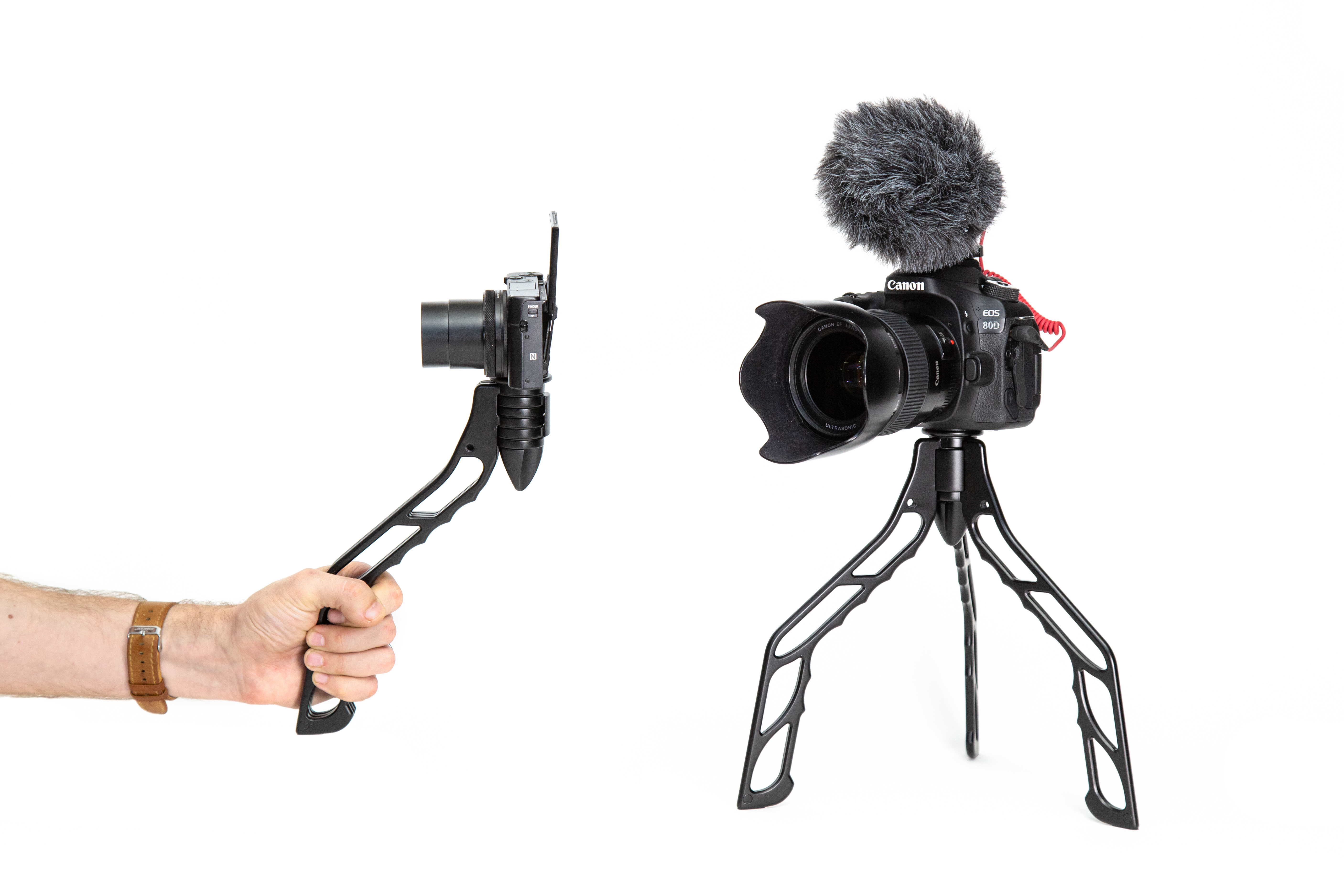 When you think of a vlogger's setup, one of the main things you think of is the Joby GorillaPod. It lets you hold the camera away from you so that you can get yourself in the frame and serves as a dual purpose tripod.
If you have ever used a Gorillapod, you will know they are designed to be flexible but depending on the size and weight of yoru camera gear, they don't always hold their position. You also have to adjust the legs every time you want to set it down on a table as a tripod and configure the legs again for vlogging via hand holding.
A new
Kickstarter
campaign,
SwitchPod
, a handheld 'minimal' tripod that switches from handheld mode to tripod mode in only a couple seconds is seeking funding. The device requires almost no effort to convert, enabling users to seamlessly transition from recording while holding the device to recording from a flat surface without pausing to adjust the stand.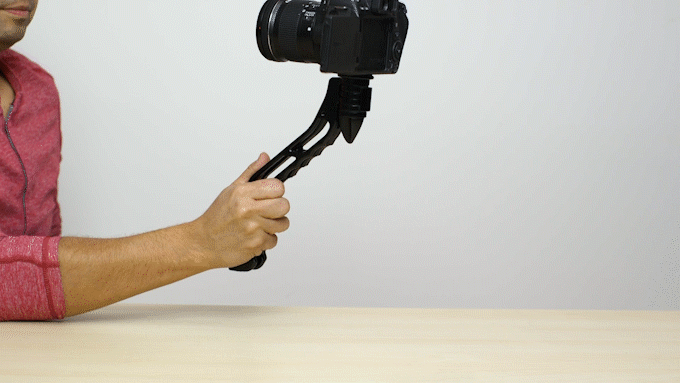 SwitchPod is compatible with any camera, including smartphones and DSLR models. It is made from an aluminum alloy design, and supports up to 100lbs / 45kg. There are hidden magnets on the legs to help keep them close together. The tripod features a 1/4-20" standard screw for directly attaching a camera, as well as support for ball heads and quick release plates.
There are two additional 1/4-20" threads on the tripod's legs enable users to attach accessories, such as a light and microphone, plus the leg design makes it possible to clip SwitchPod to a bag using a carabiner. Other features include a tightening knob, non-slip feet, two sets of finger grooves for grasping the tripod in different positions, and a circle pad to protect the camera's base. The tripod weighs 11.1oz / 315g and measures 11in / 28cm long in handheld mode.
The
SwitchPod
is set to ship August 2019 and will retail for $99 USD but
Kickstarter
backers can pledge $79. You can buy 2 for $149 or 5 for $349. There is only one size available and only comes in black.
Continue reading for full press release.
SAN DIEGO, CALIFORNIA - Filming yourself isn't easy. You're often on the go with tons of people looking at you like you're crazy while you hold a camera in your face. You're used to the weird looks and eye rolls, but don't you wish your handheld tripod wasn't so clunky?
We've designed something better. Meet SwitchPod.
SwitchPod is lightweight, compact, and nearly indestructible. It will save you valuable time between shots so you can focus more on shooting and less on messing with your gear.
SwitchPod works with any camera.
It opens and closes quickly.
It's easy to hold.
It has nonslip feet to keep your camera from sliding off surfaces.
It has a tightening knob to quickly attach or remove your camera.
It is lightweight and slim, so can it be taken anywhere and packed easily.
It is strong enough to hold heavy video rigs and won't sag or collapse like others.
You can add your own quick release plates and ball heads.
You can add a mic, a monitor, or a LED light to complete your full vlogging rig with two ¼-20" threads.