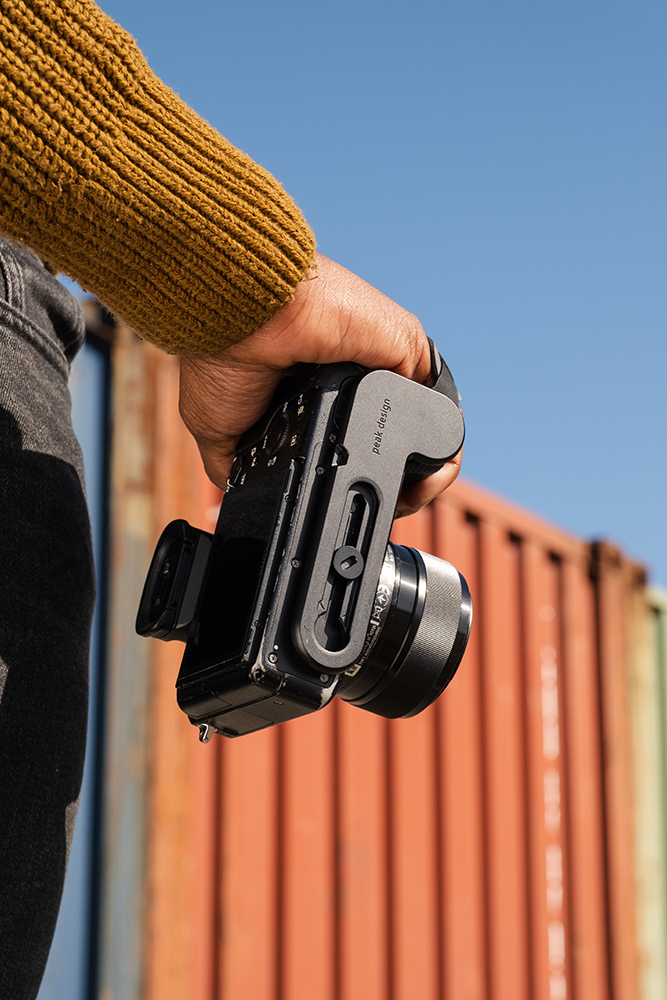 Micro Clutch is the perfect balance of comfort and security and is Peak Design's 11th Kickstarter
SAN FRANCISCO (May 16, 2023) – Peak Design, the worldwide leader in camera carry solutions, is pleased to announce the launch of Micro Clutch: A minimalist hand strap specifically designed to meet the needs of mirrorless photographers. Micro Clutch will be launched as part of Peak Design's celebratory 11th Kickstarter and represents a return to Peak Design's roots in camera carry.
Given their compact size, Mirrorless cameras are often shorter than the width of a hand and lack the robust hand grip found on larger DSLR bodies. Gaining a secure grip on these cameras can be difficult. However, specific features of Micro Clutch, such as a recycled aluminum base plate with a sliding screw slot, and a stitchless hypalon hand pad with rotating pivot points, allow photographers to customize their fit while safely and comfortably moving between both carrying and shooting positions.
In addition to comfort and grip, Micro Clutch allows photographers to gain fast and easy battery access–a limitation of other mirrorless hand straps. Using a cleverly hidden adjustment tool, photographers can loosen the Micro Clutch's base plate with one 360° turn, release the base plate, and open the battery door without needing extra tools or worrying about dropping parts.
"Our original Clutch hand strap has been a perennial favorite amongst our core photo customers but it's been clear that the photography industry as a whole is moving towards the use of powerful, smaller bodied mirrorless cameras," commented Peak Design Founder and CEO, Peter Dering. "Micro Clutch strikes the perfect balance between minimalist design and optimal comfort and grip. Not only are we excited about the product but we're happy to reconnect with our endemic photo community through a new product and our 11th Kickstarter," continued Dering.
Photographers can choose between different models of Micro Clutch depending on their make and model of mirrorless camera. An "L" style base plate for bodies with built-in grip and "I" base plate for straight bodies without grip.

Micro Clutch (MSRP: $64.95) will launched for presale discount on May 16, 2023 on Kickstarter–Peak Design's 11th campaign–and become available direct-to-consumer in Early July.
For more information, please visit:
https://peak-design-micro-clutch.kckb.st/kckbst
About Peak Design
Since 2010, Peak Design has been building innovative carry solutions with a simple overarching design directive: make the best things. The idea for our first product was born on a motorcycle trip through Southeast Asia and has since expanded to include a cross-functional ecosystem of bags, pouches, slings, straps, clips and now mobile. We've won applause along the way, but we're most proud of the fact that we're 100% crowdfunded and 100% employee-owned. We've raised $34.4 Million through 10 Kickstarter campaigns to become the world's most successfully crowdfunded company. This allows Peak Design to stay investor- free and focused on the things that matter most: designing great products, fostering happy employees, and taking care of our customers and the natural environment. Learn more at
peakdesign.com
.