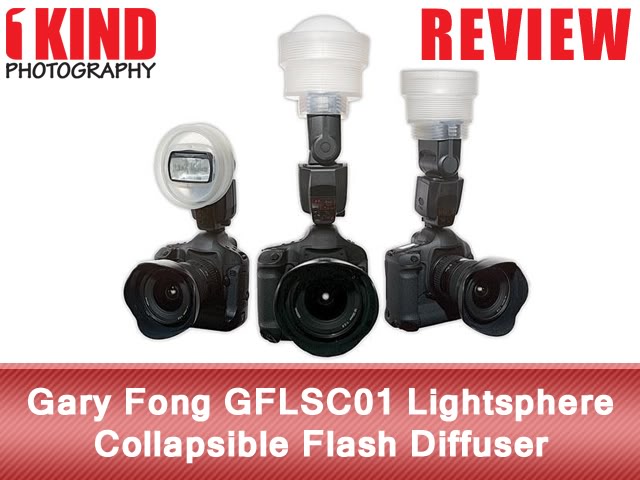 Overview :
The
Gary Fong Lightsphere Collapsible
has provided photographers with the ability to achieve studio-style lighting effects at weddings and other location shoots with one simple diffusion tool. The Lightsphere Collapsible's illumination pattern is designed around a 360-degree concept. It's conical shape and translucent material disperses the light up, down and side-to-side as well as being targeted towards the subject. The Lightsphere illuminates the area surrounding the subject including the background and fits almost any flash.
Features :
Collapses down to a 1½ inch thick ring allowing for easy storage
Utilizes patent pending sizing ribs that provide an equally tight fit to several sizes of flashes without the need for straps or banks
Equivalent output to a half cloud
The Inverted Dome is included with every lightsphere collapsible purchase
Works with your existing accessory domes, amber dome and chrome dome (not included)
One Size Fits All - including: Nikon SB600/700/800/900, 430ex(II)-580ex(II) Canon, Leica SF-58, Olympus FL-36-40, Pentax AF540FGZ, Sony HVL-F42/56/56am/58/58AM, Sigma EF530-610, Sunpak PZ42XS, Bower SFD Series Flashes, Vivitar DF383-400, Metz 44-58AF, Nissin Di622-866 + hundreds more.
Quality/Usability :
We've used flash at weddings, parties and events but we've also been on the other end of the flash getting blinded by the light. Taking a picture with a flash mounted on your camera is convenient but it blinds people when pointed directly and it also leaves a harsh shadow on your subject. A few basic rules when using flash is that the closer and larger the light source, the softer the light will be on your subject.
Some use softboxes but they aren't portable. Many have used flash diffuser caps that go right over the flash. These are small, portable but they are usually cheap and fall off. There's also bounce cards or bouncing the light behind you.
What if there was a product that gave you "studio lighting" quality lighting using your flash? Enough to light up your subject but without blinding anyone and leaving harsh shadows? We've all heard of Gary Fong and the Lightsphere. He revised the Lightsphere with a new feature...being collapsible!
Here is a unboxing video of the Gary Fong Lightsphere Collapsible: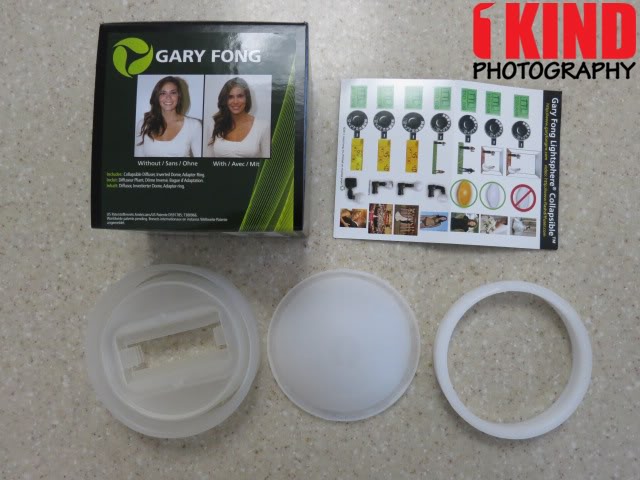 The Lightsphere Collapsible includes the collapsible diffuser, inverted dome, adapter ring and guide/instruction.
The Lightsphere Collapsible is made of thick durable rubber. The adapter is to be used with a chromedome. If you don't own a chromedome, it would be of no use since domes fit on the LSC without it. The Lightsphere Collapsible isn't too clear or opaque like other diffusers on the market. The inside also allows you to use filter kits.
Nikon SB-600
(l-r)
- Dome facing out; Dome off; Lightsphere Collapsed
The Lighsphere Collapsible fits over multiple external flash units (one size fits all). Once it is mounted onto the flash, it looks big. When you're not using the LSC, it can be collapsed down to 1½ inches which can be easily stored away in your camera bag or left on your flash if not needed. It takes a little practice to get the Lightsphere over the flash.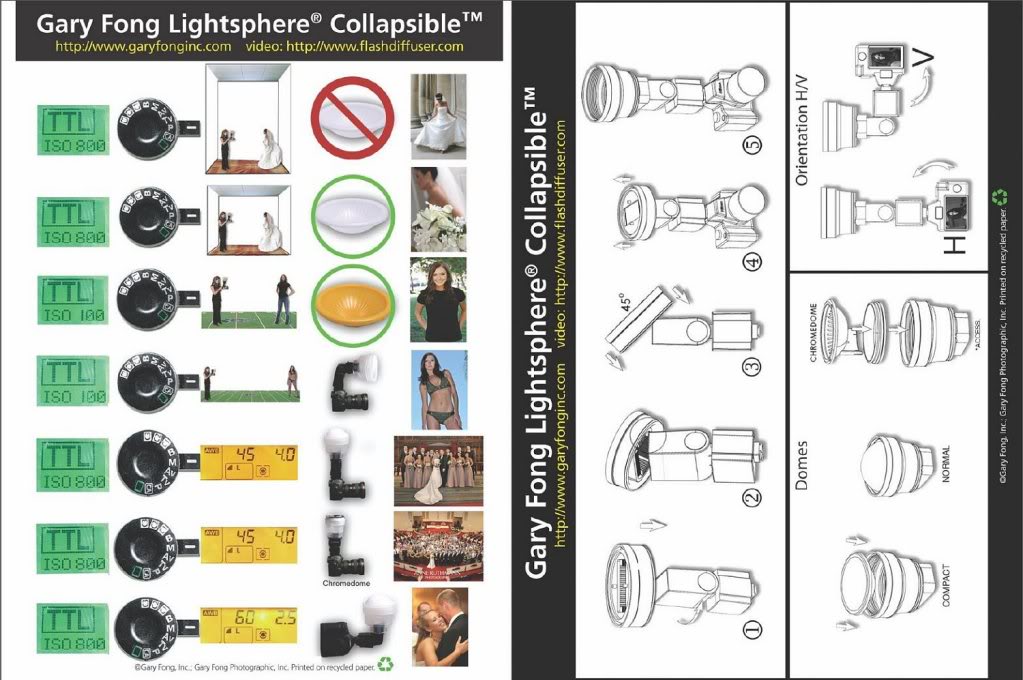 Gary Fong also includes a instruction card with all Lightsphere Collapsible which has mounting instructions as well as helpful setting recommendations.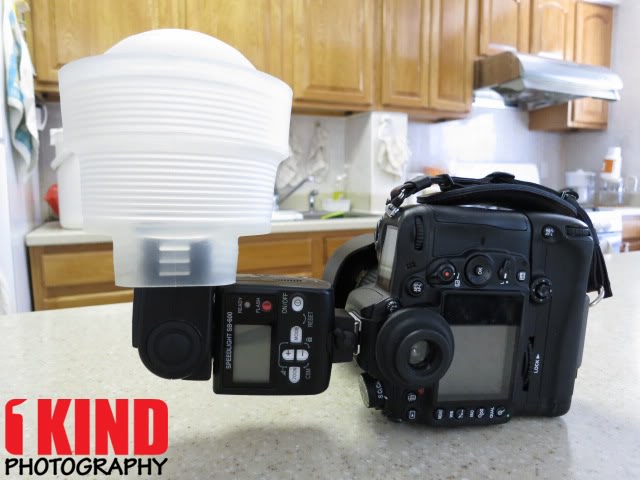 It's suggested that you rotate the flash head 90 degrees. The reason for this is because if you turn your camera vertical (portrait mode), all you have to do is bend the flash head. The Lightsphere Collapsible is still vertical no matter how you have your camera oriented. If you turn your camera back to horizontal (landscape), just put the flash head back to its vertical position.
Nikon SB-600
(l-r)
- Dome facing out; Dome facing in, Dome off
With the Lightsphere Collapsible and no dome, it should be used when you're indoors because you want to use the light bouncing off the ceiling as a fill light. With the dome facing out, the entire Lightsphere Collapsible is entirely lit and makes for a larger diffuser. This should be used when there is a low ceiling because you'll have too much light coming from above. It can also be used outdoors when you want a little fill light with the flash and dome pointing directly at your subject (lens hood recommended). With the dome facing in, it doesn't make it a big diffuser because its not as high. If you're aiming the flash directly at your subject and you don't have a lens hood, you'll want to dome facing in.
How and when to use the Lightsphere:
Dome On (face out - Outdoors with lens hood) - Point flash at subject to give better lighting because its pointing directly at your subject and giving the strongest light possible.
Dome On (face in - Outdoors with no lens hood) - Point flash at subject to provide fill light. Being too close or trying to shoot too many people will cause a light fall off on the outer edges.
Dome Off (Indoors) - Point flash towards ceiling to bounce light off ceiling.
Here are some sample images (no retouching done) with flash pointed up:
Interior lights ON (l-r):
Dome facing out; Dome facing in; No Lightsphere attached—flash bouncing off ceiling
Interior lights OFF (l-r): Dome facing out; Dome facing in
;
No Lightsphere attached—flash bouncing off ceiling
With the Lightsphere Collapsible, the subject has less shadows where as with the flash with no LSC and bouncing off the ceiling, there are signs of darker shadows.
Conclusion :
Overall, the Gary Fong GFLSC01 Lightsphere Collapsible Flash Diffuser works great. It's definitely better than those cheap plastic diffusers that constantly fall off. The price may scare away potential buyers since cheap Chinese clones can be purchased for a fraction of the price. Do remember, what you pay is what you'll get. I think $40 would the be sweet spot, so if you happen to stumble on a used Lightsphere Collapsible for this price or find a deal online, definitely pick it up.
I like the fact that I can collapse the Lightsphere and tuck it into my camera bag without taking much room. Extending/collapsing the Lightsphere looks easier than it looks. It requires two hands.
If the Lightsphere Collapsible is too far down on the flash head, the flash head won't be able to click into place when you bend the flash as it will be in the way. With the camera held in portrait (vertical) mode, I'll get the same amount of diffused light as if I was holding it in landscape (horizontal) mode.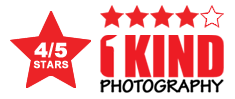 ---