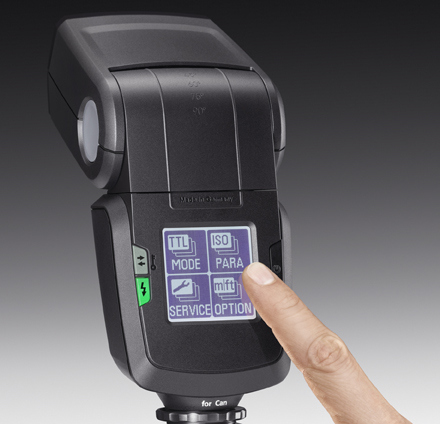 German electronic company, Metz, has just announced the new
52 AF-1 Flash Unit
. What sets this speedlight apart from the others is that this is the first flash that incorporates a touchscreen panel. Touchscreen is available on cameras for a several years now but seeing it as a non-monitor camera accessories is something new and unique.
Some of the information with this speedlight include a 52 metric guide number at ISO100, TTL capability with Canon, Nikon, Pentax, Sony, Panasonic, and Olympus, rotating and swiveling flash head, and a USB port for firmware updates. The expected price will be $325.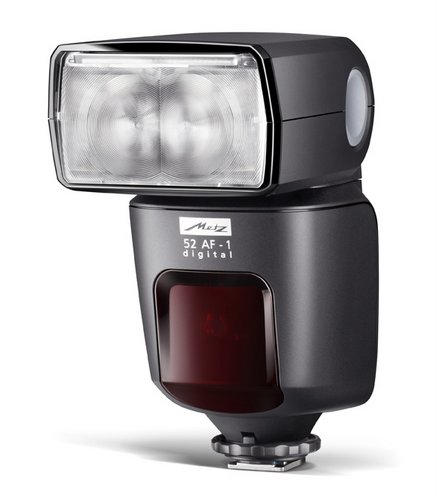 High-tech innovative operation.

Genuine enlightenment for all modern cameras. Thanks to its maximum guide number 52 for ISO 100, the Metz mecablitz 52 AF-1 has more than enough power to cope with any shot – the horizontally swivelling and vertically tilting reflector ensures optimal lighting control. Any subject can be professionally set off to best advantage with the help of the integrated diff user for wide angle shots, and the white reflector card. The fully automatic motorised zoom can adjust lighting angles to precisely suit the focal length of the lens. And even wireless flash – whether in TTL or servo mode – is mastered to perfection by the Metz mecablitz 52 AF-1. Even in low light, the powerful autofocus metering flash can achieve razor-sharp images – and the modelling light makes it possible to evaluate light and shade on the subject prior to shooting. What's more, it holds its own in terms of ease of operation too. The Metz mecablitz 52 AF-1 is the fi rst compact flash unit in the world to be equipped with an illuminated touchscreen display which can be swivelled through 90° – particularly practical for portrait shots. A free soft ware update is available via the USB interface at any time. The innovative compact flash is available in 5 versions for Canon, Nikon, Sony, Olympus/Panasonic and Pentax.
Continue reading for full press release.
The mecablitz 52 AF-1 digital is the flash product innovation of 2012 from Metz. All the benefits of the previous model, mecablitz 50 AF-1 digital, have been retained and numerous further developments have also been added to the new model. The new sophisticated design of the 52 AF-1 housing represents the systematic further development of the 44 AF-1 design family. The guide number has been increased to 52 for ISO 100/21° and 105 mm focal length. The newly developed touchscreen display is, quite simply, the highlight of the 52 AF-1. The 52 AF-1 is the first compact flash unit in the world to be equipped with an illuminated touchscreen display which rotates through 90°. This is particularly practical for operation and taking portrait shots. Like all mecablitz system flash units, the new flash unit is available in different versions and perfectly tailored to digital cameras made by the leading manufacturers.
User-friendly touchscreen display
Metz is exhibiting a compact flash unit with integrated touchscreen display for the first time at photokina 2012. It is very easy to operate the 52 AF-1 illuminated graphic display by directly touching the display indicators. For portrait shots, the display thinks with you and rotates the touchscreen display by 90°. That means that the settings can still be optimally identified in this format and the different functions of the mecablitz 52 AF-1 can be practically selected by touching the display.
Numerous application possibilities
With the new mecablitz 52 AF-1 digital, the options for image composition are almost limitless. It allows precise light output tailored to each individual subject and provides plenty of power for all shooting conditions. Performance and reliability have been further optimised through improvements to the high performance flash tube. Numerous manual fine tuning options extend your creative photographic freedom. Virtually limitless possibilities are opened up for individualised lighting thanks to a fully swivelling reflector system which also contains a flip-out reflector card and a diffuser. As well as the newly integrated master function, a slave function and servo function are also available. These allow the new premium flash unit to be used in different operating modes, depending on the camera model. With the servo flash release, no camera master function is required to use the flash as an additional creative light source in the room. The camera-specific wireless TTL remote mode of the respective models comes into play with the master/slave function.
High performance compact flash with USB connection
Thanks to the Metz mecablitz 52 AF-1 digital USB interface, updates can be easily installed via the Internet. Due to its high guide number of 52 for ISO 100/21° and 105 mm focal length, the 52 AF-1 digital not only possesses a great deal of power, it also lends itself perfectly to being used for bouncing flash. The real highlight – a flip-out reflector card which is integrated into the both vertically and horizontally tilting and swivelling reflector. The 52 AF-1 has a metal base (not applicable for the Sony model) and can be quickly and conveniently fixed to the camera's flash shoe.
Different versions for Canon, Nikon, Olympus/Panasonic/Leica, Pentax and Sony
It goes without saying that the respective camera manufacturer's sophisticated flash lighting technology can also be employed with the appropriate version of the mecablitz 52 AF-1 digital, in addition to numerous other special functions, such as high speed synchronisation. Thus the 52 AF-1 digital offers E-TTL and E-TTL II flash mode for Canon, i-TTL/i-TTL-BL flash mode for Nikon, P-TTL for Pentax, four thirds TTL mode for Olympus/Panasonic/Leica and ADI flash mode for Sony.
Metz mecablitz – technology "made in Germany"
Metz flash units represent high performance technology and reliable quality. We have been manufacturing in Germany for over 60 years. As such we hold a unique position – Metz is the only manufacturer of camera flash devices to develop and manufacture products in Europe.
Technical specifications for the mecablitz 52 AF-1 digital
Flash output
High max. guide number 52 for ISO 100/21° and 105 mm
High flash number [e.g. 240 full flashes with NiMH rechargeable batte
ies (2100 mAh)]
Flash delay 0.1 – 3.5 seconds (depending on energy source and flash
output)
Basic configuration
Vertical (+90°) and horizontal (300°) swivel reflector
Illuminated touchscreen display with automatic swivel function (90°)
Motor zoom for 24 – 105 mm illumination
Integrated wide-angle diffuser for 12 mm illumination
Flip-out reflector card
Modelling light (permanent light to check shadow)
Integrated autofocus flash metering
Flash readiness indicator and correct exposure display on unit and on
camera
Flash range display on graphic display
Automatic unit shut-off
Metal base with quick lock (not Sony)
Ready for the future
Firmware update via integrated USB socket
Camera-specific system flash modes
E-TTL / E-TTL II flash mode (Canon)
i-TTL / i-TTL-BL flash mode (Nikon)
P-TTL flash mode (Pentax)
Four thirds TTL flash mode (Olympus / Panasonic / Leica)
ADI flash mode (Sony)
Camera-specific TTL remote operation (master/controller/slave mode,
depending on camera type)
Servo flash mode
Standard flash modes
TTL flash mode (digital only)
Manual flash mode with 22 partial lighting levels
Servo flash mode with learning functions
HSS – high speed synchronisation
1st and 2nd shutter curtain synchronisation
Manual flash exposure correction for TTL flash mode
Automatic fill-in flash
Power supply
4 x AA alkaline-magnesium or lithium batteries
4 x AA NiMH rechargeable batteries
Included as standard
Operating instructions
Belt pouch
Slave stand