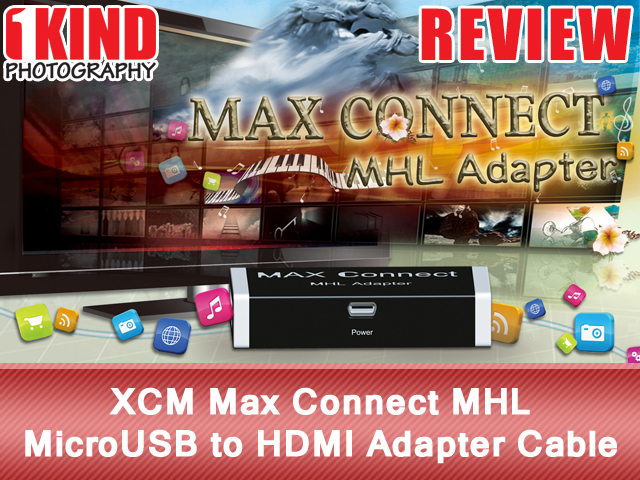 Overview :
Max Connect is a MicroUSB to HDMI MHL Adapter Improved Remote Control Protocol (RCP) that is compatible with Samsung Galaxy S2, HTC Evo 3D, HTC Evo 4G Tablet, HTC Sensation 4G, Sprint Epic 4G Touch, Galaxy Nexus and many more.
Features :
MHL Adapter allows you to connect a MicroUSB (5 Pin) port to a HDMI (Type A) equipped device
Improved Remote Control Protocol (RCP) function to use with HDTV remote control to control videos on a mobile device
Designed for use with mobile devices featuring MHL technology. Make sure your phone is compatible before purchasing
Connect a MHL compatible device to an HDMI TV
Supports video resolutions up to 1080p and digital audio
Includes 50cm long cable and 170cm long HDMI cable for better control performance
Quality/Usability :
With camera and video improving on mobile devices, people are starting to use it more and more especially if you don't have your camera on you. But it's hard to show your friends and family pictures on your phone's screen. There's only so many people that can hover over your phone display. So why not display it on your TV?
Rather than get the OEM Samsung MHL adapter, I opted to try a 3rd party device. XCM is well known in the video game accessories scene and I have reviewed many of their gaming accessories. The quality of their products are very well made for an aftermarket company. So I thought I would give their Max Connect MHL adapter a try.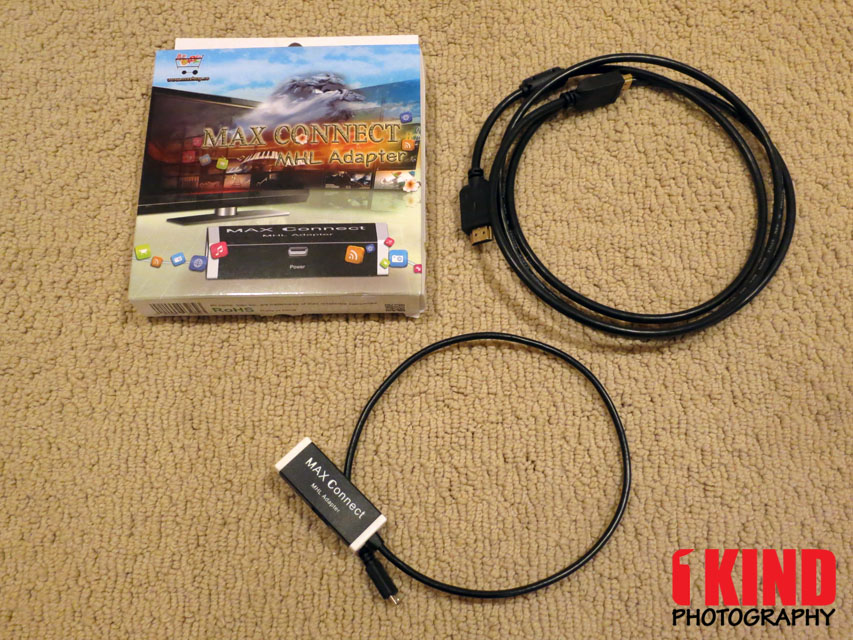 The XCM Max Connect MHL Adapter doesn't come with much. You get the MHL adapter and it comes with an HDMI cable. The only thing you have to supply yourself is the device (smartphone or tablet) and microUSB charger/cable.
There isn't much to the MHL adapter. One end lets you plug in a HDMI cable. The other end has a wire with a microUSB cable and in the middle of the XCM Max Connect MHL adapter is a port for you to connect your microUSB charging cable into and to power the adapter.
I own a Samsung Galaxy S3 which is MHL compatible and the hardware is slightly different from other devices. The S3 uses 11-pin microUSB rather than the usual 5-pin (newer devices will soon be using 11-pin). Since the smartphone is an 11-pin, it will not work with the MHL adapters. In order for me to get the Max Connect to work with the Galaxy S3, I had to buy a
5-pin to 11-pin adapter
. These adapters cost only $2-$3 depending where you purchase from (no need to get fancy with brand name as they all do the same thing). This allowed me to convert the MHL adapters 5-pin microUSB into a 11-pin microUSB so that it would work with the Galaxy S3.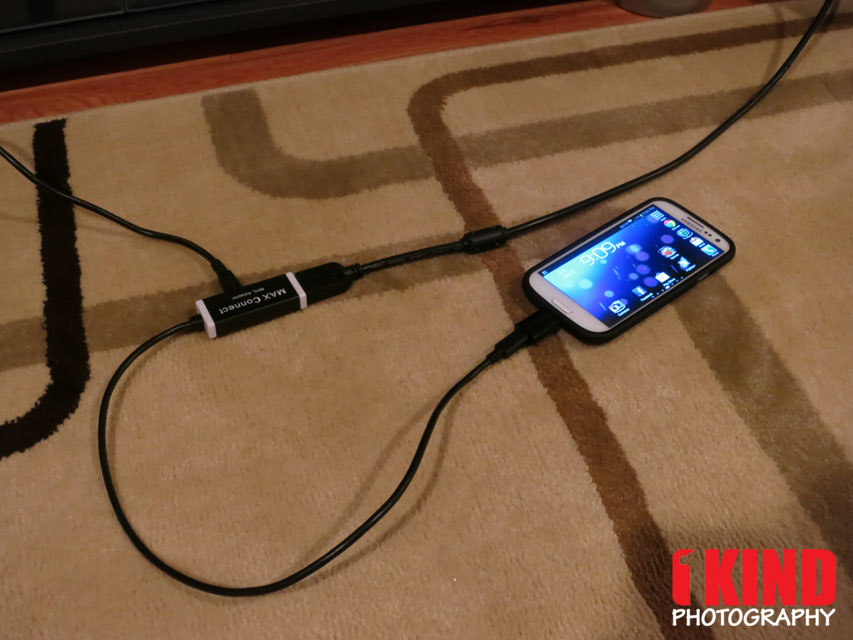 Getting it all setup is fairly easy.
Connect the HDMI cable into the MHL adapter and your TV.
Connect the microUSB charging cable into the MHL adapter.
Connect the other end of the microUSB charging cable to a power source (wall or laptop).
Connect the MHL adapter into the microUSB port on your device. This is the same port that you would normally use to charge your device.
Select the appropriate HDMI Port on your TV (consult your TV owner's manual).
The TV screen will display what is on your phone.
NOTE:
Please ensure that your device has MHL capabilities.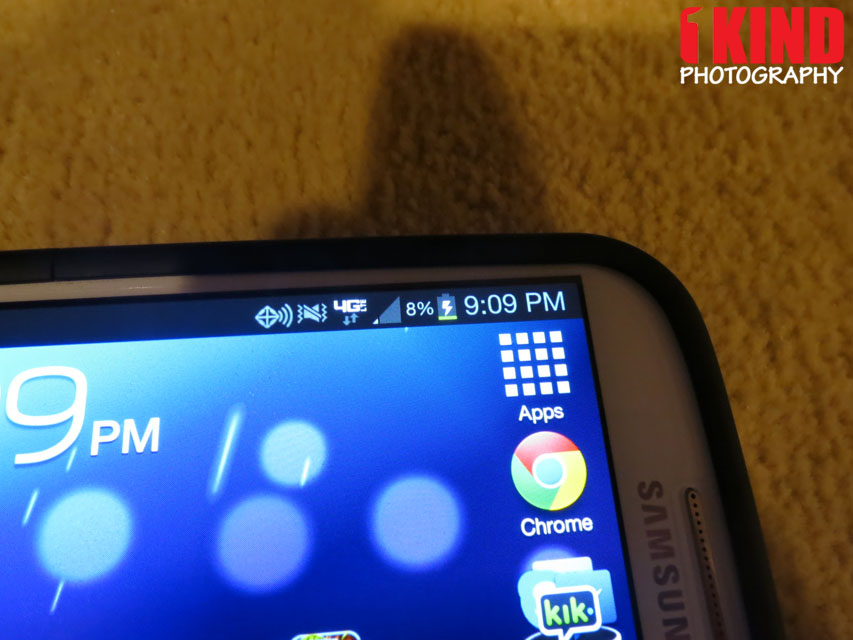 Since it is connected to a microUSB charging cable and power source, it will also charge your device. No need to worry about your phone running out of battery.
Here are some samples of what it would look like on your HDTV. The HDTV display is a 55" Samsung LED.
Phone Home Screen:
YouTube and Google Maps:
Video Player (The Walking Dead):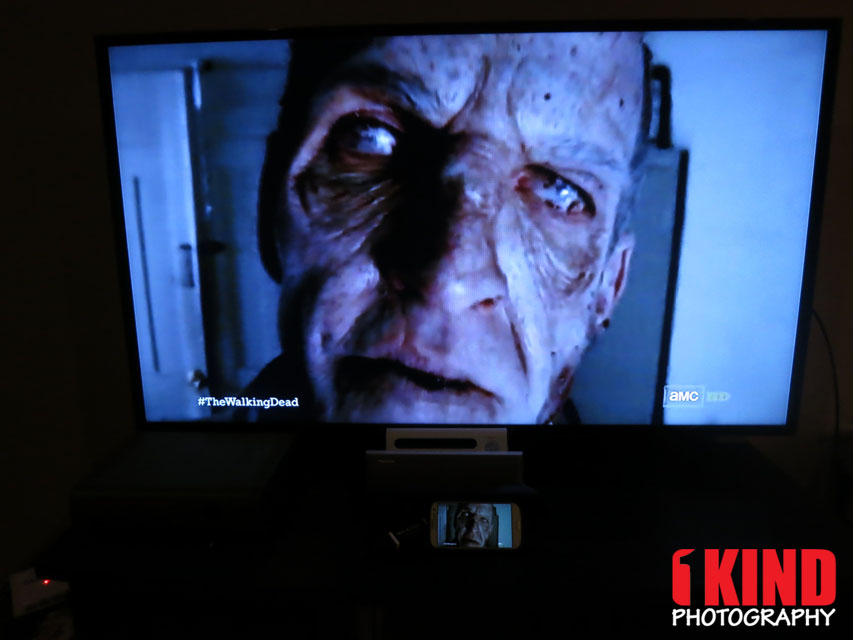 I can now watch videos on a bigger screen whether it's videos that I loaded to my phone or videos that I have recorded on my phone.
Picture Gallery:
If I have guest over, we no longer have to pass the phone around or huddle around a phone. We can now view all the images we want on a big screen and comfortably.
Web Browser (Google Chrome):
You really wouldn't want to view the web from your phone if you're home and have access to a tablet, laptop or desktop but this is just to show what you can do and how it would look.
Games (Candy Crush):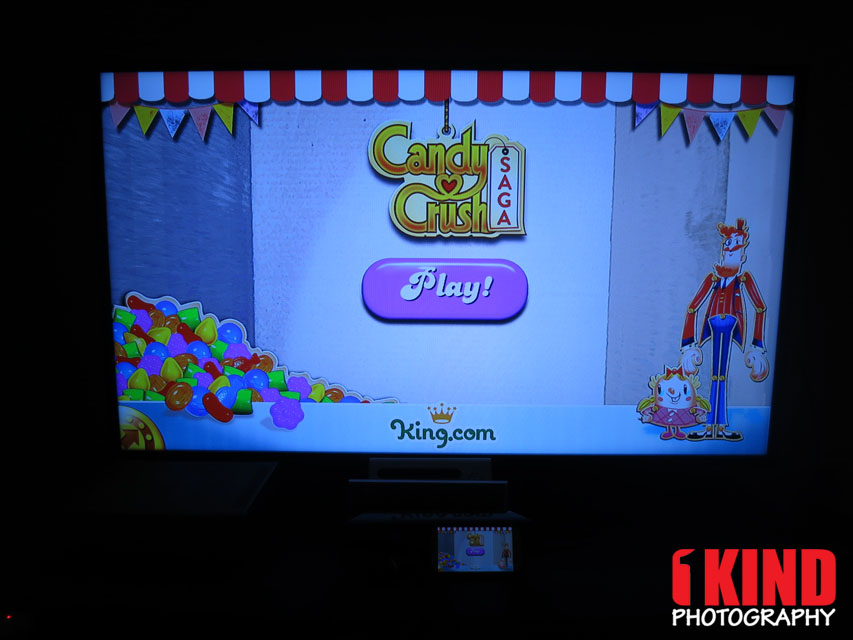 Yes, we can play our games on a bigger screen but we would still need to take a look at our phone so we can see where we're pressing. But it's cool though.
Pretty much whatever is displayed on your device is displayed on your TV. You can now watch videos, view pictures, browse the web and play games all on a bigger screen at resolutions of up to 1080p. The color and clarity of the output is very good. It also depends the quality of your HDTV and its settings. The refresh rate is pretty smooth as well. The pictures above doesn't do its justice.
Conclusion :
Overall, the XCM Max Connect MHL MicroUSB to HDMI Adapter Cable displays whatever is on your device on to your TV. The Official Samsung MHL adapter with 5-pin to 11-pin adapter costs $40 retail without HDMI cable. Even if you have to go out and buy a 5-pin to 11-pin adapter, it's still cheaper. It may not cost much but I liked the fact that they included an HDMI cable. Also, make sure that your device is MHL compatible.
*UPDATE — 4/1/2013*
Thanks to our review, the Max Connect MHL adapter now includes a 5-pin to 11-pin adapter with NO price increase!
RESPONSE FROM XCM:
We have upgraded the Maxconnect MHL adapter. It now comes with the 5 pin to 11 pin adapter, so it is compatible with all latest Samsung mobile phones and tablets now, and many thanks for 1KIND from www.1kindphotography.com to review this product.
---