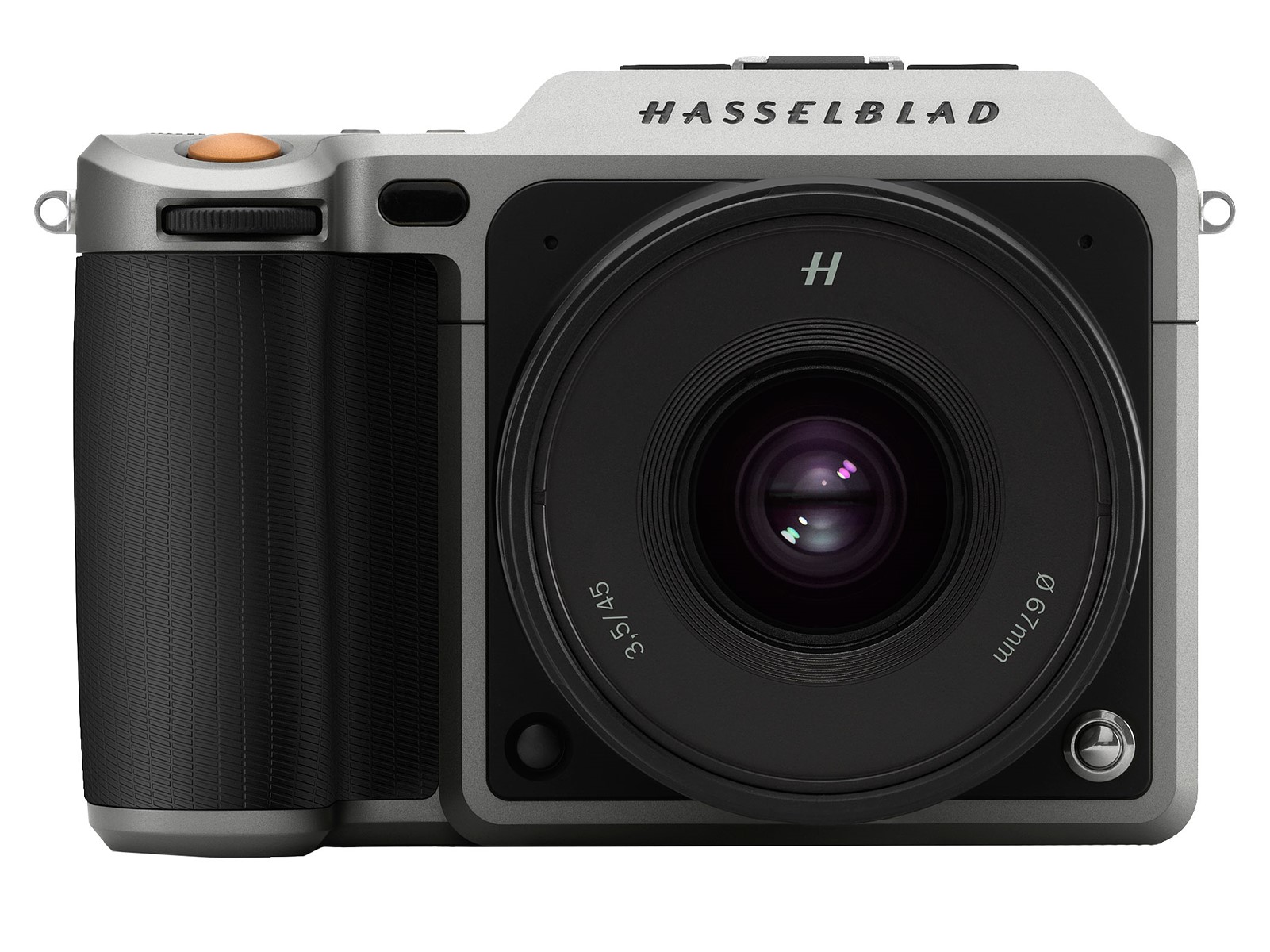 Hasselblad introduced the X1D, a medium-format mirrorless camera with a 50MP CMOS sensor. With dust and weather-sealing the X1D isn't afraid to step outside of the studio, and offers a 100-25600 ISO range and is capable of 1080/30p HD video. Its hot shoe is compatible with Nikon Speedlights and the camera can sync with flashes at its maximum shutter speed: 1/2000 sec.
The X1D uses a new lens mount, accepting XCD lenses. Two have been announced: a 45mm f3.5 and a 90mm f3.2, with more to follow 'shortly' including a 30mm around Photokina. An H lens adapter will also be offered to extend support to Hasselblad's existing H lens system.
The X1D offers a 3" 920k-dot touch screen and a built-in XGA electronic viewfinder. Wi-Fi and GPS are built-in, and the camera includes dual SD card slots. The X1D and its battery weigh in at 725g, which Hasselblad points out is half the weight of your typical medium-format camera.
The X1D is priced at $8,995 and can be purchased at
B&H Photo
and
Adorama
. A kit with 45mm f3.5 lens will cost $11,290, and bundled with both lenses the X1D will cost $13,985. The XCD 45mm f3.5 (
B&H Photo
|
Adorama
) will cost $2,295 separately; the XCD 90mm f3.2 (
B&H Photo
|
Adorama
) will cost $2,695. Hasselblad plans to offer demos of the system at the end of July/beginning August, with delivery to customers at the end of August/beginning September.
Continue for full press release.
Hasselblad announces groundbreaking X1D
The world's first compact mirrorless digital medium format camera
Hasselblad is proud to introduce the groundbreaking X1D – weighing less than half that of a conventional digital medium format camera, the mirrorless 50MP camera is a game changer in the world of photography.
Inspired by the brand's iconic design heritage, the camera is ergonomic and compact, offering a handling experience unlike any other. Handmade in Sweden, the X1D combines Scandinavian sensibility with beautiful performance.
Like the iconic V System, the X1D seamlessly combines portability with excellent optical quality for which the brand is renowned. Hasselblad has ingeniously introduced mirrorless technology to digital medium format for the first time ever, creating a precision performance camera that can sit in the palm of your hand. The 50MP CMOS sensor captures the finest details with true natural colours.
Commenting on the announcement Perry Oosting, Hasselblad CEO noted:
"The X1D marks a pivotal point in Hasselblad's rich 75-year history. This camera makes medium format photography available to a new generation of Hasselblad users, while pushing the existing limits of photography to new heights."
A completely new family of dedicated autofocus lenses has been developed to support optical quality and portability, offering a wide range of shutter speeds and full flash synchronisation up to 1/2000th second.
Weighing just 725g and including HD video, Wi-Fi and built-in GPS, the X1D is a trusted partner and ideal travel companion. The robust exterior is dust and weather proof, providing durability to take with you wherever you go.
The X1D has been created with passionate photographers in mind, opening up Hasselblad to a new generation of creatives. Ideal for those who want to create the highest quality medium format images with a straightforward and easy to use camera that can fit in the palm of your hand.
Key features:
Compact, lightweight (725g), highly portable and user-friendly medium format technology
Large 50MP CMOS medium format sensor delivering up to 14 stops of dynamic range
New line of XCD lenses with integral central shutter; 45mm and 90mm available at launch
Compatible with all 12 lenses and lens accessories from the Hasselblad professional H System (adapter required)
Multiple image format options
High quality XGA electronic viewfinder or high resolution rear display with touch functionality
Wide range of shutter speeds: 60 minutes to 1/2000th sec. with full flash synchronisation throughout the range
An ISO range from 100 to 25,600
Dual SD card slots, GPS and Wi-Fi
USB 3.0 Type-C connector, Mini HDMI, Audio In/Out
Weather and dust sealings
HD video
Phocus 3.1 for simple and quick raw image processing. Adobe Photoshop® and Adobe Photoshop Lightroom® compatible.
For additional information, please see the datasheet.
The X1D is priced at 7,900 EUR / 8,995 USD / 5,990 GBP. All prices stated are exclusive of VAT.