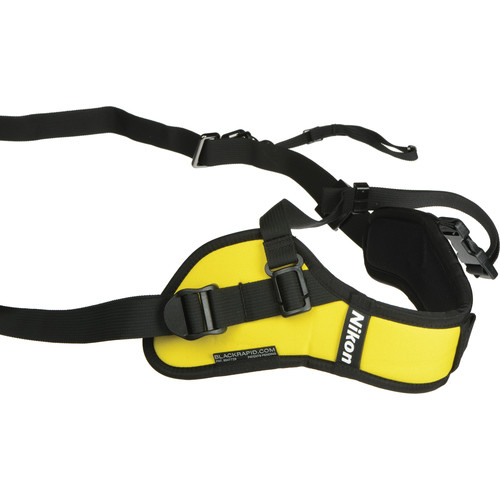 If you're a Nikon user and love BlackRapid straps,
B&H Photo
has a
BlackRapid Sport Strap
(
review
) with Nikon branding on it. This is a great gift or for yourself to show your true Nikon loyalty. The strap retails for $94.00.
The AN-SBR2 Black Rapid Quick-Draw Strap from Nikon is an ergonomically designed and comfortably padded gliding shoulder strap that holds a DSLR with an attached lens. To use your camera, simply glide it up the strap for secure and convenient access. When you want to keep your DSLR from moving around there are locking bumpers surrounding the DSLR to limit your camera's range of motion. It also includes a quick-release stabilizing strap under your arm for even more stability. A carabiner-style locking connector holds your DSLR via the tripod socket on the adjustable length strap and allows for quick detachments. An additional side lug strap provides extra security for your DSLR.
Holds DSLR with Lens
Gliding Design
Locking Bumpers Limit Motion Range
Carabiner-Style Locking Connector
Tripod Socket Attachment
Side Lug Security Strap
Ergonomic Fit & Foam Padding
Adjustable Strap Length
Additional Stabilizing Strap