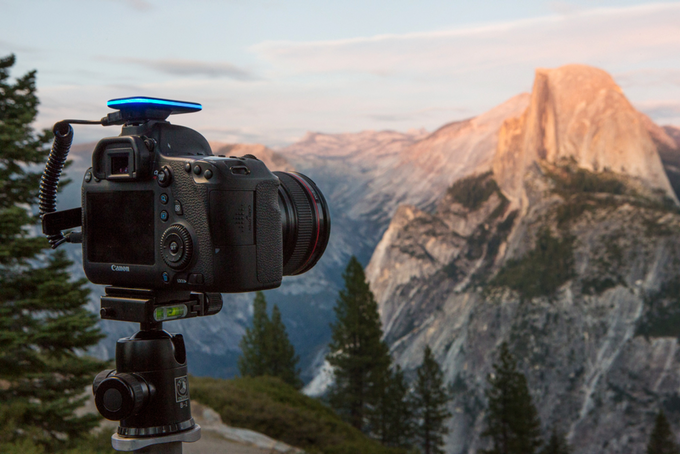 Alpine Labs has announced the release of their new Pulse wireless camera remote. After successfully being funded on
Kickstarter
, the company has shipped out its fulfillment to its 12,000 backers. The Pulse is now available in retail outlets and available for immediate shipping.
For those not familiar with the Pulse, it is about the size of a credit card and offers battery life of up to 24 hours. Pulse connects to your camera via hotshoe mount or USB port. Pulse allows you to remotely control your camera from the convenience of your mobile device using bluetooth connectivity as far as 100 feet. Through the app, you'll be able to access full manual settings, time-lapse, long exposure settings, video functions and more.
Pulse only works with select Nikon and Canon cameras.
You can find out more information or place your order
here
.
PULSE: The Essential Camera Remote
Powerful Camera Control, Wirelessly from Your Mobile Device
Boulder, CO (November 2, 2016) — Alpine Labs, a rising leader in next generation photography, is pleased to announce the November 2, 2016 launch of Pulse: The most powerful and user-friendly camera remote available on the market. With a wide range of features and a beautiful, intuitive user interface, Pulse is designed to delight photographers of all levels and interests.
Featuring 24hrs of battery life, Pulse offers a powerful pocket-sized solution to wireless control of DSLR and Mirrorless cameras. Connecting via the USB port and mounted in the hot shoe, Pulse facilitates remote control from the comfort of your mobile device using Bluetooth connectivity and a free mobile app for iOS and Android devices. Unlike other remotes that use a camera's trigger port, the USB connection allows you to wirelessly control full manual settings, time-lapse and long exposure settings, start / stop video, review images and histograms on your mobile device, and boasts an operational range up to 100 ft.
From beautiful, professional time-lapse sequences, to fun photo-booth style selfies, Alpine Labs set out to make Pulse applicable for every photographer at a price point that every photographer can afford (MSRP $99.00). "Pulse has been Alpine Labs' biggest and most ambitious project yet," said company CEO, Greg Horvath. "We are really excited to see what people create when remote camera control is this powerful and intuitive."
Following the original product debut over Kickstarter in late 2015, Alpine Labs recently completed fulfillment of units to their over 12,600 backers in 86 countries. Alpine Labs will begin direct-to-consumer sales of Pulse via alpinelaboratories.com, with regular shipping beginning on November 2, 2016. Just in time for the holiday season, Pulse makes the perfect gift for any pro or aspiring photographer looking to expand their creative potential.
Specifications :
Remotely Adjust Camera Settings: Change your camera's ISO, aperture, and shutter speed — wirelessly from your Apple or Android device.
Remote Trigger Up To 100 ft.: Take epic selfies. Pulse's 100' Bluetooth range allows you to set up your camera and trigger it from anywhere.
Control Up To 3 Cameras: Control up to three Pulse-equipped cameras at once - all from the same smartphone. Be everywhere at once and get all the right angles, even if you are just a crew of one.
Wireless Image Preview: View thumbnails on your phone immediately after you take a photo on your camera.
Start & Stop Video: Most remote triggers let you do one thing - take photos. Utilizing your camera's USB port and not the shutter port, Pulse has the ability to let you control video as well. This feature is available for all Canon cameras and Nikon cameras released after 2012.
Wireless Troubleshooting: Traditional triggers can't tell you when things have gone wrong. The Pulse app notifies you about low battery or buffering time before they ruin your shoot.
Amazing Time-lapse: Pulse's Exposure Ramping features changes your cameras ISO and shutter speed during your time lapse. A better way to capture day-to-night transitions (the "Holy Grail" of time lapses) without having to touch your camera.
Self-Timer Control / Photobooth: Create amazing selfies utilizing Pulse's timer controls, meaning no more running into position.
Camera Compatibility
Canon
1D C, 1DX, 1D Mark III, 1D Mark IV, 1Ds Mark III, D, 5Ds, 5Ds R, 5D Mark II, 5D Mark III, 6D, 7D, 7D Mark II, 30D, 40D, 50D, 60D, 70D,100D, 400D, 450D, 500D, 550D, 600D, 650D, 700D, 750D, 760D, 1000D, 1100D, 1200D, Rebel SL1, XS, XSi, XT, XTi, T1i , T2i, T3i, T3, T4i, T5, T5i, T6i, T6s
*Canon EOS M Series cameras do not support remote shooting functions and are NOT compatible*
Nikon
D1, Df, D1h, D1X, D2X, D3, D3s, D3X, D4, D4s, D40, D40X, D60, D90, D200, D300, D600, D610, D700, D750, D800, D810A, D5000, D5100, D5200, D5300, D5500, D7000, D7100, D7200
Panasonic
GH4
Why Not Sony?
When tethered via USB sony cameras will not allow images to save to the memory card of the camera - rendering Pulse useless for Sony cameras. You can change your ISO and aperture, but you can't actually take and save a photo. We are working with Sony to rectify this.