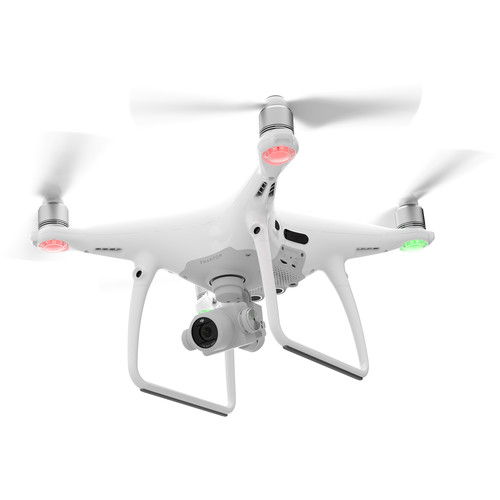 DJI has announced the release of two new drones, the Phantom 4 Pro and the Inspire 2, and both of them are packed with interesting upgrades and features.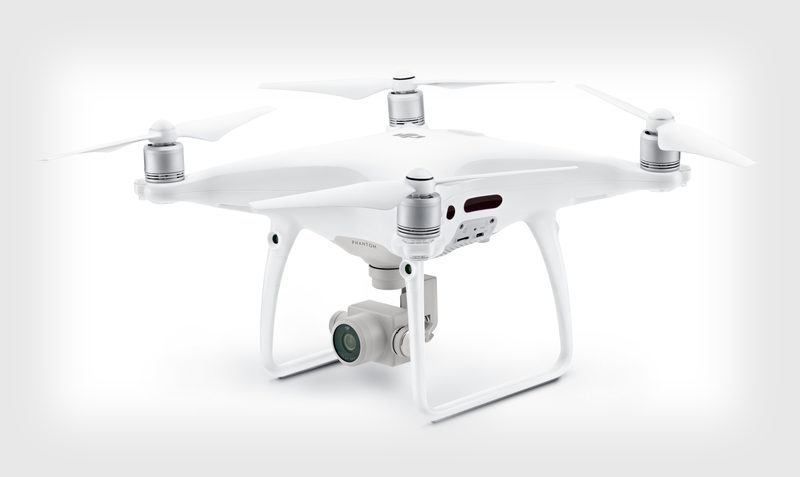 Visually the Phantom 4 Pro looks similar to the Phantom 4. The Phantom 4 Pro includes a camera with a 1" 20MP sensor with almost 12 stops of dynamic range and has a mechanical shutter to eliminate rolling shutter effects from fast motion. It can record 4K/60p video at 100 mbps and offers H.265 video compression. The FlightAutonomy feature uses three sets of visual systems to map obstacles in front of, behind and below the drone to help it avoid obstacles, while a Landing Protection function will help it avoid landing on uneven ground or water. It has a maximum speed of 45 mph and a high performance battery provides up to 30 minutes of flight time. It also includes new intelligent flight modes.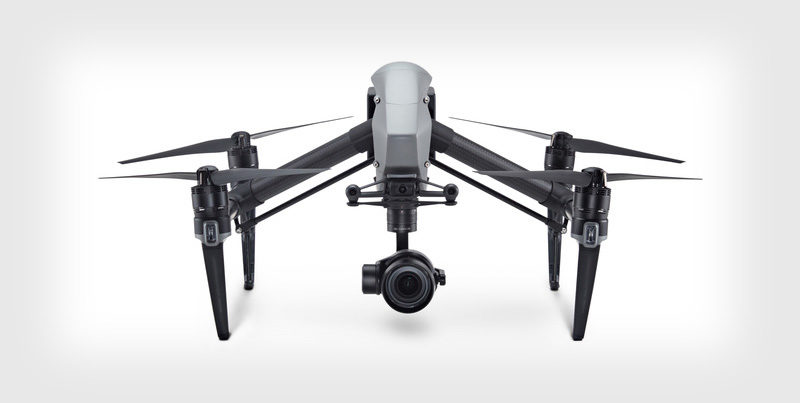 For professional and semi-professional drone uses, the Inspire 2 is similar to DJI's Inspire 1 model. It features a magnesium-aluminum alloy body which increases stiffness while lowering weight and a new battery system allows flight time up to 27 minutes. It also offers a new forward-facing camera that will give the pilot a view for flying while a camera operator can independently control the Zenmuse camera mounted on the main gimbal. It includes a new image processing system, called CineCore 2.0, which improves file processing and supports 5.2K video at 4.2 Gbps for CinemaDNG Raw video capture, as well as support for ProRes 422 HQ, ProRes 4444 XQ, H.264, and H.265.
DJI has also released two new Zenmuse cameras for use with the Inspire 2. The Zenmuse X4S includes a 1" 20MP sensor with 11.6 stops of dynamic range, a 24mm F2.8-11 lens and a mechanical shutter. The Zenmuse X5S has a 20.8MP Micro Four Thirds sensor with 12.8 stops of dynamic range, and it supports 8 lenses ranging from wide angles to zooms. A handheld mount will also be available for both cameras in the future.
The Phantom 4 Pro will retail for $1,499 with a standard controller and $1,799 with a high luminance display controller. The Inspire 2 will retail for $2,999 (aircraft only), and $6,198 for the Inspire 2 with the X5S camera, CinemaDNG, and Apple ProRes license, but will be available for $5,999 if ordered before January 1, 2017.
You don't have to wait long as the Phantom 4 Pro will begin shipping one week after launch, the Inspire 2/X5S camera combo will begin shipping in early December, and the Inspire 2 and X4S/X5S cameras sold separately will ship in early January 2017.
All products are available for immediate pre-order:
Amazon
|
B&H Photo
DJI Raises Bar For Aerial Imaging With Two New Flying Cameras
Inspire 2 And Phantom 4 Pro Give Creators Unique High-Performance Tools
November 15, 2016 – DJI, the world leader in unmanned aerial technology, Tuesday introduced two new drones that raise the bar for professional imaging: Inspire 2, the best ready-to-fly platform for high-end film and video creators, and Phantom 4 Pro, the smartest and most creative flying camera of its size.
"Professional filmmakers and photographers always push to create images that have never been seen before, and DJI never stops trying to give them the tools to achieve their vision," said DJI CEO and Founder Frank Wang. "Our newest flight platforms and stabilized aerial cameras are smarter, faster and more powerful than ever before. We can't wait to see how creators use Inspire 2 and Phantom 4 Pro to capture dazzling images."
Inspire 2
Advanced Imaging for Professional Results
Inspire 2 offers powerful capabilities and is easy to operate. The nimble new magnesium-aluminum alloy body increases stiffness while lowering weight. It has a top speed of 67 mph and takes only 4 seconds to accelerate to 50 mph. With the new dual battery system, flight time is up to 27 minutes. A new forward-facing camera offers the pilot the best flight view for operating the master controller, while the camera operator receives a separate feed from the professional Zenmuse camera mounted on the main gimbal. The Inspire 2 supports the brand-new Zenmuse X4S and X5S cameras and will support additional cameras in the future.
An entirely new image processing system, called CineCore 2.0, is embedded into the airframe, which allows processing large files faster than ever before. Inspire 2 captures 5.2K video at 4.2 Gbps for Adobe CinemaDNG RAW videos and leverages a newly-designed, fast CINESSD storage for a smooth work experience. A variety of video compression formats are supported by CineCore 2.0, including Adobe CinemaDNG, Apple ProRes 422 HQ (5.2K, 4K) and ProRes 4444 XQ (4K), H.264, and H.265. When recording 4K video in H.264 and H.265, the birate is up to 100Mbps.
Inspire 2 offers professional capability and control suitable for many scenarios. With optional high-altitude propellers, Inspire 2 can reach a maximum service ceiling of 16,404 feet above sea level, and the self-heating dual battery redundancy system maintains good performance of the battery to -4 degrees Fahrenheit. Through an optimized mode, Inspire 2 streams smooth video at the widely used 1080i50/720p60 broadcast standard. Enhanced Lightbridge video transmission makes smoother HDMI video possible.
High Performance and Professional Reliability
The dual-battery system ensures that if one battery fails during a flight, the other will be able to provide power for a safe return to home. Stereo vision sensors have been included on the front and bottom of Inspire 2 for obstacle detection, and upward facing infrared sensors on top of the aircraft add protection when flying in enclosed spaces.
The redesigned propulsion system can safely carry Inspire 2 through incredible vertical camera moves, climbing at almost 20 feet/second and descending at almost 30 feet/second. Redundant systems provide reliability for the IMU, barometer, electronic speed controller communication and satellite navigation modules. The master and slave controller range now extends to 328 feet and users can switch between 2.4 GHz and 5.8 GHz frequencies to cut through any noise for greater signal stability.
Creative Freedom
Inspire 2's new intelligent flight modes expand DJI's computer vision technology to safely fly routes that give creators new ways to capture what they envision. Spotlight Pro Mode locks onto a subject during flight while the aircraft flies freely in another direction – and automatically rotates the aircraft to stay on the shot if the gimbal reaches its rotational limit. The forward-facing camera offers TapFly, which directs Inspire 2 to any point on the screen while avoiding obstacles along the way. ActiveTrack recognizes common subjects such as people, cars and animals, sending Inspire 2 to follow behind, lead in front, circle above or track alongside while always flying forward, ensuring the forward-facing obstacle sensing system keeps the aircraft safe.
New Zenmuse Cameras
DJI is enhancing the imaging potential of the Inspire 2 by expanding its line of interchangeable Zenmuse cameras, which are designed for aerial imaging and communicate directly with the aircraft's gimbal and flight controllers. For situations that require a balance between weight and image quality, the new Zenmuse X4S has a 1-inch, 20-megapixel sensor with 11.6 stops of dynamic range and a 24 mm equivalent focal length. The Zenmuse X4S offers aperture control (f2.8-11) and a mechanical shutter that cancels rolling shutter distortion. The new Zenmuse X5S has a larger Micro Four Thirds sensor with 20.8 megapixels and an incredible 12.8 stops of dynamic range. The Zenmuse X5S camera now supports 8 lenses from wide angles to zooms. It shoots 20fps continuous burst DNG RAW (20.8 MP). In the future, a handheld mount will be available for the Zenmuse X4S and X5S cameras, bringing those cameras down to the ground for more flexible filmmaking.
Professional Accessories to Enhance Performance
A series of powerful DJI accessories will meet the needs of operators under various filming conditions. DJI Focus, a battery charging station, DJI CINESSD, CINESSD station and other optional accessories are available.
An optional DJI Crystalsky high-brightness IPS monitor features an ultra-bright screen that is clearly visible in direct sunlight and ideal for outdoor shooting. It comes in 5.5-inch and 7.85-inch sizes, with the highest brightness up to 1000 cd/m2 and 2000 cd/m2 respectively, and its dedicated system reduces video transmission latency. Dual Micro-SD Card slots within the screen make it easy to back up footage and can also be used to transfer and play back files. It operates in extreme temperature conditions from -4 degrees to 104 degrees Fahrenheit.
Phantom 4 Pro
Professional Imaging
Phantom 4 Pro offers a powerful imaging system for professional photo and video creators as well as non-professionals who demand excellence from the camera and platform they use to pursue their creative visions. The camera now packs a 1-inch 20-megapixel sensor, and almost 12 stops of dynamic range bring out levels of detail and low-light performance unprecedented in a flying camera of this size. Its mechanical shutter eliminates rolling shutter distortion in fast-moving scenes. Phantom 4 Pro can capture slow-motion 4K video up to 60 fps at a maximum bitrate of 100 mbps. In addition, the Phantom 4 Pro offers H.265 video compression, which substantially improves video quality at the same bitrate.
Reliable with Enhanced FlightAutonomy System
Phantom 4 Pro builds on DJI's original obstacle avoidance system with FlightAutonomy – three sets of visual systems that build a 3D map of obstacles in front, behind and below the aircraft, as well as infrared sensing systems on both sides. FlightAutonomy can position, navigate and plan routes for Phantom 4 Pro, enabling it to avoid obstacles in a sensing range up to 98 feet at front and rear, even in complex 3D environments. When returning to home and tapping to initiate auto takeoff or landing, the Landing Protection function is able to detect and help avoid landing on uneven ground or water. Phantom 4 Pro has high-performance battery technology that provides up to 30 minutes of flight time. The Phantom 4 Pro flies at 31 mph in P mode with obstacle avoidance in effect, and has a 45 mph top speed in sport mode.
Professional Control with New Remote Controller
Phantom 4 Pro's revolutionary new compact remote controller comes with an optional high luminance display, providing a clear and vivid live HD view from the main camera as well as essential telemetry data, even in direct sunlight. The aircraft will automatically choose between 2.4GHz and 5.8GHz once powering on to gain a clear signal in areas with high radio interference. The new controller has a built-in GPS, compass, Micro-SD card slot and HDMI port.
Intelligent Flight
New intelligent flight modes make Phantom 4 Pro the smartest flying camera of its size, opening new vistas for creators, such as the new Draw Mode that allows operators to draw lines on the controller display and direct the Phantom 4 Pro to fly that route.
ActiveTrack recognizes common subjects such as people and bikes, then follows them from any angle while maintaining camera focus, and includes three new modes – New Circle, Profile and Spotlight.
Narrow sensing enhances obstacle avoidance sensitivity so the aircraft can fly through complex environments like narrow doorways. TapFly now works backwards and comes with a new Free mode that allows a pilot to set the direction of flight, turn the Phantom 4 Pro or tilt the gimbal without changing the direction of flight. With the new AR Route feature, operators will be able to tell the flight route on the screen.
As an additional safety feature, within a minute of losing GPS signal, the aircraft will automatically return to the last connected position and hover there precisely to wait for the pilot's command. With the enhanced return to home function, the aircraft knows where it should be going from up to 984 feet away and avoids obstacles along the route.
Price and Availability
Phantom 4 Pro's U.S. retail price is $1,499 with a standard controller. The Phantom 4 Pro, which includes a Phantom 4 Pro aircraft, and a high luminance display remote controller, will be available at $1,799. Phantom 4 Pro and Phantom 4 Pro are immediately available for pre-order at
dji.com/phantom-4-pro
and DJI flagship stores in Shenzhen, Seoul and Hong Kong. These products will begin shipping one week after launch.
The U.S. retail price of the Inspire 2 aircraft is $2,999. The Inspire 2 Combo, which includes one Inspire 2 aircraft, one Zenmuse X5S, CinemaDNG and Apple ProRes License Key, is available for $6,198. Customers who order the Inspire 2 Combo before January 1, 2017 can enjoy a special price of $5,999. Inspire 2 and its accessories will be immediately available for pre-order at
dji.com/inspire-2
and also in the three DJI flagship stores. Inspire 2 Combo will start shipping in early December 2016 while customers who purchase the aircraft and camera separately can expect their orders to start shipping in early January 2017.