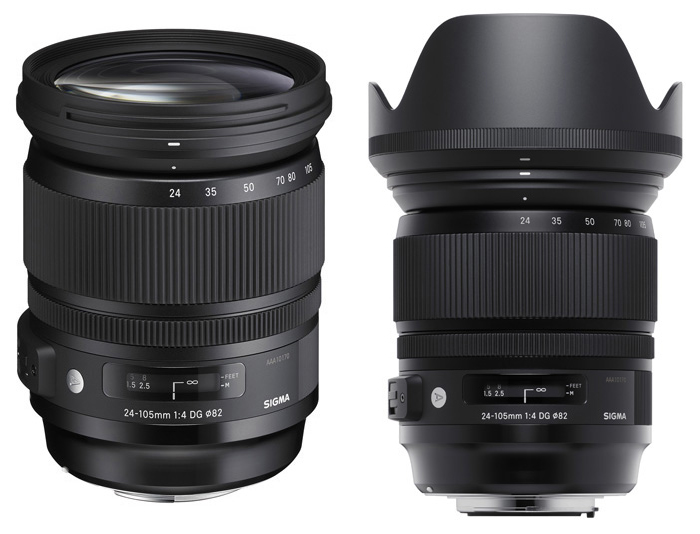 Sigma lists their latest addition to the "Art" line on their homepage. Planned release date was September 2013 for Canon but we're now in mid-October. So no word on actual release date or price for the lens. Sigma writes:
Access the full power of your camera's image sensor. This new zoom fulfills Sigma's uncompromising pursuit of high resolution.

The image sensors of digital SLR cameras continue to offer higher and higher resolution, and photographers are looking for high-performance lenses that leverage these sensors' full power. In the case of zoom lenses as well, which are a dependable go-to in a wide variety of photographic conditions, photographers want convenience combined with exceptional optical performance. The new SIGMA 24-105mm F4 DG OS HSM zoom lens more than fulfills these requirements, offering exceptionally stable high resolution from wide-angle to medium telephoto photography.

While featuring a large-aperture 82mm filter size, this lens minimizes optical aberrations and avoids reduced peripheral brightness, an issue that tends to affect lenses with similar specifications. Each lens is checked with Sigma's proprietary A1 MTF (modulation transfer function) measuring system to ensure it offers exceptional quality for the high-megapixel era. Try this new high-performance zoom for yourself, and experience Sigma's uncompromising pursuit of high resolution.

The full realization of the Art product concept for you to hold in your own hands and appreciate with your own eyes.

Designed with a focus on sophisticated optical performance and tremendous expressive power, our new Art line of lenses delivers top-level image quality. With unsurpassed expressive performance, these lenses reach the high standards demanded by photographers with an artistic, creative inclination. Along with landscapes, portraits, still-life, close-up and casual snaps, they're perfect for the kind of photography that unleashes the inner artist. Ideal for studio photography, they offer just as much expressive scope when capturing architecture, starry skies, underwater shots and many other scenes. The full realization of the Art concept, the Sigma 35mm F1.4 DG HSM is the perfect flagship. Hold it in your own hands and appreciate it with your own eyes.
You can find out more information about the new ART lens by visiting Sigma's
website
.