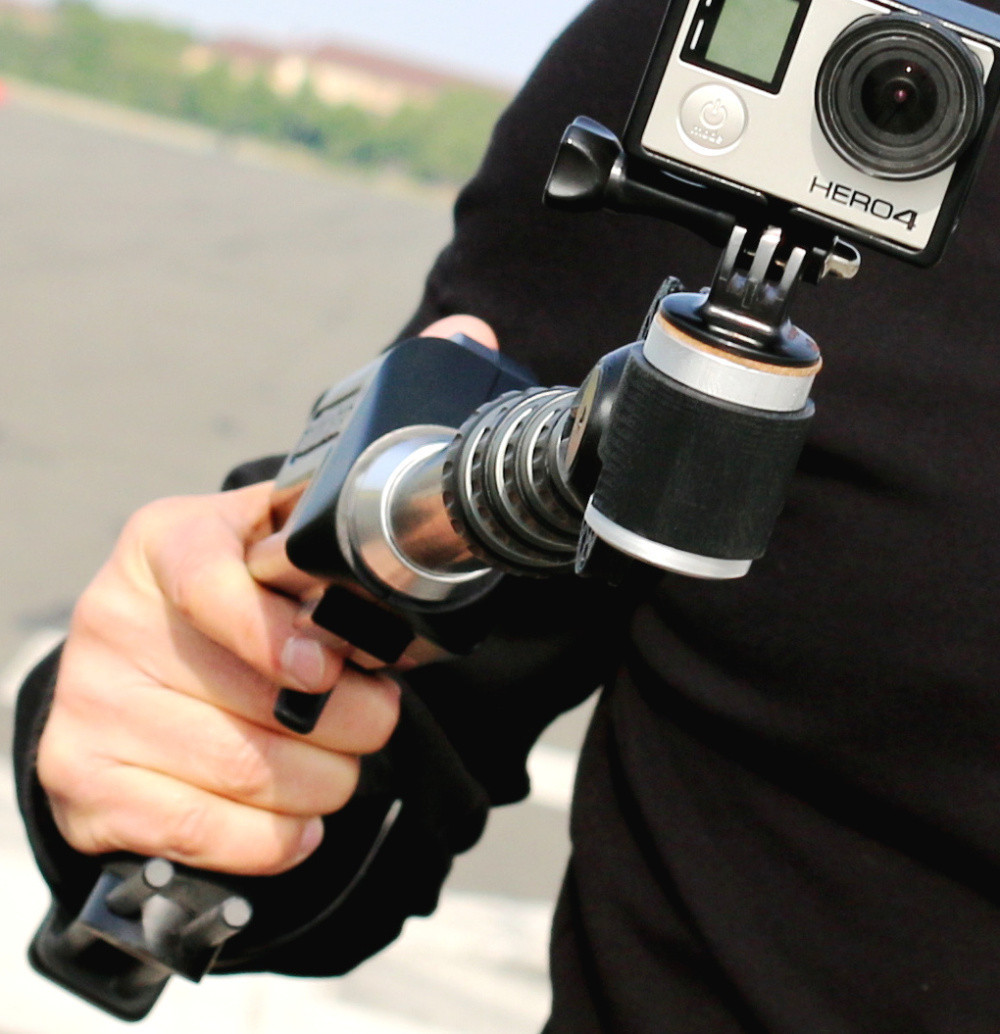 We first heard of the
actiontwister
at PhotoPlus Expo in NYC back in October 2014. It was a very unique item that was being displayed at the
FLM
booth but was a demo/prototype unit. Finally, it can become a reality and in your hands. The actiontwister is hand controlled and can control the tilting and rotation of your camera.
It's currently on the crowdfunding site,
Indiegogo
. They are offering two different version. A actiontwister LIGHT and the actiontwister CLASSIC. The difference between the two is that the LIGHT is lighter, length is fixed and less technology in the hand grip. The CLASSIC actiontwister allows you to telescope the pole like you would with a tripod leg to give you that extra reach.
There is also going to be a DIVE version (January 2016) which is the same as the actiontwister CLASSIC, but the metals and the ball-bearings are refined to resist sweat and above all, salt water conditions. Still it always needs to be cleaned carefully after each use. And a MINI version (Summer 2016) is the most versatile version of all. Easy to fix on any existing mount of any brand.
If the pole is anything like their
carbon fiber tripod
and
ball heads
, the quality of the actiontwister will be top notch.
Continue reading for more information.
actiontwister™ - a revolutionary new handheld and hand-operated, ultra-light one-arm actioncamera crane.
The actiontwister™ is designed for any brand of action cameras, smartphones and small video cameras and gives unique possibilities of panning, tilting and rotation. You film new angles of view or entire camera pans from one side to the other focusing on one point. Grab every angle where you cannot reach with your hand and where you cannot fly with a drone.
It is fully mechanical and does not need batteries that limited your filming time: no more charging - it will always function. You are ready to film in less than 10 seconds at any length of the telescopic extension. Freely set your zero point for the rotation.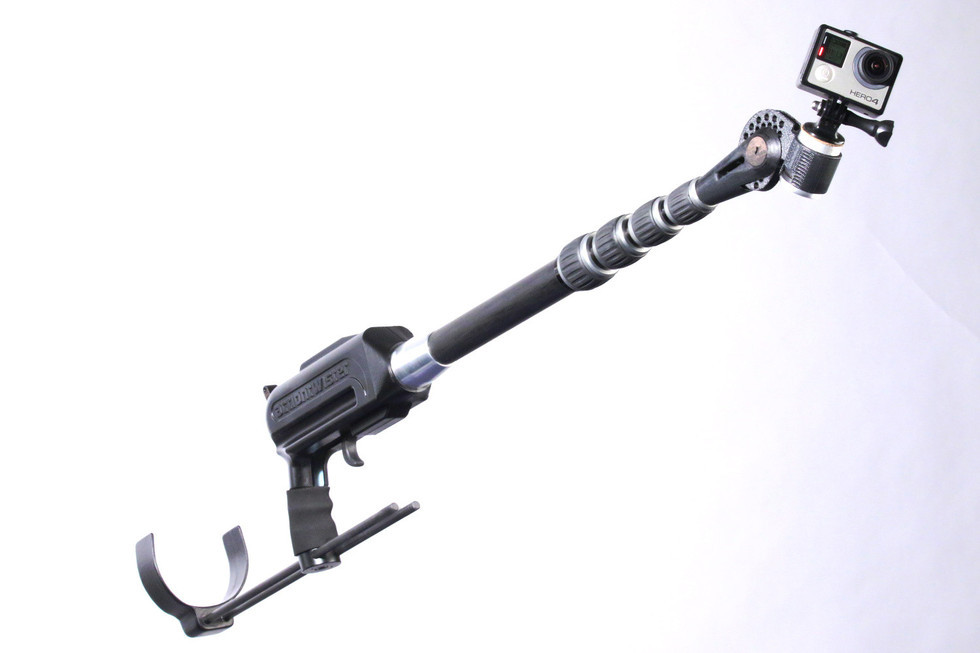 The actiontwister™ is not a steady cam. It is a light weight and through its long extension it is very stable. You can easily place a screen like a smart phone or a tablet on the actiontwister™ to see what you are filming!
Ranges: 15-20 feet (5-6 m) width, 10-16 feet (3-4 m) height
Extension: from 2,3 - 5,1 feet (70-180 cm).
Weights: from 2,09 lbs/990 grams (actiontwister™LIGHT)
The actiontwister™ is hand controlled, ergonomically and intuitive. The fingers control the tilting and the rotation. The arm does the panning. It's like pointing with the finger on something - you do not miss the target!
When filming sports and action you can get closer to the actors than ever without disturbing. For safety reasons the actiontwister™ is not attached to your arm and you will not be hooked up in case you would fall. It will work even when you're skiing, hiking or diving. (The actiontwister™DIVE will come out in January 2016 with completely refined metals to protect it from salt deposits). Be fascinated by this sustainable and long lasting solution.
The telescope (actiontwister™) and the fixed pole (actiontwister™LIGHT) are made out of high quality Japanese carbon fiber (8 layers). The bearings are made of stainless steel and the thread is made out of super-strong ultra-high molecular weight polyethylene fiber.
Who they are:
The actiontwister™ is produced by the family owned German company FLM in Emmendingen. The region in Southern Germany that is famous for its high precision mechanics. FLM produce high-quality/high precision carbon tripods and aluminum ball heads for professional photographers.
The idea/invention is by Freddie Rutz, a Berlin based Swiss event producer and choreographer who films his own productions. Unpleased with one of the common selfie sticks to catch additional camera footage for the editing he had the idea for the actiontwister™ in October 2012.
Being a son of an engineer he started experimenting in his own studio in Berlin. After 4 month he found the solution that brings two joints as close together, that an action camera can be controlled on it by the power of the hand. He went with this idea to the international patent office and later found Werner Buerklin, owner of the company FLM as the producer of the actiontwister™. He said: "This doesn't exist and there is a market for it!"