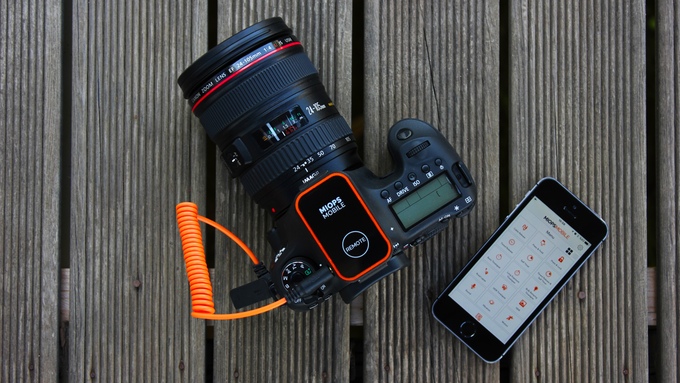 MIOPS formerly known as NeroTrigger has just informed us of their new
Kickstarter
campaign. Their latest product is called the
MIOPS MOBILE
. MIOPS MOBILE combines the capabilities of your smartphone with your camera.
MIOPS MOBILE is a solution for DSLR or mirrorless camera owners looking to take amazing photos with the power of smartphone. MIOPS MOBILE connects to the shutter release port of your camera and communicates with your smartphone over Bluetooth.
The MIOPS MOBILE app
utilizes the smartphone's capabilities
to offer creative trigger modes like
Vibration
,
Sound
,
Motion
and
Distance
or even
various Timelapse modes
to fire your camera remotely. It also provides basic shutter release modes like
Press&Hold
,
Press&Lock
,
Timed Release
,
Self Timer
and
HDR
. But the most extra ordinary feature is what we call "
Scenario
" mode which combines any of the available trigger options to create magic. Moreover, you can schedule your desired mode or sequence to fire at any time while you step back and enjoy your life.
Continue reading for more information.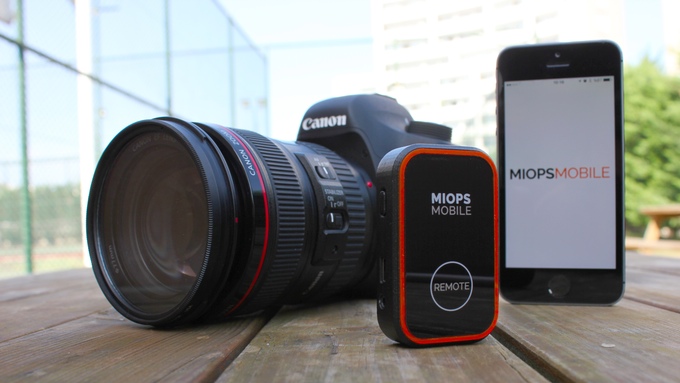 Leave the Control to Smartphone
You can take photos with your DSLR or mirrorless camera using various modes within the MIOPS MOBILE smartphone app. Its refined user interface is easy to use and readily adjustable to fit your needs. Just select the desired mode and leave the control to your smartphone. It will fire your camera while you relax.
Write Your Own Scenario
Even with the numerous triggering modes built into MIOPS MOBILE you might have something crazy in your imagination. So we have created the Scenario Mode which allows you to combine all of the modes plus other options like trigger delay, to create the scenario of your dreams. MIOPS MOBILE will execute the steps of your scenario to make your dream images come to life. Moreover, you can schedule it to any time. Truly exceptional.
Motion for Action
We have created the MOTION mode which uses your smartphone camera to watch for the action. It has never been so easy to capture anything that moves. You can use this mode to take photos of wild animals, intruders or capture the kids excitement during an epic pool leap!
Shake and Take
MIOPS MOBILE can also sense vibrations by accessing your smartphone's gyroscope and accelerometer. Fix your smartphone to basketball pole and capture your best slam dunk. MIOPS MOBILE will not miss that incredible moment. Or just shake your smartphone to take a picture… That's it!
A Great Reason for Screaming
Your smartphone has a lot of sophisticated sensors and hardware inside, and MIOPS MOBILE uses them to boost your creativity. The onboard microphone is capable of capturing crisp clear voice, so we decided to use it to capture sound events. It works like a charm. Have you ever seen yourself while screaming?
Timelapse, Better Now
If you own a MIOPS MOBILE, you don't have to settle for ordinary timelapse modes. Long Exposure Timelapse gives you the opportunity to capture exposures up to 99 minutes in duration. Bulb Ramping Timelapse makes light transitions possible by seamlessly changing exposures from beginning to the end. You have HDR and timelapse modes, so why not combine them? Imagine a timelapse video where every frame is an HDR photo? With HDR Timelapse mode your timelapse videos will reveal more shadow and highlight detail than ever.
Roadlapse
With the RoadLapse mode, one of the best ways to leverage your phone's GPS data, MIOPS MOBILE takes full advantage of this technology by firing the shutter over predetermined distances.
Dominate the Shutter
MIOPS MOBILE offers far more functionality than a standard cable release. Its six different cable release modes put you in command of the shutter. You can release it with a single touch, keep the shutter open as long as you want, or set a timer to release the shutter. Press&Lock, Press&Hold as well as the Timed Release functions will turn Star Trail photography into a piece of cake.
Technology We Use
MIOPS MOBILE is equipped with Bluetooth 4.0 technology for low power consumption. It comes with a rechargeable battery that will last for 24+ hours. You can automatically and wirelessly upgrade the device's firmware. The app will be available for both Android and iOS. The app and firmware upgrades will be completely free forever!
Hundred of Supported Cameras
If your camera has a shutter release port, chances are it's supported by MIOPS MOBILE. Major brand models from Canon, Nikon, Sony, Panasonic, Samsung, Olympus, Hasselblad and Fujifilm are all supported. The total list includes more than 350 models. If you own multiple cameras, you can simply change the connection cable, ensuring this investment delivers for years.